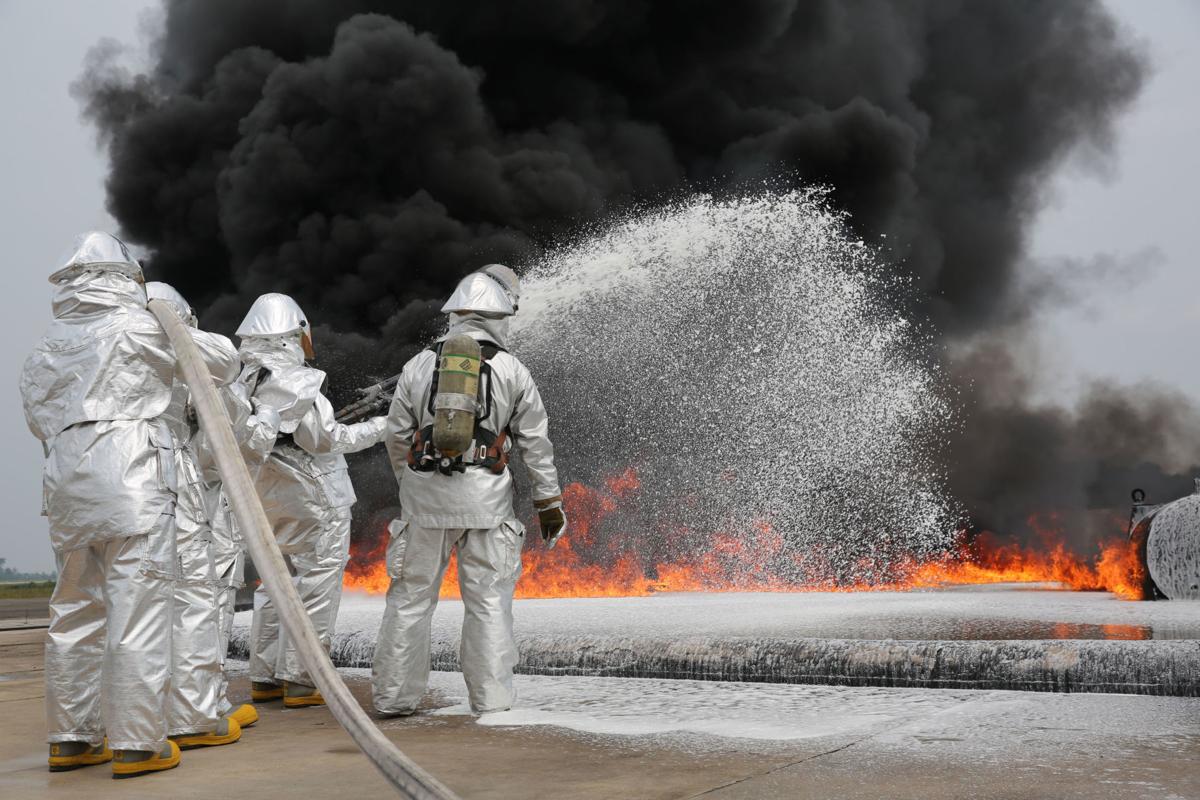 A state study suggests there could be additional sources of hazardous industrial chemicals near two Madison wells.
The Wisconsin Department of Natural Resources has uncovered dozens of past and present activities on the city's Far East and West sides that could have contributed to elevated levels of highly fluorinated compounds known as PFAS.
PFAS, or per- and polyfluoroalkyls, are a group of chemicals found in firefighting foam, food packaging, non-stick cookware, water-resistant clothing, carpeting and other products. The long-lasting compounds may increase people's risk of cancer and affect cholesterol levels, childhood behavior, the immune system and the ability to get pregnant, according to studies.
The DNR in April hired an environmental consultant to document industrial and commercial activities near wells 15 and 16.
The city believes PFAS in Well 15 on East Washington Avenue came from the nearby Truax Air National Guard base, where firefighting foam is used in training exercises and PFAS has been found in groundwater. That well has been shut down since March.
Lower amounts of PFAS in Well 16 on Mineral Point Road were thought to have come from a former landfill.
The DNR announced last week that preliminary results suggest those may not be the only sources.
The list of potential sources includes factories, fire stations and landfills, as well as a Far West Side neighborhood that may have been fertilized with sludge from sewage treatment plants in the 1980s.
The study looked at hundreds of parcels within a one-mile radius of the wells and determined the level of risk based on the likelihood of PFAS use and a history of spills or hazardous material releases.
There were 14 high- and 19 medium-risk sites around Well 15 and four high- and eight medium-risk sites around Well 16.
"Before everything was Truax, Truax, Truax," said Sarah Hoye, communications director for the DNR. "It's not just Truax."
You have free articles remaining.
Hoye said investigators now will try to contact people connected with the potential sources to find out more about what went on at the sites.
"What were you making? What were you doing?" Hoye said.
Madison Water Utility spokeswoman Amy Barrilleaux said the utility is "still focused on the confirmed contamination of groundwater at Truax air base," and would like to see the DNR conduct a deeper investigation of the known plume.
Last year, the DNR warned the air base could face enforcement action if it didn't move swiftly to clean up two firefighter training areas, but the agency later said it would work with Air National Guard staff to develop a cleanup timeline.
Hoye said the DNR is "actively working with the National Guard to move this forward."
The Wisconsin Air National Guard agreed to investigate PFAS pollution at the sites, but it doesn't have funds to do the work.
The DNR is developing administrative rules to establish groundwater quality standards for two PFAS compounds, PFOA and PFOS, because the federal Environmental Protection Agency does not have standards for the contaminants.
Voluntary testing by the Madison Water Utility found PFAS in 10 of 19 wells tested. The highest levels — in Well 15 — were at 11 to 12 parts per trillion.
[Editor's note: This story has been updated to clarify that the DNR, not the Madison Water Utility, investigates potential polluters.]