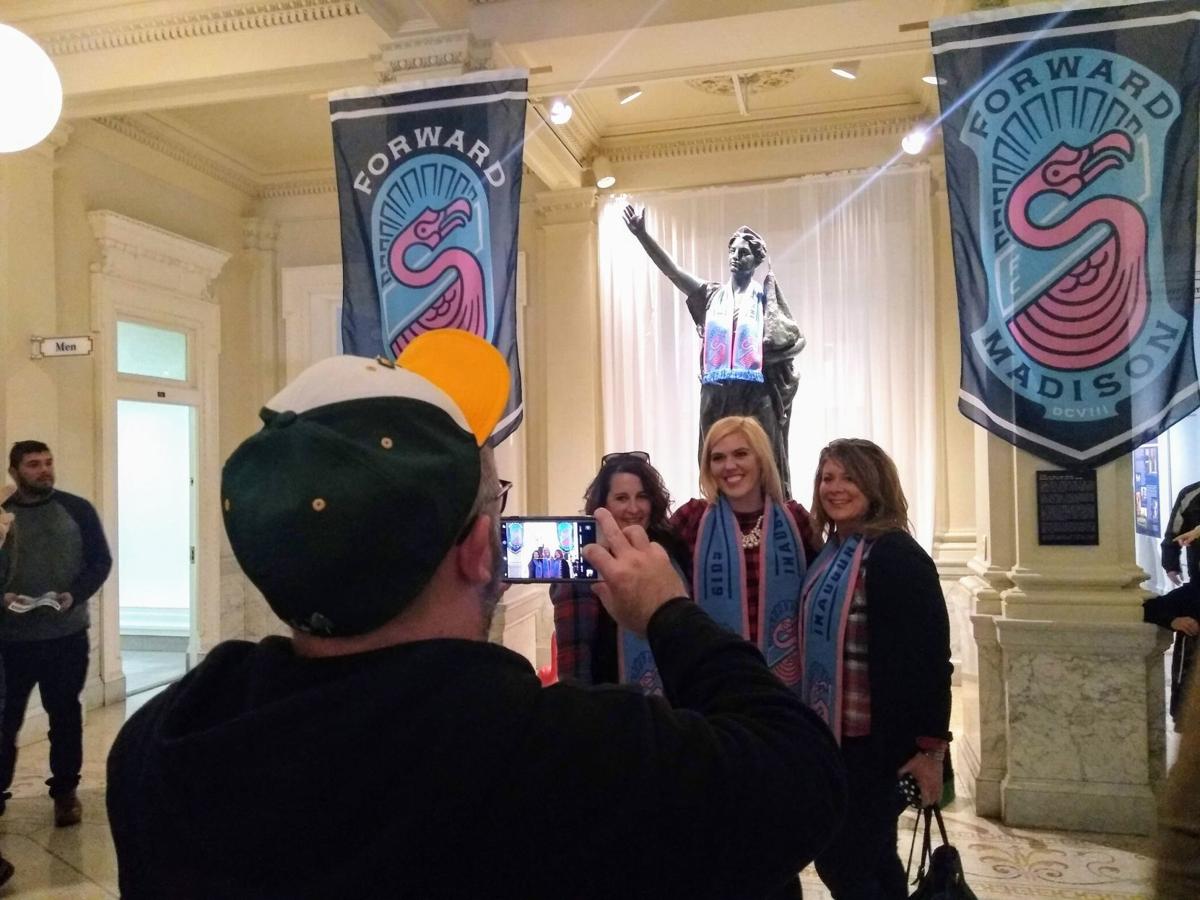 As one of the first customers in line to buy Forward Madison F.C. t-shirts Sunday afternoon, Matt Hermann had his choice of colors. He went with pink.
"I feel like if it's going to be pink, let's embrace the pink!" he said.
Hermann was one of about 300 fans who packed the Wisconsin Historical Society auditorium Sunday for the unveiling of the team name, logo and colors for Madison's first professional soccer team.
Forward Madison F.C. will begin play at Breese Stevens Field in the United Soccer League's First Division next spring. Players will wear uniforms featuring a pink-and-blue crest with a prominent pink flamingo.
In unveiling the logo, managing director Peter Wilt recalled the infamous takeover of Bascom Hill by pink plastic flamingos in 1979, a student government campaign promise of University of Wisconsin-Madison students Leon Varjian and Jim Mallon in the Pail and Shovel Party.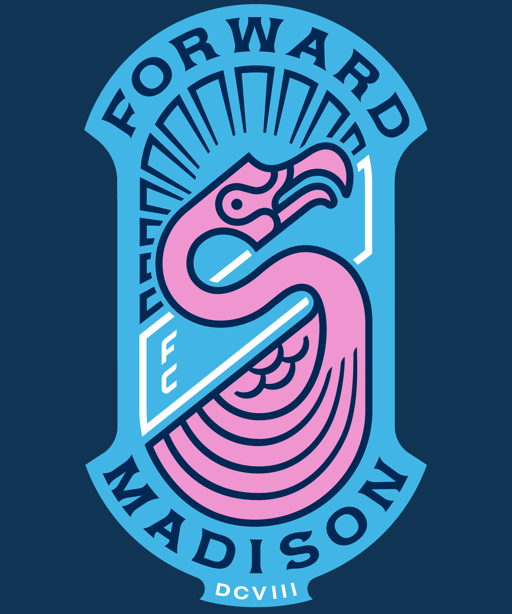 "Their creativity, genius, whimsy and independence reminds us that life and soccer, especially in Madison, should be fun and a bit irreverent," he said. "The colors — pink and light blue — the sash and roman numerals are all representative icons of Madison, the city that Forward Madison will represent with pride."
The unveiling ceremony gave way to a brief reception in the Historical Society's lobby, featuring fans snapping selfies in front of the iconic Lady Forward statue sporting a Forward Madison scarf. Wilt compared the scene to fans opening gifts on Christmas morning. The event came after a months-long process that included fans voting on ideas for team names and consultation with Madison's Planet Propaganda on the logo design.
"It was a case of measure twice, cut once. But this was a case of measure 100 times," Wilt said. "You never have something that everyone is on the same page with, but I like it. It's different from most other sports logos, not to mention other soccer logos. I love the fact that it's got the plastic flamingo in it. It's so Madison!"
According to a team press release, the diagonal sash represents the city's isthmus and Roman numerals convey 608, the city's area code. Wilt called that aspect of the logo "a little funky."
"It's really six hundred eight," he said, nodding at the obsession with logo details common in the world of soccer fandom. "To do six-oh-eight brings up an awkward question: What's the Roman numeral for zero? Is there one?"
Nimish Pujara and Thea Whitman purchased some merchandise Sunday and joined fans in dissecting the logo's various symbols.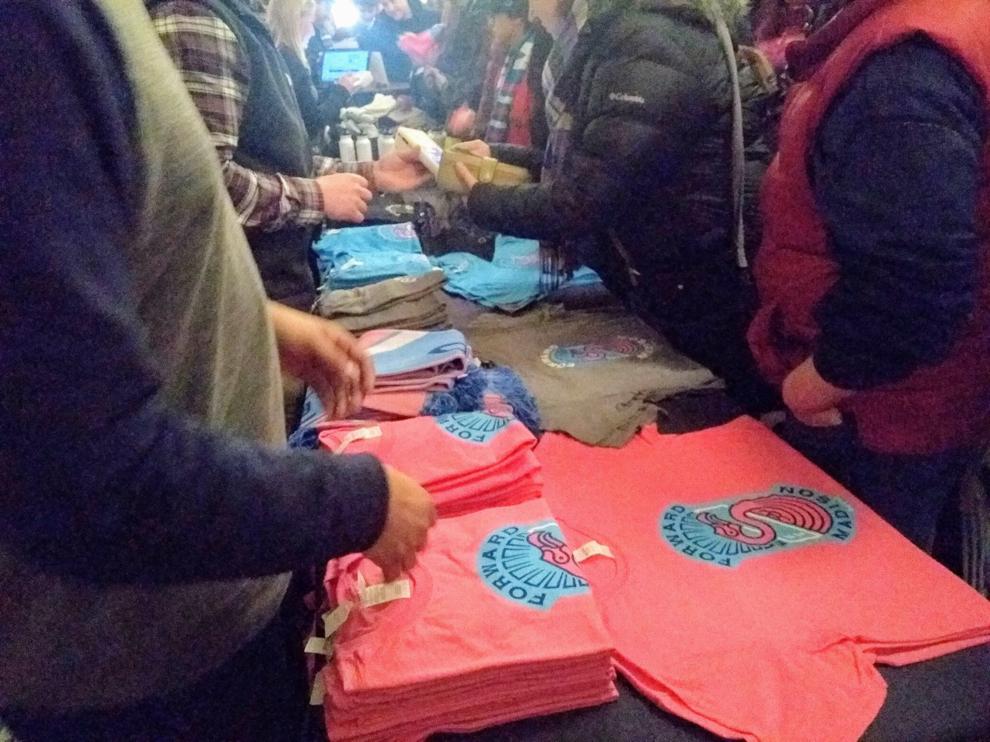 "I like how the light blue echoes the flag of the city and I love the name," Whitman said. "I think it's awesome."
Pujara, who attended college in London near Arsenal F.C.'s stadium and adopted the English Premiere League power as a favorite, also bought a pink t-shirt.
"It's definitely bold. But I like it. I like the pink and blue. It works well," he said. "By not having bright colors, it's even bolder."
Wilt said Sunday represented a big step in the iterative process of building a team that hopes to attract 5,000 fans to Breese Stevens Field for 14 home games starting in the spring of 2019. Other cities fielding teams in USL1 include Chattanooga, Tennessee; Tucson, Arizona; Greenville, North Carolina and Richmond, Virgina.
Season tickets are for sale and several dozen athletes were in town over the weekend auditioning for coach Daryl Shore. And Wilt's efforts to raise awareness of the new team in the community continue.
"The brand is a combination of the interactions we, as an organization, have with the public," he said. "We could have a brand of being inconsiderate, unresponsive, pompous. That logo all of a sudden becomes representative of that. Or we could be a good community asset, we could have a good team and that brand starts to mean something positive."
Share your opinion on this topic by sending a letter to the editor to tctvoice@madison.com. Include your full name, hometown and phone number. Your name and town will be published. The phone number is for verification purposes only. Please keep your letter to 250 words or less.