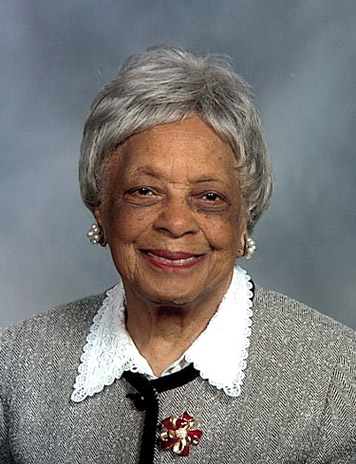 Velma Hamilton, a trailblazer in Madison's civil rights and education communities who helped found the Madison chapter of the NAACP, died Thursday at the age of 99.
Over the last few years, Hamilton had been living in Connecticut and Atlanta, but most of her life was spent in Madison, where people who knew her remembered her Saturday as a tireless advocate for children and the black community.
"She was a very strong woman," said Sadie Pearson, 71, who came to Madison from Jacksonville, Fla., in 1964 and remembers Hamilton urging her to get involved in her children's school, despite Pearson's fears that she wasn't wanted there.
Hamilton told her she had a right to speak to her children's teachers, she said. "She opened the doors for a lot of people."
Richard Harris, 72, said Hamilton hired him as a sociology instructor at Madison Area Technical College in 1968 when Hamilton was the dean of liberal studies. Hamilton had worked her way up at the college, known early on as the Madison Vocational School, where she was hired in 1950 as the school's first black teacher.
In 1993, the Madison School District renamed Van Hise Middle School on the city's West Side Velma Hamilton Middle School.
You have free articles remaining.
"(Renaming) is more important for what it says about the community and what it says to other individuals than what it says to me," Hamilton told the State Journal at the time. "It's being included in the mainstream, which to me is very important."
Harris said that over the years, Hamilton worked for fair housing, an end to red-lining, better treatment for black women in department stores and hiring more black teachers in the schools, among other issues.
She was also able to articulate relations between blacks and whites while working to bridge that divide, he said.
Alderman Tim Bruer, 14th District, remembers meeting Hamilton when he was a child in the ethnically mixed, working class South Side. He called her an "institution and a mentor ... to not only people of color but of south Madison at large."
Hamilton was "one of a handful of elders who were Madison's own Dr. Kings," he said.
Bruer said he plans to introduce a resolution honoring Hamilton.
"She was just a cheerful lady and she worked to make sure the kids had education," said Addrena Squires, 81, who met Hamilton through the Madison schools and volunteered for nearly 40 years in the district.
To plant a tree in memory of 99 EDUCATOR WAS TRAILBLAZER FOR CIVIL RIGHTS IN MADISON VELMA HAMILTON as a living tribute, please visit Tribute Store.