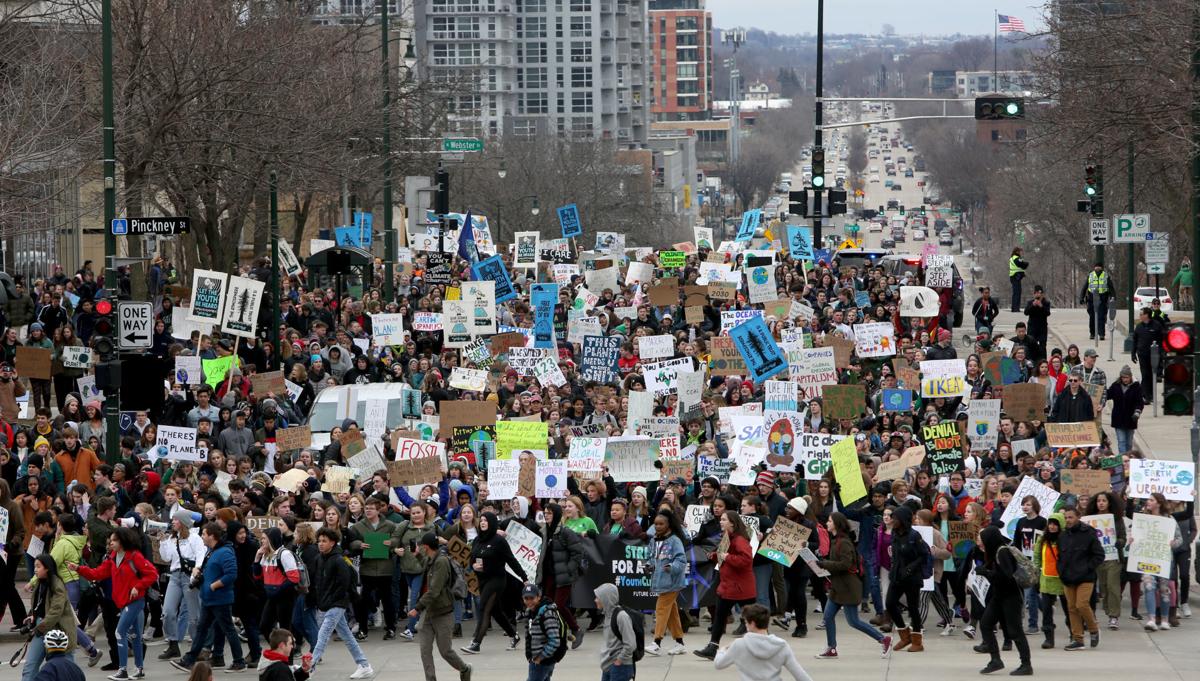 What started last school year with one student in Sweden refusing to go to classes because of the world's inaction on climate change has turned into an international movement, including a strike on Friday by Madison area high school students.
About 1,000 students walked out of classes on Friday as part of the Youth Climate Strike. Students marched from East High School to the state Capitol, where they held a rally with several speakers before entering the Capitol in an effort to get legislators to take more immediate action to combat the effects of climate change.
"What we're doing today is a disruption of the status quo and they don't like it," Max Prestigiacomo, a Middleton High School senior who was the lead organizer of the event, said at the rally. "We are disrupting the status quo because the contradiction between what we're taught in school and how our leaders act is astounding."
Once inside the Capitol, students left Post-it notes on office doors listing their reasons for striking, from wanting to protect natural resources to moving toward more renewable energy resources. The students led several chants, including "can't drink oil, keep it in the soil," and "hey hey, ho, ho, climate change has got to go," and "save our planet."
Students attempted to enter the state Assembly and state Senate chambers while in the Capitol. While the doors to the former were open, the doors to the state Senate chambers were locked.
Senate Sergeant at Arms Ted Blazel said he made the decision to lock the doors to the Senate chamber after consulting with Capitol Police ahead of the protest. Blazel said he notified Senate Majority Leader Scott Fitzgerald, R-Juneau, and Senate Minority Leader Jennifer Shilling, D-La Crosse, whose offices are also behind the doors near the chambers, that they would be locked. Blazel said his priority is to protect the Senate chamber.
The strike is part of a growing movement started by students in Europe last year. Greta Thunberg, then a ninth-grade student in Sweden, started the movement. Thousands of students across the country and abroad participated in similar strikes on Friday.
Madison-area students demand action on a variety of environmental causes, from pushing school systems to use 100 percent renewable energy to reintroducing municipal composting in Madison.
Students called for supporting parts of Gov. Tony Evers' proposed budget that deals with environmental issues, including the creation of a Bureau of Natural Resources, an Office of Sustainability and Clean Energy, as well as fixing ground water contamination and lead pipes.
Students also called for supporting the Green New Deal, a signature piece of legislation proposed nationally by Democratic Rep. Alexandria Ocasio-Cortez of New York.
"Your generation will be the one that suffers the effects of climate change and you deserve better," Wisconsin Rep. Mark Pocan, who co-signed the Green New Deal legislation, told students at the rally.
You have free articles remaining.
Madison School Board candidate Ali Muldrow also spoke at the rally, saying the nation needs to "walk the walk" on climate change.
"We are going to have to walk the walk. If we want plastic-free schools, city-wide composting, we are going to need new people who have big dreams," Muldrow said. "And we are going to have to aim for what is best for everyone."
Many students decried decades of inaction by political leaders to prevent the rapid-moving effects of climate change. They hope the strike helps kickstart conversations and actions about what can and should be done.
"I'm frustrated with myself," said Ella Roach, a Middleton High School junior and climate strike organizer. "Because when I get frustrated with myself about climate change, I don't do anything about it. I let my frustration sit inside of me and let me feel helpless. But that's going to end today. This strike is my turning point — it has to be if we are going to save this planet in 11 years."
Roach called for schools to revamp their sustainability curricula, saying they don't go far enough to teach all there is to know about sustainability.
"Recycling activities and lessons are so short-lived," Roach said. "Sustainability needs to be permanently included in school curriculum and actions, so that students learn in and out of the classroom that sustainability is a process, not an end-goal, that they need to strive for every day.
Several students noted the importance of recognizing the intersectionality of climate change and racial and economic justice.
"Cultures who have understood the value of land since the beginning of time have been forced to live in the least valuable and most inaccessible parts of the country, and have their sacred grounds contaminated and eroded," said Ma'iingan Wolf Garvin, an East High School student who is a member of the Ho-Chunk and Anishinaabe. "Race determines your exposure to air pollution more than any other factor, including income and education."
Vic Barrett, a University of Wisconsin-Madison student who is one of several plaintiffs in a lawsuit against the U.S. government for helping subsidize the fossil fuel industry, echoed that point.
"We live in a country where people of color inhale more pollutants than white people while producing less," Barrett said. "Climate change encompasses issues of justice. We young people were born into a world literally incapable of sustaining us."
The strike came about one year after students walked out of classrooms as part of the March for Our Lives, an event held in support of the survivors of the school shooting in Parkland, Florida. Many organizers for Madison's March for our Lives event last year helped organize the Youth Climate Strike.
A group of students plan to introduce a Green New Deal-inspired resolution to Madison's City Council next week.