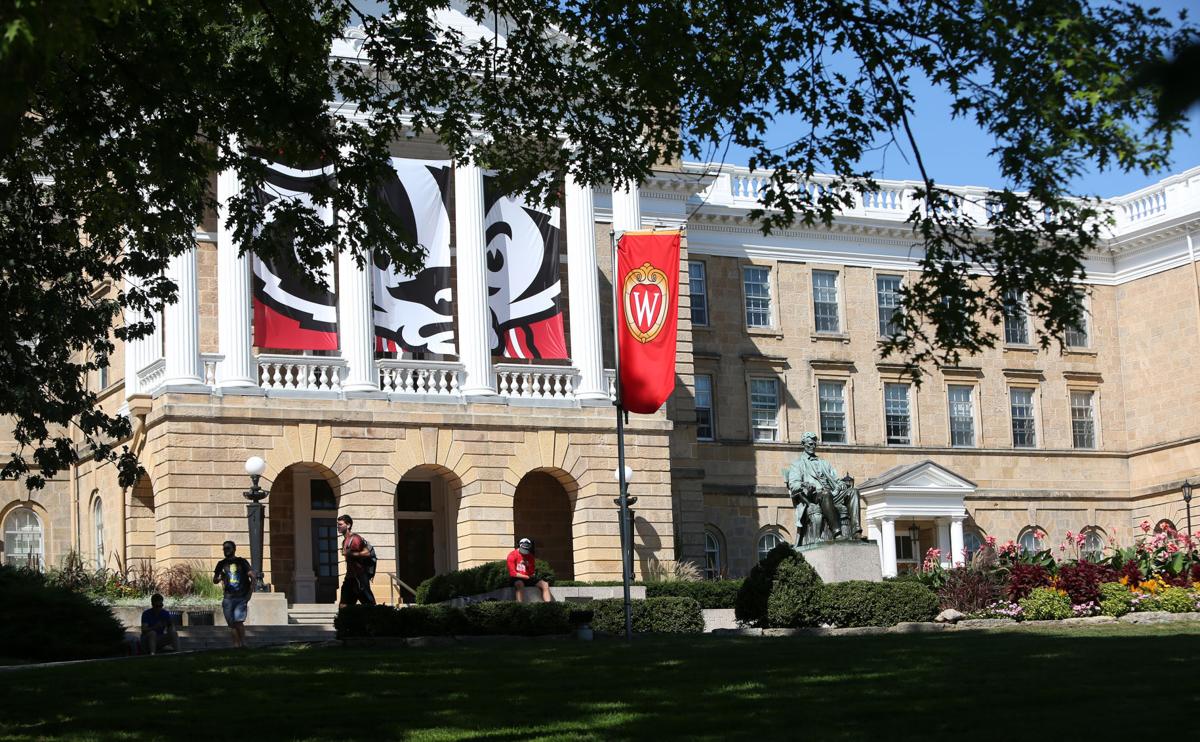 One of the women who accused former Badgers football player Quintez Cephus of sexual assault in 2018 sued UW-Madison on Tuesday over its decision to reverse Cephus' expulsion and allow him back onto the football team.
That decision was made, the lawsuit alleges, in order to get the star football player back on the field, but in violation of UW Athletic Department policy and at the expense of the woman's rights under the federal gender-equity law known as Title IX.
Cephus was acquitted of sexual assault last year after a weeklong jury trial. He was soon re-admitted to UW-Madison and within weeks was again catching passes with the Badgers in a 49-0 romp at South Florida.
Earlier this year, the Detroit Lions selected him in the fifth round of the NFL draft and signed him to a four-year contract. In his first game with the Lions on Sunday, he caught three passes for 43 yards in a Lions loss.
The lawsuit, filed in U.S. District Court in Madison under a "Jane Doe" pseudonym, accuses UW and Chancellor Rebecca Blank of abandoning state and federal laws as well as its own policies by shutting the woman out of the process that allowed Cephus to be re-admitted and placed back on the team.
"Such gender bias and deliberately subjecting a female student to a known hostile educational environment in the interest of football is exactly the types of discrimination that Title IX was designed to prevent," the lawsuit states.
The lawsuit seeks unspecified actual and punitive damages and compensation for emotional pain and suffering. It also demands that Blank reinstate the Title IX finding of sexual assault against Cephus.
The lawsuit doesn't mention Cephus by name, calling him Player 1, nor does it name Danny Davis, who was Cephus' roommate, calling him Player 2. But the facts of the case in the lawsuit are identical to those involving Cephus and Davis.
The woman is represented by a legal team that includes attorney John Clune, who has developed a national reputation for representing women in high-profile sexual assault cases. Among Clune's clients are women who have accused basketball player Kobe Bryant, U.S. Supreme Court Justice Brett Kavanaugh and baseball player Johan Santana of sexual misconduct. He has also sued other institutions, such as Baylor University and Florida State University, for their handling of rape cases on campus. Both schools eventually settled.
Clune and his legal team declined to comment Tuesday.
The legal team also previously included Madison attorney Amy Bogost, who represented the woman during the Title IX process and criminal trial. She is no longer representing the woman in her lawsuit against UW. Bogost was appointed to the UW Board of Regents earlier this year.
UW-Madison spokeswoman Meredith McGlone said the university is aware of the lawsuit but hasn't yet reviewed it and does not comment on litigation.
Title IX, trial
The woman told police that Cephus assaulted her in his apartment in April 2018 while Davis took photographs and she was too intoxicated to consent to sex. Cephus maintained the sex was consensual.
UW spent 14 months investigating and resolving the reported assault, a period that included Cephus' suspension from the Badgers football team in August 2018.
In June 2019, UW finished its proceedings and the appeals process and found Cephus had "more likely than not" sexually assaulted the woman and Davis was responsible for sexual harassment. Cephus was expelled and Davis was given probation.
Cephus was acquitted of the sexual assault charges in August 2019, but after the trial, "a fast-spreading public call to readmit (Cephus) to the UW arose, stoked by (Cephus') counsel as well as UW employees, members of the UW football program, and members of the UW community generally," the lawsuit states.
The woman was smeared in public, the lawsuit adds, as an example of a "promiscuous woman falsely accusing men of rape," and she received threats to her safety on social media and on university football message boards. One message suggested she be "stoned to death," the suit says.
Reinstatement petition
According to the lawsuit:
Ray Taffora, vice chancellor for legal affairs, was tasked to verify "new evidence" submitted by Cephus for reinstatement after the trial. Taffora called the court reporter who worked during Cephus' trial and asked for a rushed transcript, but was told there were other requests ahead of his and he would have to wait.
Taffora then called Assistant District Attorney William Brown, who had prosecuted Cephus, and demanded that Brown summarize the trial for him. Brown refused and said Taffora would have to order a transcript.
"Mr. Taffora stated to Mr. Brown that the University could not wait for an actual transcript because football season was about to start," the lawsuit states.
UW readmitted Cephus and allowed him to rejoin the football team, "violating both school policy and federal law."
Without a trial transcript, UW granted Cephus' petition for re-admission to UW and reversed the Title IX finding of sexual assault, clearing his return to football — this despite a student athlete discipline policy mandating a student be suspended from all team activities if there has been a finding of sexual assault.
The school never concluded the assault never happened. Instead, it determined the matter was "incapable of resolution," the lawsuit states. It left in place, though, a finding that Cephus had sexually harassed the woman, but imposed no sanction for that finding.
The woman only learned of the reconsideration process through media reports. UW refused to provide her with any information about what the school was considering doing "behind closed doors," and she was informed of the Title IX reversal on the same day UW issued a press release announcing the decision.
"On information and belief, this reversal is the only one of its kind at the UW," according to the lawsuit.
'Miserable' semester
Cephus also sued UW over its Title IX process, alleging that UW violated his constitutional rights by pursuing a student disciplinary investigation. When the lawsuit was filed in October 2018, it demanded that UW stop its Title IX investigation, claiming it was unfair because Cephus was unable to defend himself during it without violating his constitutional rights due to the then-ongoing criminal investigation.
Cephus dropped the lawsuit about five months later because his lawyers anticipated the upcoming trial would vindicate Cephus, and once that happened the lawsuit would be refiled. More than a year after Cephus was acquitted, the lawsuit has not been refiled.
Cephus' attorney, Stephen Meyer, could not immediately be reached for comment Tuesday.
The university re-admitting Cephus in late August gave the woman little time to transfer schools, so she decided to continue studying at UW-Madison, the lawsuit states. She sought guidance from school officials on what to do when she ran into Cephus or Davis and how to handle retaliation from other students, but said she received no help.
The rest of the fall 2019 semester was "miserable" for the woman, who missed classes and avoided certain areas of campus out of fear of running into Cephus or Davis, according to the lawsuit. The woman will likely require an additional semester of school to complete her degree.