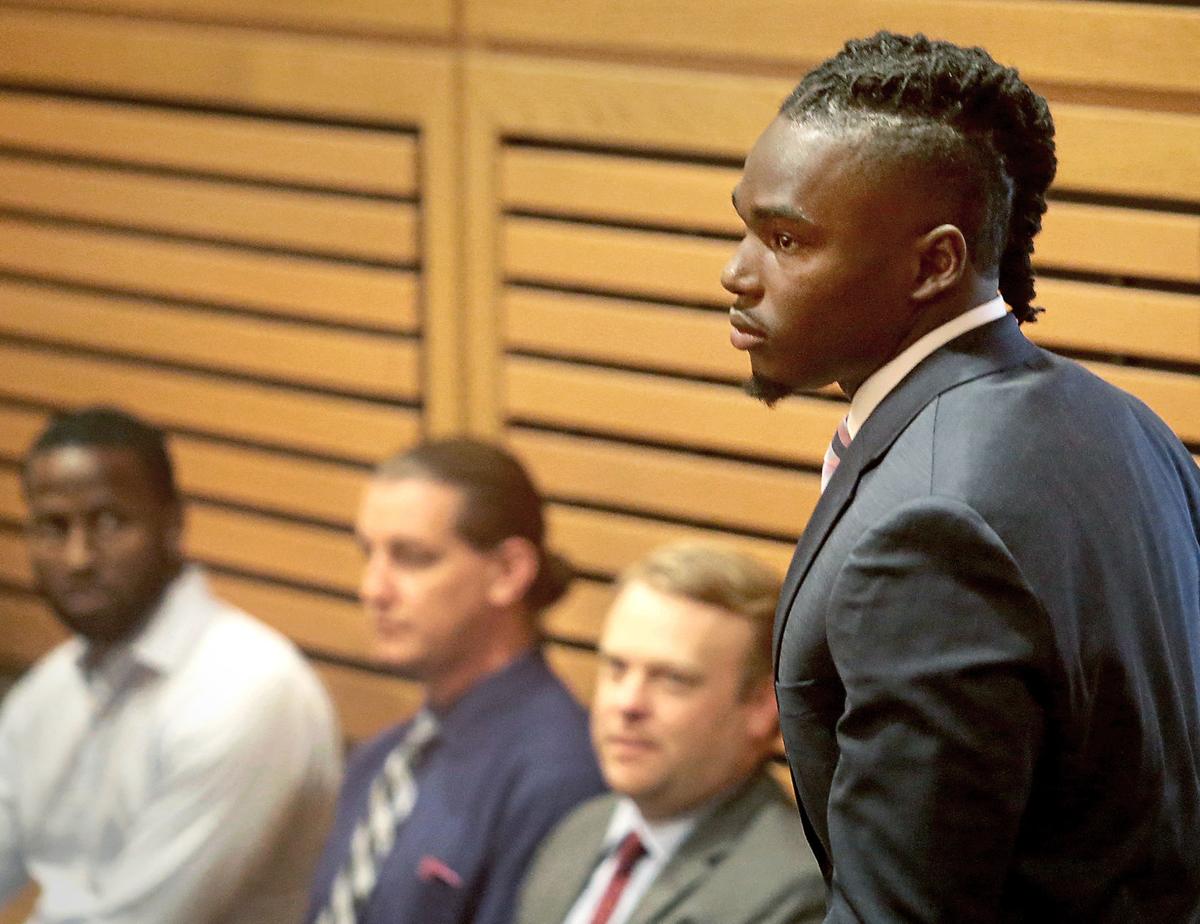 An attorney for one of the women alleging she was sexually assaulted by University of Wisconsin football player Quintez Cephus says there is no substance to the student-athlete's claims that he is a victim of racism.
Cephus' claims that he was denied due process and discriminated against because he is African-American during an investigation of the sexual assault charges by the university "are a red herring made to distract attention from the facts in this case," attorney Lester Pines said.
Cephus made the claims in a federal lawsuit he filed against the university on Oct. 11, the same day he pleaded not guilty to charges of second- and third-degree sexual assault of an intoxicated person.
A criminal complaint alleges that on April 22 Cephus, a wide receiver on the UW football team, had sex with two women at his apartment though they were too intoxicated to consent.
According to the criminal complaint filed in August, one of the women told police that the other woman was so drunk her eyes had rolled back in her head and she looked "possessed."
Cephus, 20, has said the sex was consensual. He has been suspended from playing and practicing with the Badgers since the charges were filed.
Up until Thursday, most public statements about the case and the university's investigation had come from Cephus, his lawyers and supporters, but the lawsuit led the alleged victim, her parents and Pines to decide that he should make a statement, Pines said.
Pines disputed the lawsuit's claim that a "racist rant" was made by his client's father during a meeting with UW-Madison officials in late July. The lawsuit claims that caused the school to accelerate its investigation because Cephus is African-American, Pines said.
"There was no racist rant or any racist statement made about Quintez Cephus by my client's father. I was present in the meeting when he and I met with the Title IX investigators in late July. My client's father said nothing about Quintez Cephus' race. He made no racist statements whatsoever," Pines said.
You have free articles remaining.
When the lawsuit was filed, Cephus' attorney Andrew Miltenberg accused UW-Madison officials of working "behind the scenes" with Dane County District Attorney Ismael Ozanne to ensure that Cephus was "arrested and tried." The high-profile New York attorney specializes in campus assault due process cases.
In a statement, Miltenberg said the university was guilty of despicable behavior for treating Cephus as a commodity on the football field and discarding him on "unfounded allegations."
Pines said his client reported the sexual assault to police the night it occurred and the police investigation and District Attorney's Office's decision to file criminal charges followed proper procedures.
The woman had a right under Title IX to have her complaint investigated promptly by the university, and the alleged victim and Cephus' attorneys cooperated fully with the investigation that also followed proper procedures, Pines said.
Pines also took issue with the claim by Miltenberg and the lawsuit that Cephus was forced by school investigators to either waive his Fifth Amendment right against self-incrimination by choosing to talk to them "or decline to participate in the university's process thus leading to the inevitable finding of responsibility and severe sanctions."
Cephus was not deprived of any rights because he chose to decline to talk to investigators, Pines said. He said the lawsuit's claim that Cephus was deprived of his Fifth Amendment right to remain silent was strange, "considering that he already made a statement to the police and other public statements, including on Twitter."
The final report by the Title IX Office of Compliance was sent earlier this month to the school's Office of Student Conduct and Community Standards (OSCCS) and it will decide whether a sexual assault occurred, Pines said.
"If the OSCCS concludes that it is more likely than not that Quintez Cephus sexually assaulted either or both of the young women and recommends discipline, he will have the opportunity to have a full due process hearing at which he can challenge both the finding and the discipline," he said.
Pines said the case highlights reports, such as an Association of American Universities' survey, that one in four women at UW-Madison is sexually assaulted and many are afraid to report their assault due to fear of being shamed, attacked, ridiculed and disbelieved. "This is especially the case when a prominent athlete is involved who is important to the university's athletic department, its boosters and fans," Pines said.
"One need only look to this case to see how daunting it is for young women who report a sexual assault. An athletic department employee and apparent boosters accompanied Cephus to court. He is represented by no less than four law firms. And on social media and comments online following media reports, fans upset about the charges against Cephus have made inappropriate and angry comments."
Pines said Cephus' conduct is governed by the same rules that apply to all students. "He is not entitled to special treatment because he is an athlete. And, to be clear: No one has ever contended that Cephus should be judged on his race rather than his conduct," he said.