It's only fitting that Wisconsin's flagship university is at the forefront a major beer breakthrough.
But the brewing process initiated Thursday enters uncharted territory, with UW-Madison students and company brewers relying on a Wisconsin yeast strain never used before in commercial beer production, according to company president Carl Nolen.
The beer will be the first wild lager brewed in North America, he said.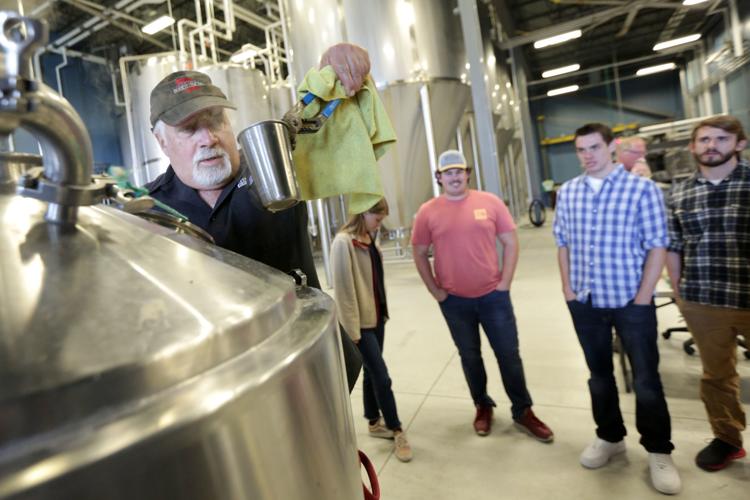 Wild lager emerged in 2011 after UW-Madison geneticist Chris Hittinger and colleagues came across a strain of yeast, Saccharomyces eubayanus, in the Patagonia region of Argentina.
Since the 1980s, researchers have known that the yeast used to make lager, the most consumed beer in the world, was a hybrid of two yeast species. One of those, S. cerevisiae, had already been identified, but it wasn't until 2011 that Hittinger's team identified the other, a wild strain found on beech trees.
Hittinger and researchers then set out to find local strains of the Argentinian species in Wisconsin. In August 2012, success came from an old beech tree stand at Sheboygan Indian Mound Park.
Wild yeast is "uncultivated and untamed," making it difficult to brew with, but creating a unique taste, according to Heineken's website. The Dutch company owns the rights to the Argentinian strain of yeast and developed H41 Patagonia, the first in Heineken's Wild Lager limited-edition series and available in select U.S. cities.
Wisconsin Alumni Research Foundation, the university's patent and licensing apparatus, owns the rights to the strain found in Sheboygan and entered into a research agreement with Wisconsin Brewing Co. If and when the beer is commercially distributed, the two parties will negotiate again, according to WARF senior licensing manager Jennifer Gottwald.
On Thursday morning, UW-Madison students assisted Wisconsin Brewing Co. brewmaster Kirby Nelson, pouring barley into a mash tun, a machine that cooks the grain and extracts the sugar-rich liquid known as wort.
Students poured the Sheboygan strain of yeast into the wort later that afternoon, beginning the fermentation process, which takes at least three weeks.
"We'll let the beer tell us when it's done," Nelson said.
And that's just the first batch in a process that will involve significant trial-and-error, said UW-Madison microbiology student Ryan Scheffler, one of six students enrolled in a one-credit independent study working on the project. A senior, Scheffler said he hopes to work in quality control at a craft brewery after graduation.
Another UW-Madison student on the project, Caroline Miller, has worked with Hittinger for a year and spent the summer full-time in his genetics lab.
"Lab work is really specific," she said of her work. "A project like this, you're able to zoom out and see the industrial application to your research clearly."
Brewmaster Nelson and other employees have held Skype calls with Heineken representatives to get input from the company throughout the brewing process.
"It's like a research relationship," Nolen said of their conversations with Heineken.
The end result will be a mild, pleasant flavor.
"Take a Miller and give it soul," Nelson said.