UW-Madison failed to disclose to the National Science Foundation problems in an "abusive" professor's "toxic" laboratory, including the suicide of a graduate student, until months after the agency hired the professor.
University records paint a portrait of College of Engineering professor Akbar Sayeed's lab as harmful to UW-Madison students' well-being — information that was available but not passed along by UW-Madison to NSF when the agency hired Sayeed in the fall of 2017.
Officials ordered an investigation into Sayeed's conduct shortly after Brady's death, and a May 2017 report recommended he be placed on two years of unpaid leave, beginning Jan. 1, 2018, and ending Dec. 31. He has indicated to university officials he plans to return to work in January. The college said it has several safeguards in place related to his return, including an outside committee supervising students if Sayeed has a research group.
The Wisconsin State Journal first reported on the case Sunday.
NSF initially said last week that Sayeed's employment with the federal agency ended in April, about eight months before he could return to UW-Madison. A spokesman for the agency declined to say then whether the parting was mutual.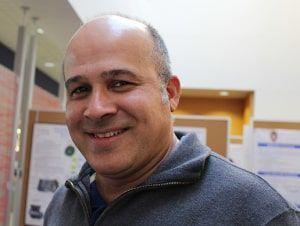 On Monday, however, NSF provided an additional statement that said the program under which Sayeed was hired requires institutions to report employee status.
"Unfortunately, the institution did not accurately disclose that information," said Amanda Hallberg Greenwell, head of NSF's Office of Legislative and Public Affairs. "When NSF received complete information, we terminated Dr. Sayeed's assignment."
UW-Madison spokeswoman Meredith McGlone said Tuesday the university provided NSF with Sayeed's salary information at the time of his hiring. But there's no indication the university disclosed information about the investigation or that Sayeed would be on unpaid leave a few months later.
McGlone said UW-Madison "failed to provide NSF a timely update" on Sayeed's employment status but "recognized this error" when NSF renewed Sayeed's appointment in fall 2018.
College of Engineering Dean Ian Robertson contacted the agency to disclose more information, and NSF thanked him for "being forthcoming in his communications with the agency," McGlone said.
The communication occurred in January, several weeks after the State Journal filed a public records request with UW-Madison that yielded the report on Sayeed's conduct.
UW-Madison did not initiate Sayeed's appointment to NSF but signed off on it, McGlone said.
Jim Brady, John Brady's father, said Tuesday that he was "floored" to learn Sayeed secured a position at NSF given the environment he created at UW-Madison. The hire appeared to mitigate any substantial consequences for Sayeed's conduct, he said.
In Sayeed's written response to UW-Madison, he took responsibility for his conduct overseeing the lab and apologized, but he denied abusing his authority as professor. He did not return multiple requests for comment for the State Journal's initial story and for this one.
Sayeed is a tenured professor, meaning he has an indefinite academic appointment that provides broad job protections most workers lack. In the last full year he worked for the university, records show he received $166,650.
Since he started working for UW-Madison in 1997, Sayeed said in his response to the university, he has brought in nearly $6 million in research money. University records show the figure to be closer to $4.4 million.
NSF imposed a new requirement last fall requiring institutions to disclose if any faculty members with NSF grants committed harassment, including sexual harassment or sexual assault. Depending on a university's policies and codes of conduct, bullying may be included in the policy.
The policy is not retroactive, applying only to researchers who received an award after Oct. 22, 2018.
"NSF holds all staff to the highest standards of professionalism and integrity and does not tolerate any type of harassment," the NSF's Greenwell said. "We will continue to take actions to ensure the research environments we support are fair and safe for all."