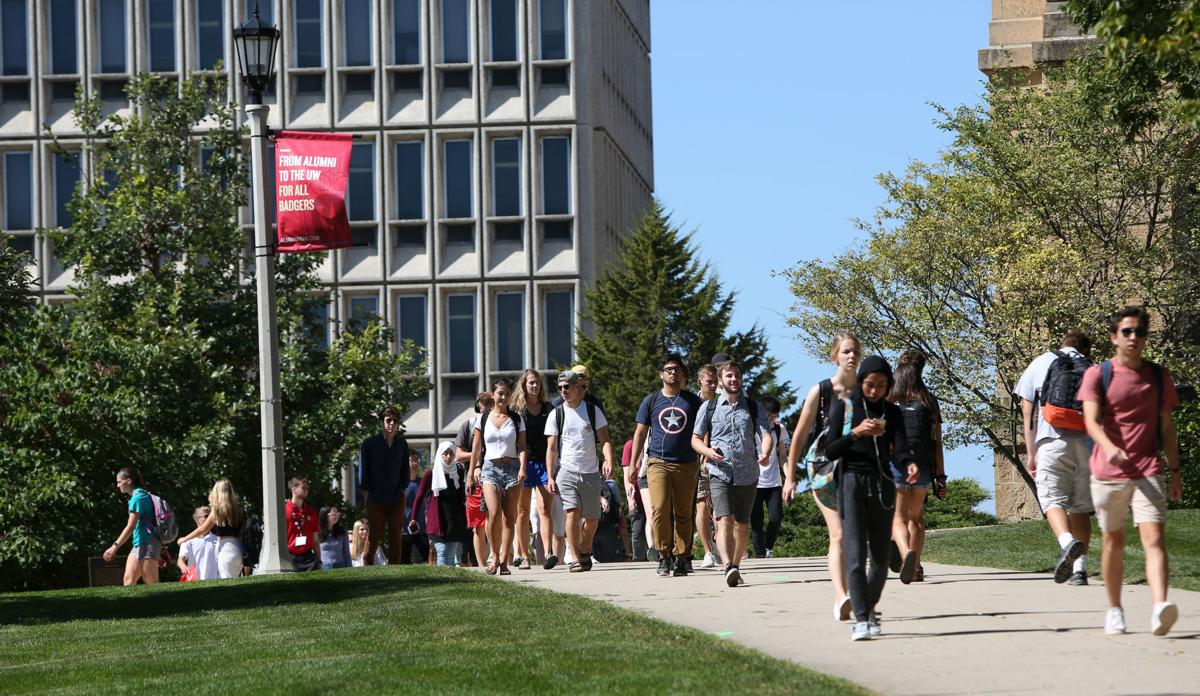 Four years after the Association of American Universities' inaugural sexual assault and misconduct survey, a new report released Tuesday shows that, while students report greater levels of awareness, one in four undergraduate women at the University of Wisconsin-Madison reported they have been sexually assaulted in their time on campus.
"Ensuring the safety of our students here at UW-Madison has to be a fundamental priority for all of us," Blank said Tuesday. She said the survey is a "critical tool to prevent and respond to sexual violence" and protect survivors.
The report comes four years after UW-Madison released its results as one of 27 participants in the AAU's first climate survey. Thirty-three colleges and universities participated this year. About 20% of undergraduate and graduate UW-Madison students completed the survey during the spring of 2019, similar to the university's 22% response rate in 2015.
While the rate of sexual assault among undergraduate women since entering college rose from 23.4% to 26.3% across participating institutions, UW-Madison saw a statistically insignificant change from 27.6% to 26.1%. Women, students with disabilities and TGQN (trans, nonbinary or genderqueer, gender questioning or gender not listed) students were most likely to have experienced assault.
Reported sexual assault among undergraduate men, however, increased significantly from 5.4% to 6.8%, reflecting a larger trend among participating AAU institutions.
The full report is not yet available, but the 2015 report found that perpetrators were predominantly male students and victims' friends or acquaintances. Reported assaults most commonly occurred in student residences and disproportionately in Greek houses. Alcohol was a prevalent factor in sexual assault, which remained consistent in 2019: 77% of sexual assaults involved alcohol consumption by either the victim or perpetrator.
You have free articles remaining.
Despite consistent rates of sexual assault and misconduct, students reported improved knowledge about how to get help and where to file reports at UW-Madison. They were also more knowledgeable about campus resources and definitions than students at other institutions.
Trends in institutional trust remain split between undergraduate and graduate students. The former showed reduced levels of trust that UW-Madison officials would take a sexual assault or misconduct report seriously and conduct a fair investigation, while graduate students reported greater trust than they did in 2015. All demographics, however, reported better perceptions of campus response than students at other institutions.
Since the 2015 report, UW-Madison implemented a new mandatory in-person training requirement for all new students, hired seven staff members including victim advocates and expanded prevention efforts beyond just students. In addition to mandatory online training for faculty and staff, the university launched additional training about assault reporting obligations for employees.
Drawing on personal experience with the reporting process and a counseling session limit, UW-Madison senior Samantha Michaels said she thinks adding more UHS hires is a "good step in the right direction" with so many students experiencing the problem.
Last fall, Michaels founded the UW-Madison chapter of Survivor's Best Friend, a national nonprofit that connects sexual assault survivors with shelter animals. While prevention efforts by the university can be "really informative and helpful to some," she ultimately hopes to see conversations around a wider range of issues.
"I ask the people in my club what they want to hear about sexual assault, and one is how to talk to your friends who have been through it," Michaels said. "Not just how to prevent it, but also PTSD, what happens after. … It's having a variety of topics about sexual assault."
UHS executive director Jake Baggott said Tuesday that awareness efforts have had a "marked impact on the increase of knowledge and engagement" among students, especially bystander intervention. Though she is heartened by an increased willingness to have conversations and intervene to prevent sexual assault, Blank said, addressing sexual misconduct requires a deeper shift in campus culture beyond university initiatives.
To build on recent efforts, UHS Survivor Services plans to hire an additional counselor, build a trauma-informed care initiative and use data to better identify campus needs and patterns. The university also hopes to hire a Title IX case manager to facilitate "access to support services such as academic accommodations and protective measures," according to the report.
"This is only going to change when behaviors start changing and people understand what consent means," Blank said. "And when people start to understand that the type of sexual misconduct we're talking about here are not the way we should be dealing with any of our fellow colleagues."