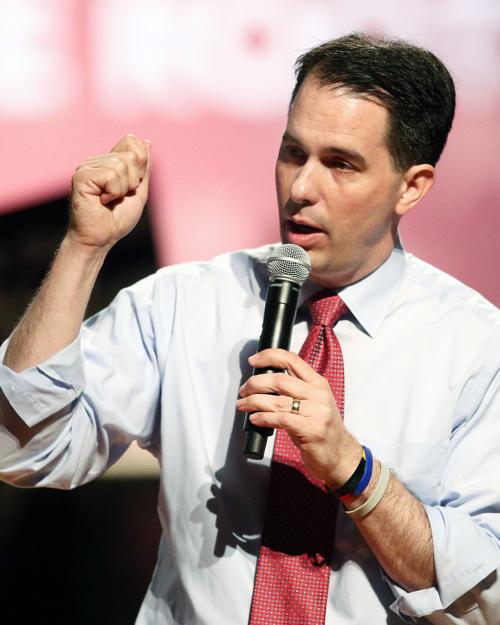 The Legislature's budget committee has rejected Gov. Scott Walker's plan to do away with a small state agency that approves and regulates for-profit colleges.
It's a sign the Educational Approval Board will continue unchanged after being targeted for elimination since February.
"I think it's a good thing for the agency," said David Dies, director of the EAB. "I think it's a better thing for this state and people who attend these institutions."
Walker introduced the controversial measure in his budget proposal in early February, arguing that it would lift unnecessary financial and regulatory burdens on the schools and that some of its consumer protection functions could be handled by other state agencies.
Opponents of the measure pointed out that the board takes no state money and even returns 10 percent of the revenue it collects from the colleges back to state coffers.
They also said that it plays an important role in licensing and collecting graduation data on the schools, which have come under withering criticism from state and federal lawmakers and faced lawsuits for overaggressive marketing practices and underwhelming educational outcomes.
Dies said the spotlight on the agency due to Walker's move to disband it has been beneficial.
"Ironically, I think this whole process has helped create visibility and awareness for the agency," he said. "That's a good thing. It's helped inform people that there is this agency doing this work and makes people aware there is a resource available if they encounter an issue at one of these institutions."
The Joint Finance Committee on Thursday evening voted down the measure, which was part of a massive omnibus bill that also included provisions related to Walker's Wisconsin Economic Development Corp. There was no discussion of the EAB provision.
Thursday's vote against the measure was the first public renunciation of Walker's bill by his Republican colleagues in the Legislature.
Democrats, officials with some of the schools and the board itself — made up mostly of Walker appointees — had argued publicly against it.
In early May, Walker told the State Journal he still backed the proposal.
In late April, the co-sponsor of a bill that included eliminating the EAB said she planned to go forward with axing the board but was open to preserving more of its functions.
Rep. Joan Ballweg, R-Markesan, faced polite but pointed questions from Democratic lawmakers who said at the late April hearing that disbanding the board would leave students without protection against consumer abuses by for-profit colleges.
"We have an institution that works," said Rep. Jonathan Brostoff, D-Milwaukee, of the EAB. "If it's not broke, let's not break it."
Ballweg responded by saying she is open to changing some parts of the bill to help protect students and adequately oversee for-profit schools.
Dies said that disbanding the board would eliminate 90 percent of its regulatory and oversight duties and that a new agency proposed by Walker is not equipped to take over its consumer protection duties.
He noted that the proposed Department of Financial Institutions and Professional Standards would employ only a part-time staffer related to oversight who would have to absorb the workload currently handled by EAB's 6.5 employees and five-member board.
Walker included the proposal in his 2015-17 budget plan, saying it would reduce the regulatory burden on for-profit colleges, but then asked GOP lawmakers to introduce it as a separate bill to facilitate more debate.
EAB takes in about $600,000 yearly in operating fees from the schools, which collect about $351.6 million from Wisconsin students in tuition and fees.