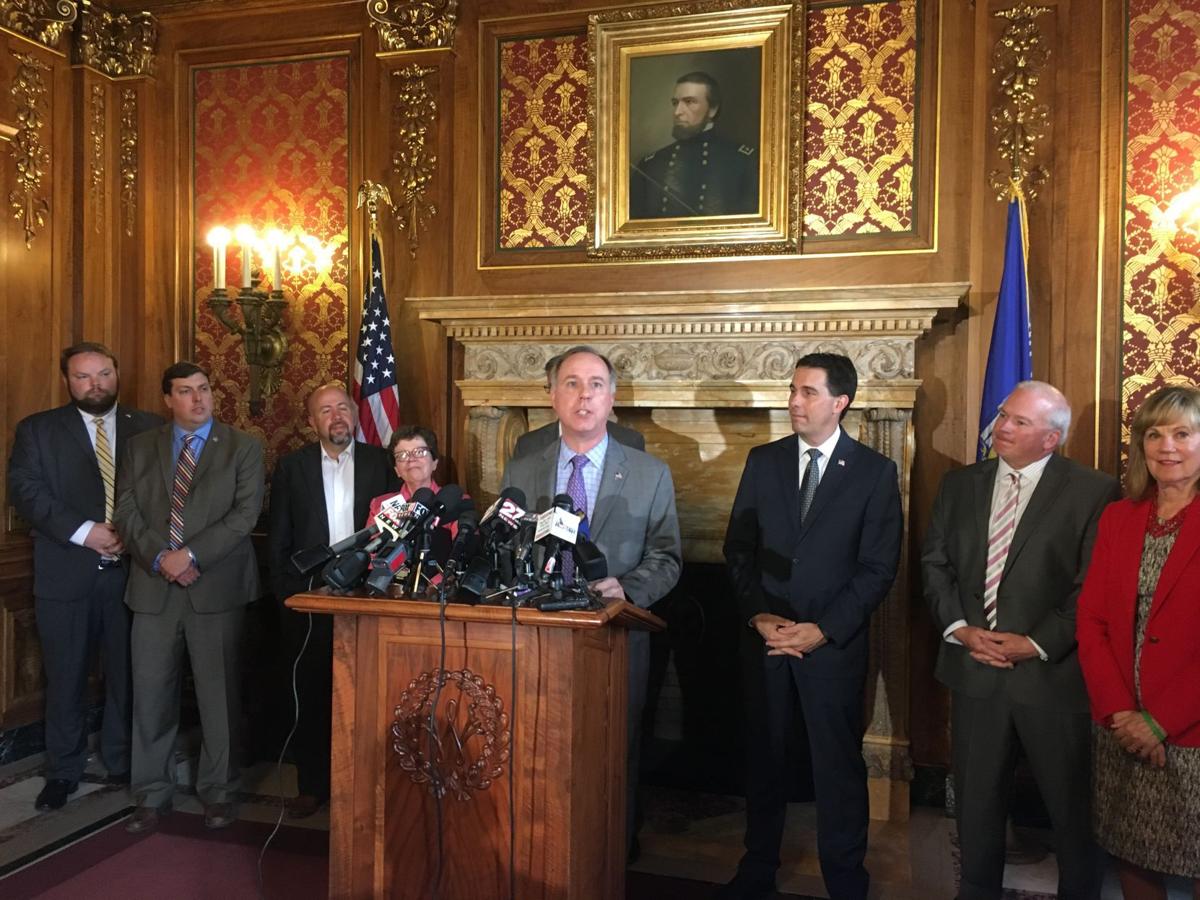 A proposed new research center at UW-Madison named for former Gov. Tommy Thompson would connect academic experts with lawmakers to improve public policy and inspire the next generation of political leaders, according to Republican and university leaders who announced the initiative Tuesday.
But while backers of the Tommy G. Thompson Center on Public Leadership insist it would be a nonpartisan organization, it is also facing scrutiny over whether its research could take on a conservative bent.
Speaker Robin Vos, R-Rochester, said the center has "no agenda," but also indicated he sees it as a counter to left-leaning research organizations on campus.
"It's not a conservative think tank," Vos said. "Hopefully it will be able to offset some of the liberal thinking so that we at least have somebody who is bipartisan.
"Far too many of the organizations … (have) a left-of-center thought" at UW-Madison, Vos added. "This is just hoping that we can have a balance of thought on campus."
Vos joined Gov. Scott Walker, Senate Majority Leader Scott Fitzgerald, R-Juneau, UW-Madison Chancellor Rebecca Blank and others Tuesday to announce their plans to fund the center with $3 million of public money in the 2017-19 state budget. The center would also seek private funding.
Ryan Owens, a political science professor at UW-Madison who has worked for the past year and a half to launch the center, was adamant that it would conduct research that is "objective and down the middle."
"The center will be highly involved in policy research, from no particular ideological angle," Owens said. "What we're going to do is work very, very hard to establish credibility."
Owens, who hopes to be named the center's director, said it would provide grants to fund faculty members' research into how to improve government and public policy, and would put on events meant to inspire students and address what he called a "leadership deficit across the country."
Rep. Gordon Hintz, D-Oshkosh, questioned the need to spend $3 million on a new policy center, though, noting Thompson had sought input on legislation from UW-Madison's La Follette School of Public Affairs when he was governor. Hintz said he was concerned the proposed center could be used to produce conservative-leaning research.
"If you don't like the science and you don't like the data and you don't like the truth, you have to create an academic institution that meets their version of the truth," Hintz said. "It's directly aimed at combating what's coming out of our universities right now."
You have free articles remaining.
The La Follette School's director, Donald Moynihan, said the center would have to get approval from an academic committee he said should ensure it stays nonpartisan.
"Because the center will reflect Thompson's legacy, I expect it will feature more conservative voices," Moynihan wrote in a series of tweets. "But still possible to be nonpartisan. My hope is that the Center will add a vibrant, rigorous voice that complements the strengths we have" at UW-Madison.
Thompson says he's 'very appreciative'
This year marks the 30th anniversary of Thompson's first term as governor. He would go on to become the longest-serving governor in the state's history, and a person who Vos said "helped to define for a generation what it meant to be a Wisconsin Republican."
Thompson did not attend a news conference announcing the center Tuesday but said in an interview that he hopes it "will be very helpful (in) developing good public policies for the state of Wisconsin."
"I'm very appreciative, very thankful," he said.
A UW-Madison graduate for both his bachelor's and law degrees, Thompson has been a "constant supporter of UW," Blank said.
She added that the center, which would open this fall, could help improve relationships between faculty and state legislators by bringing them together to work on public policy issues.
"With this center, (Thompson's) legacy is going to help build closer ties between our researchers and state policymakers, in ways that will benefit the people of Wisconsin," Blank said.
Money would be used to bring in speakers
While most of the funding would be used to operate the center at UW-Madison, $500,000 over the two-year budget would be distributed to other University of Wisconsin System institutions to invite guest speakers to those campuses.
Vos has complained that UW campuses don't bring in enough conservative speakers, and said Tuesday that he envisions the center putting on a lecture series with participants from across the political spectrum.
His statements echo criticism from conservatives nationally that their views are not presented fairly on college campuses, and come as legislators consider a bill Vos co-authored that would punish students who disrupt controversial speakers.