Foxconn Technology Group intends to invest $100 million in engineering and innovation research at UW-Madison that will help fund an interdisciplinary research facility for students and faculty to collaborate closely with the company's Wisconn Valley Science and Technology Park near Racine.
Foxconn CEO Terry Gou and UW-Madison Chancellor Rebecca Blank signed an agreement Monday formalizing what Blank said will be the largest research partnership in the university's history.
"This is an historic moment, not only for the University of Wisconsin and for Foxconn, but I hope for the entire state of Wisconsin," Blank said. "We're two very different institutions, but we share a deep commitment to pushing the boundaries of knowledge."
She said the partnership means "life-changing innovations move more quickly from the lab into the workplace" and will avoid "having to renegotiate details every time" Foxconn and UW-Madison aim to partner on a project.
The Foxconn Institute for Research in Science and Technology, or FIRST, will be built near Racine and serve as a technological hub for initiatives in medical, materials and data science.
The institute will also have a presence in Madison in the form of a new research facility for the College of Engineering that will be built on or near the campus' engineering quad. Other details, such as a construction timeline and cost estimate for the building, are still being ironed out.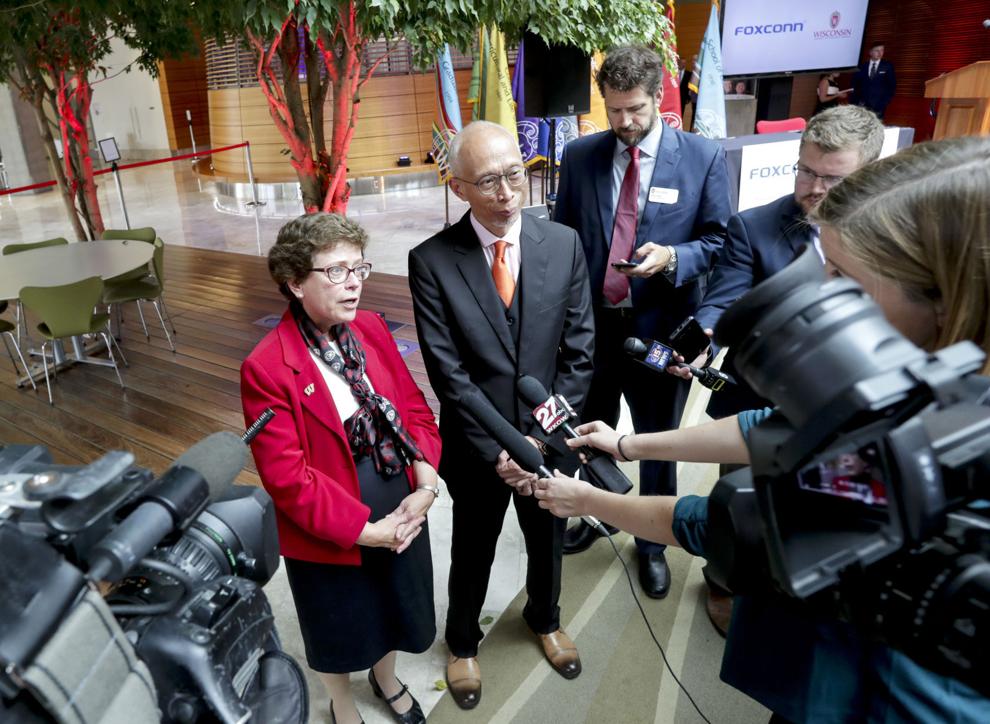 "It's a good problem to have," Blank said. "You don't get $100 million gifts very often."
The university declined Monday to provide the Wisconsin State Journal with a copy of the agreement. The newspaper has requested it through the state's open records law.
Last summer, Foxconn announced plans to build a flat-screen factory in southeastern Wisconsin. The Taiwanese company is the world's leading electronics manufacturer and supplies products to Apple, Google and Amazon.
"At Foxconn, we see our role as not only being a major investor in Wisconsin, but also a long-term partner to the community," Gou said. "The Foxconn Institute for Research in Science and Technology will provide funding on practical topics and capabilities in core areas that will become increasingly invaluable to the advanced technology hub, along with the artificial intelligence, 8K resolution and 5G wireless technology ecosystem that we are building in Wisconsin."
The partnership will create a pipeline of research and engineering talent to the company, which could employ up to 13,000 people.
Students and researchers at the institute may work on prototypes, and the Racine campus would figure out how to apply and expand their research to the marketplace, Blank said.
Foxconn and UW-Madison will share ownership of the intellectual property rights to research coming from the institute, though it would vary by project and be based on their agreement, Blank said.
Foxconn would not be obligated to complete the $100 million gift unless UW-Madison raises the same amount in the area of engineering, computer and data science, as well as human health. The $200 million is part of the university's larger $3.2 billion fundraising campaign that is in its final two years.
"But that's just the beginning," Blank said of Monday's annoucement.
Other agreements
UW-Madison aims to work with Foxconn on other areas of research including robotics, autonomous vehicles, metal imaging and new cancer treatments.
UW-Madison and Foxconn have already signed several agreements related to health care and artificial intelligence, Blank said.
The newspaper has also requested copies of those agreements.
Any legal contract the university enters with Foxconn would require approval from the University of Wisconsin System Board of Regents.
The state offered $3.3 billion in tax incentives to lure the company's first factory outside of Asia to Wisconsin. When coupled with municipalities' incentives, the total cost for taxpayers could reach $4.5 billion, the largest tax break offered to a foreign company in U.S. history.
Gov. Scott Walker, who also attended the ceremony, predicted that Foxconn will transform Wisconsin similar to how Microsoft changed Washington state.
"This will make us a brain gain state, not a brain drain state," Walker said at the June 28 event.
Also in June, UW-Milwaukee announced a study abroad internship program that will send engineering students to Taiwan for a semester to work in one of Foxconn's Taiwanese facilities.