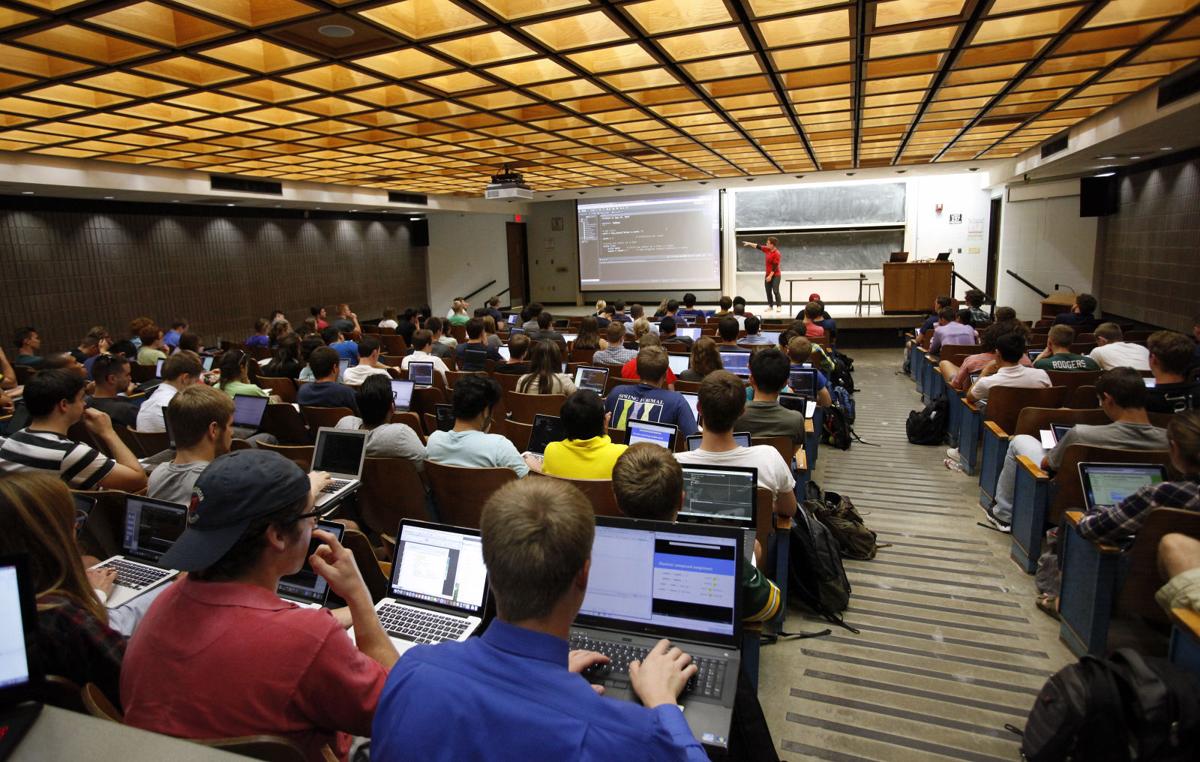 Conservative critics of higher education in Wisconsin have opened a new chapter of their long-running complaints about institutions such as UW-Madison, scrutinizing specific university courses and even a class reading they consider biased or inappropriate.
The shift is yet another sign of the divide between an increasingly conservative state government and a university system that houses programs, research and courses that some Republicans view as frivolous and liberally biased at best and hostile indoctrination at worst.
It could also foreshadow new legislation that seeks to change what many Republicans see as a lack of "intellectual diversity" on college campuses, by pushing institutions to invite more conservative speakers and hire more right-leaning faculty.
How, exactly, the Legislature would accomplish that goal remains to be seen, but the issue could emerge soon as lawmakers craft the state budget this spring and summer.
To proponents of academic freedom on and off campus, the push from state Sen. Steve Nass, R-Whitewater, and others to seek out bias in the operations of the university — and to use the prospect of budget cuts as a means to push for changes, as Nass has — is a troubling overreach.
"If you're using the power of the purse to police certain courses, you're really putting yourself in the position of managing the university in a way that I think elected officials should avoid," said Donald Moynihan, director of UW-Madison's La Follette School of Public Affairs.
Republicans have countered that they are speaking on behalf of their constituents, and say universities have drifted far to the left of mainstream opinion.
"If we can't comment on these issues, why are they coming to the taxpayers and saying, 'You have to fund it'?" said Mike Mikalsen, a spokesman for Nass.
Calling out bias or meddling in curriculum?
Long a critic of the University of Wisconsin System, Nass has made headlines over the past six months by deriding programs and curriculum at UW-Madison.
In July he raised concerns about a reading in a sociology course that explored the sexual preferences of men using gay dating apps, calling the essay "offensive."
In December he and Rep. David Murphy, R-Greenville, criticized a course on white identity and racism titled "The Problem of Whiteness."
And last week Nass told his colleagues that a program in which students discuss masculinity amounted to the university declaring a "war on men."
"They're preaching, they're not teaching," Mikalsen said of UW-Madison.
In each case Nass has invoked the UW System's funding and called for lawmakers to reform the university.
UW officials are requesting $42.5 million in new funding in the 2017-19 state budget, after recent budgets have slashed its share of public money.
While Republicans and Democrats have long sought to reshape universities through their governing boards and other means, the extent to which Nass has delved into the specific details of courses and readings is new and troubling, said Hans-Joerg Tiede, associate secretary for the Department of Academic Freedom, Tenure and Governance at the American Association of University Professors.
Democrats, faculty and others have joined in that criticism.
"The crux of the problem is Republican legislators, believing they can micromanage, attack free speech and use the budget as blackmail whenever the university espouses ideas that are even remotely challenging to conservative orthodoxy," said Rep. Terese Berceau, D-Madison. "We are going down a very dangerous road when Republicans try to dictate what our university offers in terms of learning opportunities."
UW-Madison officials have responded that the classes Nass has taken issue with are voluntary, and that having courses that explore controversial viewpoints is an important part of the open exchange of ideas in higher education.
"A university's commitment to academic freedom and free speech is a commitment that allows all ideas to be presented and discussed," Chancellor Rebecca Blank wrote in a blog post Sunday.
"Ideas should be dismissed only after research and debate proves them inadequate, rather than being dismissed out of hand without debate because they challenge perceived wisdom or offend current beliefs."
'Intellectual diversity' could be topic in budget
Asked what message Nass wants to convey by drawing attention to courses and materials he finds objectionable, Mikalsen said he wants to show the "tremendous lack of balance" in how professors and administrators present ideas.
That has long been a Republican criticism of academic institutions, which many regard as ivory towers where overwhelmingly liberal faculty present conservative ideas unfairly or not at all.
In September Assembly Republicans identified "ideological diversity" as one of their priorities for the next session, writing that they planned to challenge UW to "ensure diverse perspectives are present and protected in our classrooms and faculty lounges."
Speaker Robin Vos, R-Rochester, who last year called for UW institutions to invite more conservative speakers, has indicated that he wants to see the System's funding tied to the variety of voices on campus, as part of a package of performance metrics that Gov. Scott Walker said could determine new funding for universities.
"He would like to see a metric that advances free speech and intellectual diversity when it comes to the diversity of professors and speaker invitations," said Kit Beyer, a spokeswoman for Vos, who did not elaborate on how that diversity would be measured.
Without knowing more specifics about Vos' idea, a spokesman for UW-Madison declined to respond to it.
Moynihan said he supports having more conservative speakers on campus, and noted that his department has brought in right-leaning intellectuals as well as Republican lawmakers — including Vos and Murphy — to speak with classes and the public in the past.
But, Moynihan said, a "checked-box approach" that calls for hiring or inviting a certain numbers right-leaning people raised problems — starting with the question of whether legislators can or should spell out in law what makes someone conservative or liberal.
"It would be impossible," Moynihan said. "Would you start looking at people's voting registrations, or who they had donated money to? The degree to which this would be government intrusiveness on people's lives would be mind-boggling."
Murphy, the chairman of the Assembly's Committee on Colleges and Universities, said lawmakers want to "feel as if both sides of some of the stories are being told" at UW institutions.
"I don't want to micromanage anything at the university, but I think lots of legislators feel like they would like to see a more diverse opinion at the university," Murphy said.
Still, he acknowledged the "$64,000 question" was how the Legislature could act on that concern.