The Madison Metropolitan School District will add two new Community Schools next year while parents at an existing site are calling on the district to do more to support the program.
On Tuesday, MMSD announced it will launch two new Community Schools for the 2018-2019 school year at Hawthorne Elementary on the northeast side and Lakeview Elementary on the north side. Hawthorne and Lakeview will join the district's inaugural Community Schools, Leopold Elementary and Mendota Elementary, which started in the 2015-2016 school year.
The Community Schools model emphasizes parent, student and neighborhood involvement in identifying school issues and developing solutions to address them. The program also brings community resources directly to the school building with a "one-stop shop" philosophy, said MMSD's director of family and community engagement, Nichelle Nichols.
"We are hoping that as the model takes hold over time, we'll have more shared power with family members and community partners about what that neighborhood and community really needs and how to use the school facility to do that," Nichols said. "We want, in the long term, to impact social-emotional and academic learning outcomes for our young people in those schools by doing more holistic coordination."
In a press release, MMSD Superintendent Jennifer Cheatham said she was "energized" to add more Community Schools to the district.
"Community Schools build on the strengths of our school communities and prepare our students to excel in the classroom," she said.
Hawthorne Elementary School principal Beth Lehman said she hopes the Community Schools program can highlight and enhance some of the school's current initiatives around outdoor learning, recreation and relationship building.
"We believe in the concept of Community Schools. We value our community and do have strong partners, but you can never have too many. What we've seen already from Mendota, too, in terms of what all (the designation) can do for the community and the schools to enhance resources and offerings for families right at the school is inspiring," she said. "I hope that it helps to highlight the school and the surrounding area as a great place for people to come to that is safe and positive."
Lakeview's principal Kristi Kloos could not be immediately reached for comment.
Nineteen schools were invited to apply for the Community Schools program. MMSD's Nichols said three schools submitted applications to launch in the 2018-2019 school year.
Nichols said MMSD will form a network of Community Schools principals this summer as the program expands, with a focus on the first few months of implementation. Schools are required to complete a needs assessment by engaging parents, students and community organizations to determine supports for each school.
Both Hawthorne and Lakeview will need to hire a Community Schools coordinator. Nichols said the new program coordinators should be hired by this summer.
Leopold is entering its third year as a Community School and also needs to replace its coordinator, who stepped down at the end of February.
The day before the district announced the two new schools, parents from Leopold delivered a petition to the Madison School Board. Their petition, which was signed by over 50 parents, informed the board that Leopold parents, particularly those who identify as Latino, were concerned that the Community Schools coordinator position only requires a high school diploma and the candidate does not have to be bilingual.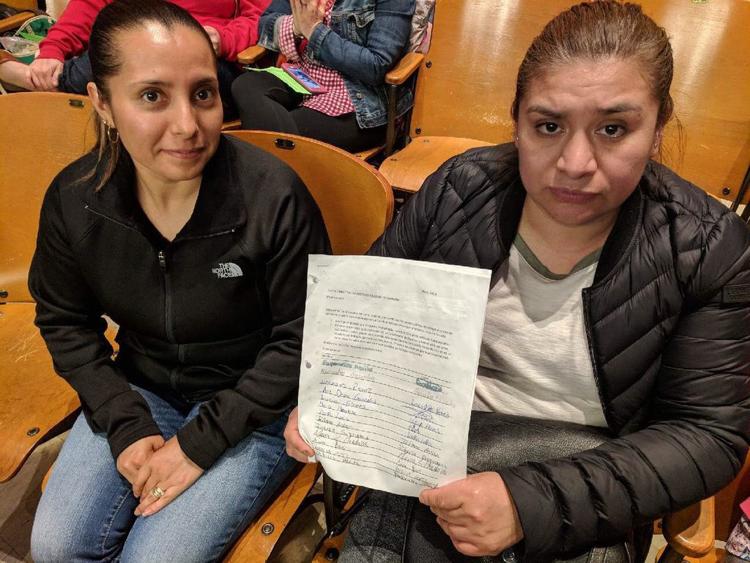 "We firmly believe that the (new coordinator) must have a master's degree and also must be bilingual in Spanish," said the text of the petition, translated from Spanish.
Leopold is a Spanish dual language immersion school and 42 percent of students are English language learners.
Lee Hayes, co-president of Leopold's Parent-Faculty Organization, spoke at Monday's School Board meeting and was joined by fellow co-president Rosario Ramirez and PFO member Karina Mendoza.
"Those of us who are at Leopold have been living under the Community Schools model for a couple of years now, and, as Cheatham and I discussed, it has not been going as well as it has been at Mendota," Hayes said. "These parents who signed this petition do not believe a candidate with solely a high school degree would be qualified to negotiate the kind of complex problem solving and connections that are required of the resource coordinator position."
The job posting indicates that the position requires a bachelor's degree, or equivalent experience, and a desire for applicants who speak Spanish or Hmong. 
The petition also raised concerns about Cheatham's recent appointment of Leopold's principal for next school year who does not speak Spanish. Van Hise Elementary School principal Peg Keeler will start at Leopold in July. Earlier this month, some Leopold parents expressed frustration that MMSD did not seriously involve them in the principal hiring process given its designation as a Community School.
"Our Spanish-speaking parents have come to expect that they can go to their principal face to face and be heard directly, and hear back from their principal directly with their concerns," Hayes said in her address to the board.
Nichols said Leopold has a unique set of challenges given its large size and student population who live in both Madison and Fitchburg.
"I think that Mendota is probably benefiting more from some of the collective work that is happening on the north side right now," Nichols said in an interview earlier this month with the Cap Times. "I think what we've been learning with Leopold is how to bring the resources between Fitchburg and the city of Madison and connect those dots…(Leopold) has been moving forward, but we have to kind of regroup coming into the next school year."
Last week, the Community Schools program received a $1.1 million challenge grant from the Madison Community Foundation to expand over the next five years. The program also received a $500,000 grant from CUNA Mutual Group earlier this school year.