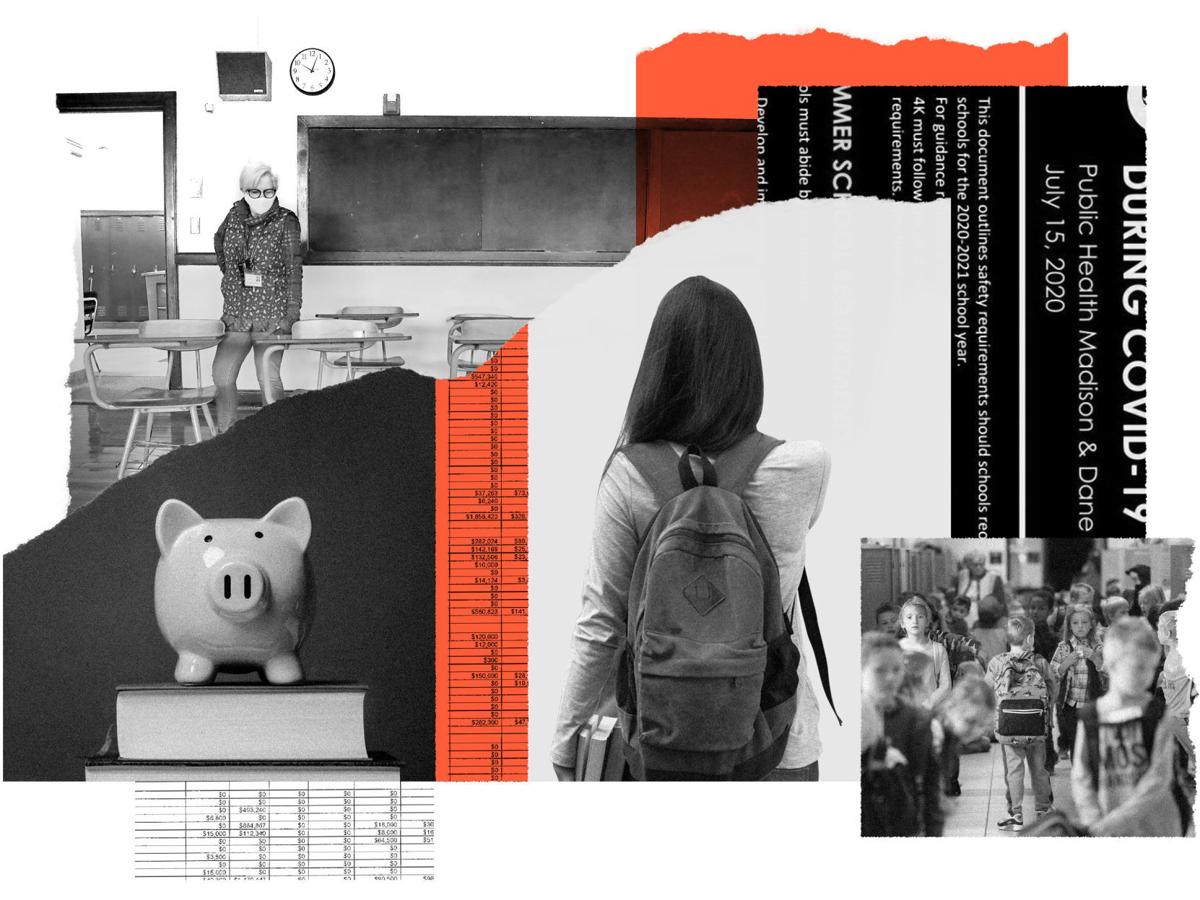 The race for the open state superintendent of public instruction seat this spring is crowded.
Seven candidates are vying for the job. Current superintendent Carolyn Stanford Taylor announced last year she would not seek re-election. The field will narrow to two in the Feb. 16 primary race, with voters statewide making the final choice on their April 6 ballots.
The state superintendent, elected to a four-year term, oversees the Department of Public Instruction and is responsible for the general supervision of public schools. That includes submitting a biennial budget request, setting statewide priorities on education and dispersing some grant funding to districts and schools.
Below is a brief rundown of the candidates' backgrounds in alphabetical order, followed by quotes on some of the topics from the first candidate forum, held Jan. 7. That forum, hosted by the Wisconsin Public Education Network and League of Women Voters of Wisconsin, can be seen in full here.
The Association for Equity in Funding will host another forum from 6:30 to 8 p.m. Wednesday, Jan. 20. Those interested must request a link to the Zoom meeting by emailing AEF executive director John Humphries at johnhumphries.aef@gmail.com.
Sheila Briggs
Sheila Briggs is an assistant state superintendent in the state Department of Public Instruction, a position she has held since February 2011. Prior to joining DPI, she worked in the Madison Metropolitan School District for nearly 15 years, beginning as an elementary school teacher and rising to principal, lead principal and finally director of state and federal programs. Briggs' priorities, according to her campaign website, include rethinking what educational outcomes the state values for students, teacher roles and the structure of the school.
Joe Fenrick
Joe Fenrick is a Fond du Lac High School science teacher who also is serving his third term as a Fond du Lac County supervisor. The 15-year FDLHS teacher chairs the board's Social Services and Human Services committees and also works as a geology lecturer at the University of Wisconsin-Oshkosh. Fenrick writes on his campaign website that he wants to bring a teacher perspective to lead the state's schools, reduce standardized testing and provide resources for children to learn everywhere.
Troy Gunderson
Troy Gunderson is an adjunct professor at Viterbo University in La Crosse following a 35-year career in public education. During his career, Gunderson spent seven years as a classroom high school teacher, 16 years as a high school principal and 12 years as a school district superintendent. The last 10 years of his superintendent work came in the School District of West Salem. Among the priorities on his campaign website are investing in early education, attracting the next generation of teachers to the profession and improving the connection between secondary and post-secondary institutions.
Shandowlyon (Shawn) Hendricks-Williams
Shandowlyon Hendricks-Williams has more than 25 years of experience in a variety of education roles and worked as the director in the Milwaukee office of Gov. Tony Evers until November 2020. Prior to working in Evers' office, Hendricks-Williams worked at DPI and earlier in her career as an administrator and special education teacher in Milwaukee Public Schools. She founded Project Hope, Inc., a nonprofit focused on helping adults with disabilities and combatting homelessness. Her campaign includes a 20-item "Student Bill of Rights" outlining her vision and priorities, including high-quality early education and the option to receive instruction in different modalities.
Deborah Kerr
Deborah Kerr was the superintendent of Brown Deer Schools for 13 years until leaving in June 2020. Kerr has worked in a variety of educational sectors, and is a former president of the national School Superintendents Association and Wisconsin Association of School District Administrators. Earlier in her career, Kerr was an athletic director and physical education teacher, middle school principal and assistant principal. Her priorities include personalizing learning for students, ensuring success through equity and engaging families and communities as partners.
Steve Krull
Steve Krull worked for 12 years in Milwaukee Public Schools as a principal, assistant principal and teacher. Prior to that, Krull served in the Air Force for six years. His policy priorities include providing better services for kids, ending the teacher shortage and improving financing for public schools.
Jill Underly
Jill Underly is the superintendent in the Pecatonica Area School District, a position she's held since 2015. She is a former elementary school principal and high school teacher and also worked at DPI for five years. Her campaign is focused on high quality early childhood education, adequate funding for schools and supports for mental health and emotional wellness.
Debate quotes
If you could reopen schools to a new normal, what would it look like?
Briggs: "First, we need to take this opportunity to really rethink the outcomes that we value for our kids; second, we really need to rethink the role of our teachers; and third, we need to rethink the structure of our schools."
Fenrick: "Our schools need to be children- and student-centered, which means we need more teaching and we need less testing."
Gunderson: "Being able to line up the needs and assess the needs all across the state is important."
Hendricks-Williams: "We have to develop a COVID-19 checklist to make sure that our districts are ready to welcome our students and our teachers back."
Kerr: "My vision is to get us back to school, not only with a checklist, but with a statewide recovery plan that is personalized and customized for each individual school district."
Krull: "This is a really good opportunity for us right now to look at the structures of what is failing inside of our system, and not just do little things that cut across the edges but really look at the whole system."
Underly: "All kids, regardless of zip code, they need 21st Century classrooms, they need air conditioning, they need learning environments where they can learn and teachers can teach and they need technology."
How do you plan to make students feel safe in school, including Black students and students of color, LGBTQ+ students and students with disabilities?
Briggs: "We need to make sure that we continue to adequately fund our public schools so that every single student gets what they need to feel a sense of belonging and success in our schools."
Fenrick: "It's all about building relationships."
Gunderson: "This has to be a 'we' problem. These are consequences of an entire state and a society that lives in a world of 'I.'"
Hendricks-Williams: "If you look at my Student Bill of Rights, when we implement my policy … our students will feel welcome."
Kerr: "The way that we did this in Brown Deer was that we honored our students' voices, we got to know each individual student, we accepted them where they were at in their educational and social-emotional learning journey and then we took them to the next level."
Krull: "We've got to make sure that students feel physically and emotionally safe to learn and we do that by providing equity and individualized learning and really, really meeting the needs of each and every child."
Underly: "They need to be heard and we as staff need to accept, respect and protect all students."
How will you lead efforts to balance requirements for federal accountability with support for districts to personalize learning that meets individual student needs?
Briggs: "We need to feel confident that every minute that students spend on assessment, it's giving us valid and useful information so that we can make the system better and meet their needs better."
Fenrick: "I want teaching not testing."
Gunderson: "The accountability goes with our businesses, our colleges and our communities as the type of children we turn out when they leave."
Hendricks-Williams: "That is the purpose of assessments, to use that data to drive decisions about what we teach and what we need to go back and reteach."
Kerr: "We've got to do a better job of identifying those assessments that better track how kids are learning and progressing through our educational systems and also take a look at the school report card."
Krull: "It's not OK just to have outputs, which are testing, we need to change the inputs as well. We need to focus on more and the whole child."
Underly: "I truly believe if kids have access to high-quality early childhood education we can set them all up for success and that we could easily balance those requirements from the federal government."
Share your opinion on this topic by sending a letter to the editor to tctvoice@madison.com. Include your full name, hometown and phone number. Your name and town will be published. The phone number is for verification purposes only. Please keep your letter to 250 words or less.