Brianna Allen watched her son, a kindergartner, walk into Lake View Elementary on Madison's North Side for the first time Thursday after weighing the pros and cons of sending him to in-person schooling during a pandemic.
"He has asthma, and it's chronic, so that's what I'm nervous about," she said, adding that another of her children, her 1-year-old son, is immunocompromised after receiving a heart transplant.
"I don't want him to get admitted back into the hospital," she said. "I'm very nervous and cautious, but I'm taking the steps to do the social distancing and the hand-washing and keeping it bacteria free."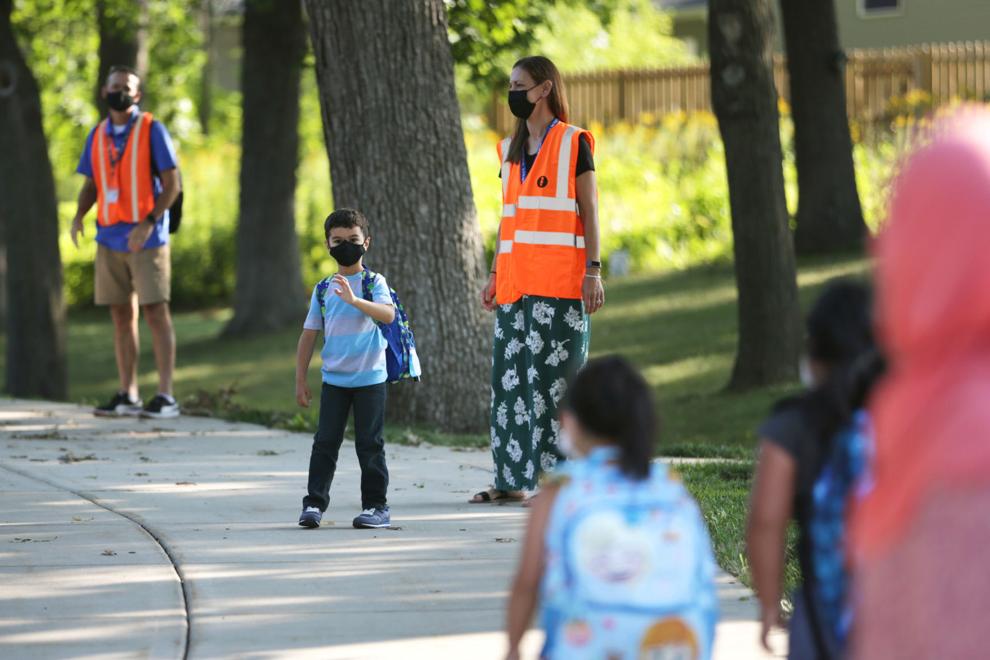 The Madison School District on Thursday welcomed roughly half of its students back into school buildings for the first time since buildings shuttered roughly 18 months ago due to the COVID-19 pandemic. Students in grades 4K, kindergarten, 1, 6, 7, 9 and 10 and in early childhood programs returned to school amid a resurgence of coronavirus cases driven by the more transmissible delta variant. Students in the remaining grades are due to return to classrooms on Friday.
The district announced a last-minute online school option for students in grades K-5 last week, and about 750 families — five times the number the district had originally planned for — applied to have their children enrolled. Allen said she thought about enrolling her kindergartner in the online program but thought it would be better for him to get experience with in-person schooling and to make new friends.
On the Near East Side, masked parents lined up outside of Lapham Elementary with their children, also masked, before the 7:30 a.m. start time. Nearby, a staff member dressed as the school's mascot, a dolphin named Splash, greeted students with cheerful waves and high fives as parents handed off their children to staff, who spritzed their hands with sanitizer before they walked in.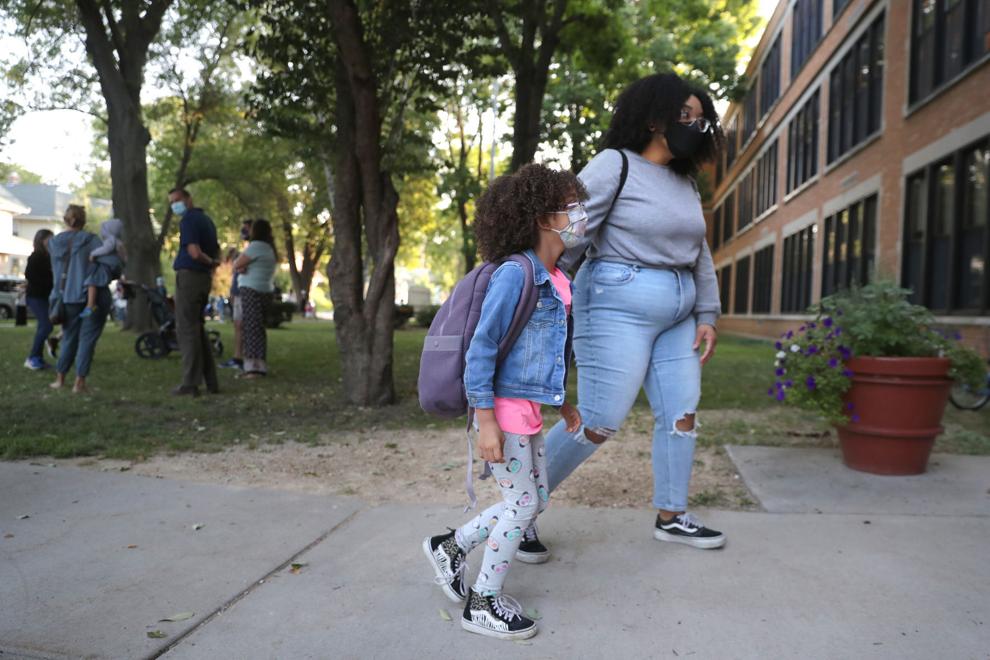 Parents were not allowed inside of the building to help their children find their classrooms and teachers, something that would happen in a non-pandemic year. Instead, they congregated on the playground for a coffee-fueled meet-and-greet with other families.
Among them were Madisen Clark and Daniel Bowser, who had just dropped off their kindergarten-age daughter, who was ready and excited for school.
"She didn't even say goodbye; she just ran right in," Clark said, laughing. "I'm excited to get to see her at the end of the day and hear how things went from her."
"I was like 'Penelope, Penelope!' and she just looked back, kind of," Bowser said. "It went way better than I thought it was going to go."
Both Clark and Bowser said they were nervous about sending their daughter to in-person learning, but they're confident with how she has been handling mitigation strategies such as masking.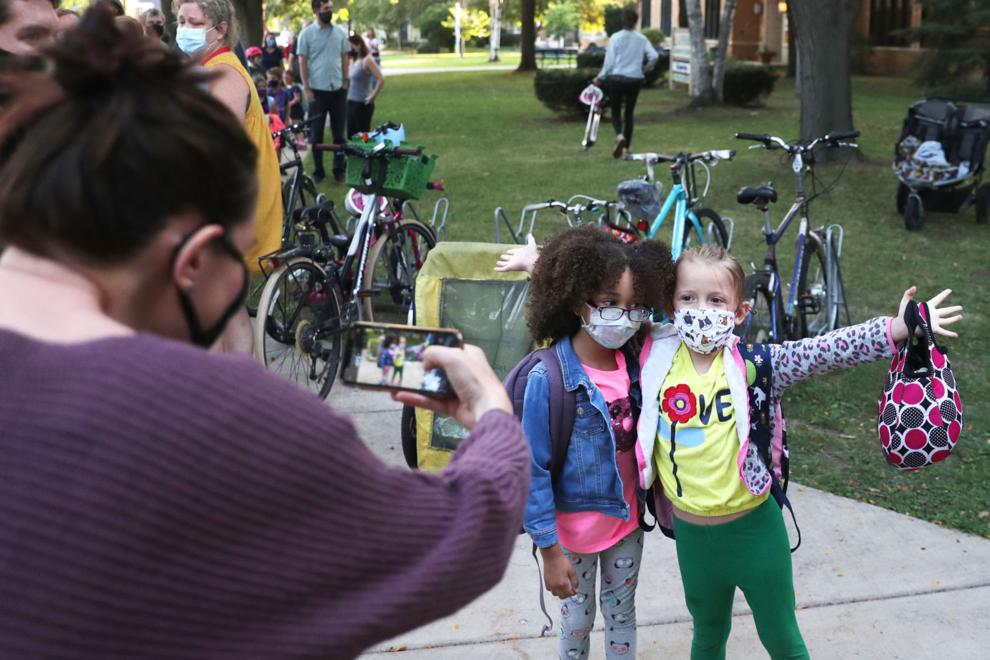 Jenny and Melissa Fish, whose son started 4K at Orchard Ridge Elementary on the city's West Side, said they were nervous about sending him to school but agreed that he needed the social aspect of in-person learning.
Melissa Fish said their son was exposed to COVID when she contracted it earlier, and they plan to get him vaccinated as soon as he is eligible.
Vaccine requirement
Parents interviewed Thursday cited the district's mask mandate for students, staff and visitors to school grounds — including outside — regardless of vaccination status as well as the School Board's decision on Monday to consider a vaccination requirement for teachers and staff as a deciding factor in sending their children to classrooms.
"If there wasn't that, we wouldn't be sending him," Evan Wells, father of a 4K student at Leopold Elementary School on the city's South Side, said.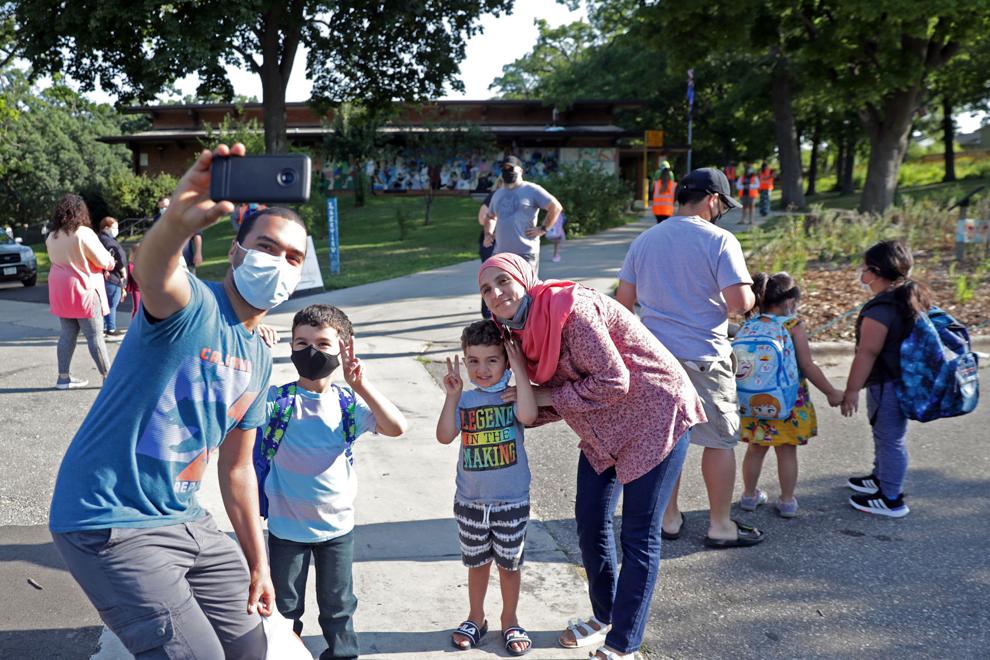 The board voted unanimously to pursue a vaccine mandate for teachers and staff Monday, just days before school was scheduled to start. Some speakers urged the board to move quickly.
The resolution, by board member Cris Carusi, directed district administrators to put together a plan to require vaccinations, which will be taken up by the board's Operations Work Group on Sept. 20 and voted on by the full board on Sept. 27. A deadline for teachers and staff who have yet to be vaccinated has yet to be determined. The district has not yet collected data on the number of teachers and staff who have been vaccinated.
'This is scary'
Students at Toki Middle School on the Southwest Side were both excited and nervous as they entered the building, most for the first time.
Lona Hassett attended school online throughout the 2020-21 school year. "Virtual was OK. I usually prefer in-person, but this is scary," the incoming sixth-grader said. "There's too many people here. I'm not used to it."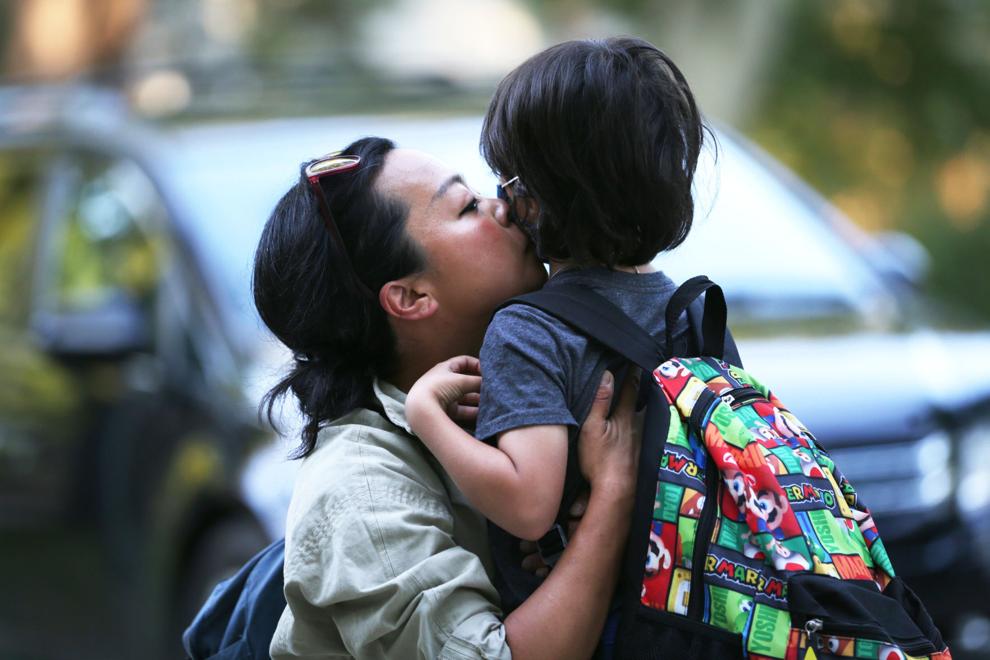 Kobe Singvongsa, who started seventh grade, said he was feeling "really good" and was excited to meet new people in person. "And get to see some of my old friends and get to do some fun activities in person," he said.
Jatavia Waller, who will be starting eighth grade, said she's looking forward to socializing with classmates through in-person learning, even though she said she appreciated online learning last year because, she said, she's also an introvert.
She plans to get vaccinated on Sept. 11 and said she didn't mind wearing a mask while in school because "it's kind of like second nature."
Independence
Cathy Prozanski, who is in her fourth year as principal at Lapham Elementary, said the teachers and staff were ready to welcome students back into the classroom.
"I would say 95% of our students already met their teacher," she said. "I feel good. The kids are excited. It's amazing how even the littles can go to the door and say goodbye to mom and dad and there's no crying. … There's always more tears among the parents."
Prozanski said that independence among even the youngest learners suggests one positive effect of the pandemic.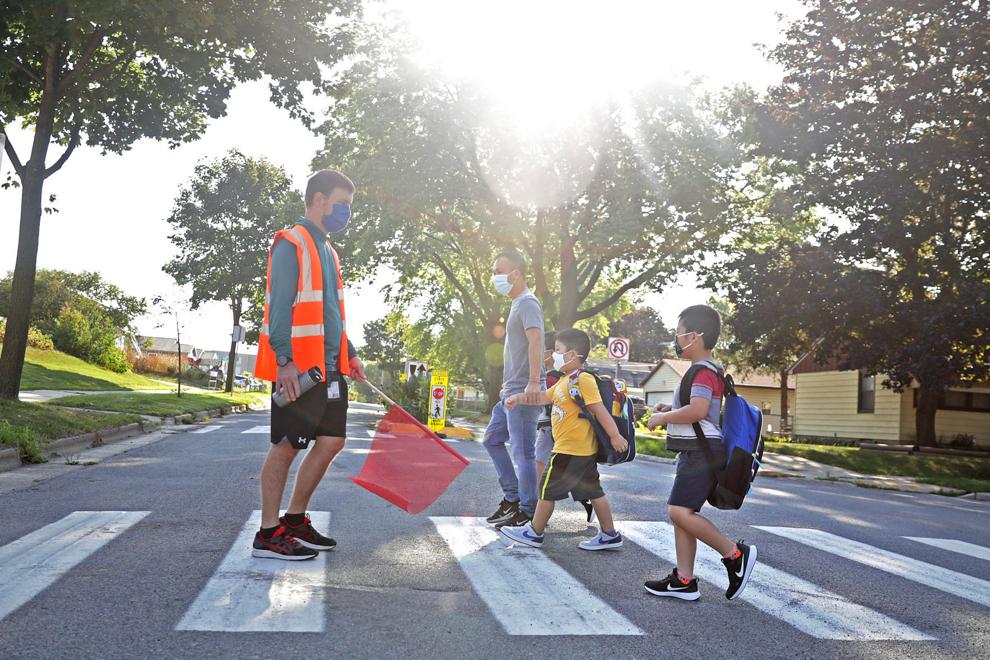 Still, the highly transmissible delta variant has people like Prozanski worried. Students will take off their masks during meal times, for example, she said. To lessen the possible spread, students will remain socially distanced during lunches and snack times, and teachers at Lapham will encourage quiet meal times by reading to students or putting on an educational video or audio book, she said.
If the school were to experience an outbreak, Lapham nurses would conduct contact tracing to determine which students, teachers or staff need to quarantine — the same approach that will be practiced districtwide — as well as which close contacts were wearing masks and their vaccination status.
"We've really been intentional" about COVID mitigation efforts, Prozanski said. "I think we'll be fine."