Three in four Wisconsin public schools — including 35 in Madison — are either meeting or exceeding expectations set out by the state's new accountability system, the Department of Public Instruction announced Monday.
But one in eight of Wisconsin's 2,118 public schools are failing to meet or meeting few expectations, according to school report cards released Monday. The report cards assign scores on a 0-100 scale and a corresponding rating in one of five categories.
About 11 percent of the state's schools did not receive a score because they are new, had too few students or are an alternative school.
Despite the highly anticipated release of ratings, State Superintendent Tony Evers encouraged the public to look beyond each school's score.
"These preliminary report cards provide valuable information as a foundation for helping all our schools improve," Evers said in a statement. "Detailed report cards provide data that will help them get even better."
No Madison or Dane County schools failed to meet expectations, though 10 Madison schools and the Wisconsin Virtual Academy, an online charter school based in McFarland, received ratings in the second-lowest "meets few expectations" category. The school with the lowest rating in Dane County was East High School.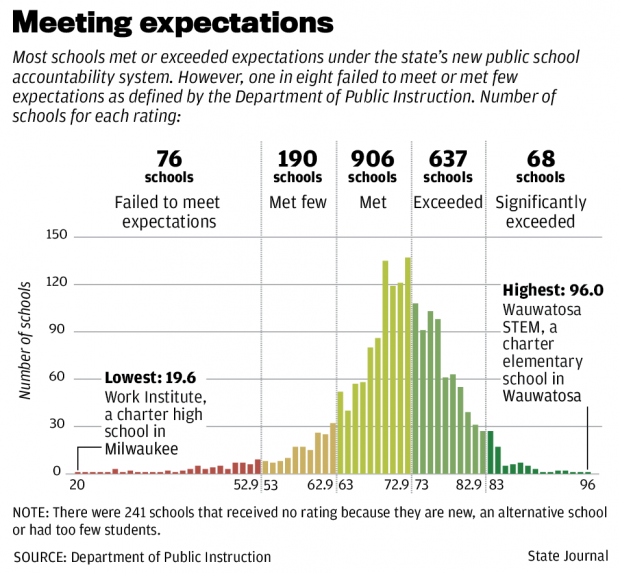 Madison superintendent Jane Belmore said the ratings reflect data the district is already using to improve schools.
"We aren't going to be satisfied until we have every child achieving," Belmore said.
Seven Madison schools and five other Dane County schools "significantly exceed expectations," a designation only 3 percent of schools in the state received.
They are Van Hise, Randall, Shorewood Hills, Marquette, Franklin and Lapham elementaries and Hamilton Middle School in Madison; McFarland Primary; West Middleton Elementary; Royal Oaks Elementary in Sun Prairie; New Century School in Verona and Waunakee Prairie Elementary, which had the highest score in Dane County.
Dawn Cunningham, PTO president at Madison's Hawthorne Elementary, one of 10 Madison schools in the second-lowest tier, expressed frustration that the scores don't reflect what's going on in schools and could reinforce perceptions about schools with higher poverty, which tend to have lower test scores and consequently lower report card scores.
"It sickens me to think that we are reduced to 'yellow' this morning," Cunningham said, referring to the report card color-coding system. "Many people that don't dig deep enough and can't see past 'yellow' will leave and our funding will be reduced and the cycle will continue."
The overall rating is based on multiple measurements in several subcategories — student achievement and improvement on tests over three years, progress on closing achievement gaps and postsecondary readiness. Points are deducted if test participation, absenteeism or dropout rates are unsatisfactory.
DPI officials cautioned that while the rating system is standardized for all schools in the state, schools may have received the overall rating for different reasons. Schools also vary by student population, demographics and which grade levels it includes.
"It's always hard to make an apples to apples comparison," said Laura Pinsonneault, director of the Office of Educational Accountability. "It's more important to look at each school along with other data."
Belmore said the new ratings challenge perceptions about certain schools, such as some that DPI labeled "focus" schools in June based on a separate measurement the federal government requires for accountability purposes.
Of the 16 schools in Dane County labeled as "focus," meaning they need more interventions to close achievement gaps, the new state system rated five in the second-lowest tier, seven in the middle tier, three in the second tier and one — West Middleton Elementary — in the top "significantly exceeds expectations" tier.
Middleton-Cross Plains School District spokesman Perry Hibner said the "focus" designation means West Middleton has a large achievement gap, but the report card shows the school is making progress in closing it.
Falk Elementary in Madison, which just missed the "meets expectations" cutoff, had the lowest score among Dane County schools in the closing achievement gaps subcategory, even though the school has for the past four years piloted a program to include culturally relevant practices in the classroom. The district is in the process of expanding the program to other schools.
Belmore said the Falk program needs additional time before it can be deemed successful or not.
"We're continuing the work and this will help us confirm as we move along how that work is going," Belmore said.