Tempers flared Wednesday with several confrontations between speakers as a Madison schools committee considered a proposal to replace police officers embedded at each of the district's major high schools with a police liaison program that would serve all schools.
Little progress was made on proposed recommendations to change the Madison School District's relationship with the Madison Police Department after an emotionally charged public comment period included disputes about the appropriateness of filming the ad hoc committee's proceedings and a near-fight between speakers.
David Blaska, a conservative former Dane County Board supervisor, was the first person to speak during the public comment period, and he was among a handful of people at the meeting in support of keeping school-based police officers, known as education resource officers, or EROs, in Madison's four main high schools. A few dozen people came to support the removal of the EROs and advocated against the potentially larger liaison program.
In addition to the current ERO program — in which West, East, La Follette and Memorial high schools each get an assigned officer — Blaska advocated for extending the ERO program to the district's middle schools.
As soon as Blaska's allotted three minutes to speak were up, loud jeering erupted from the audience.
Throughout the public comment period, several people said the presence of police officers inside school can negatively affect students of color and feeds into the "school-to-prison pipeline."
"Ain't no amount of training, ain't no amount of special certificates is going to matter when it comes to black and brown kids, because (police officers) see us as thugs and criminals," said Bianca Gomez, a member of Freedom Inc., an activist organization focused on issues that affect minority populations.
As Blaska attempted to capture the public comment on his cellphone, others took issue with juvenile speakers being recorded and attempted to block his view by either standing in front of him or putting objects in front of his phone, alleging he runs a racist blog where the youths' photos would be posted.
Blaska moved about the meeting room, which was held in the McDaniels Auditorium in the district's Doyle Administration Building, and others continued to follow along and block his phone.
The emotions culminated in a heated face-to-face argument between a woman who had earlier spoke in support of EROs and some people wishing to remove EROs.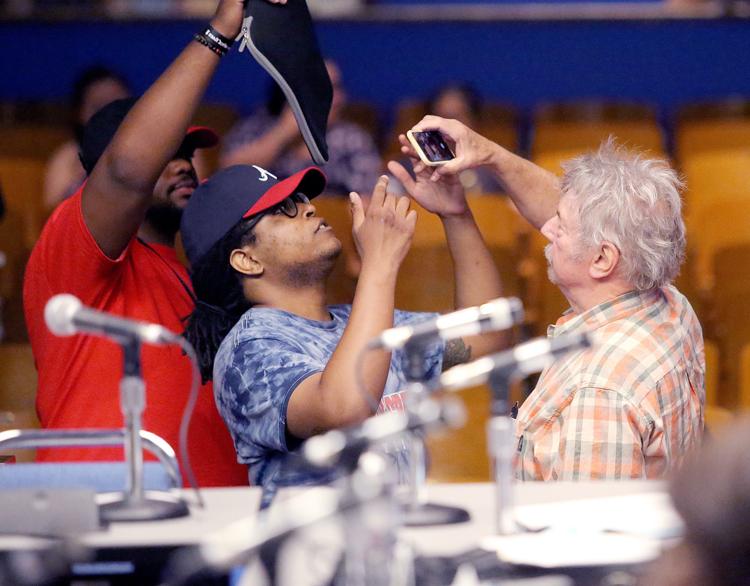 "Everybody back off. This is totally uncalled for," Barbara Harrington-McKinney, a member of the ad hoc committee and the Madison City Council, tried to shout over the yelling of others.
As the confrontation disrupted the meeting, the ad hoc committee went into a five-minute recess before public comment resumed.
After reconvening, School Board member and ad hoc committee chairman Dean Loumos reminded attendees that they are legally allowed to record the meeting.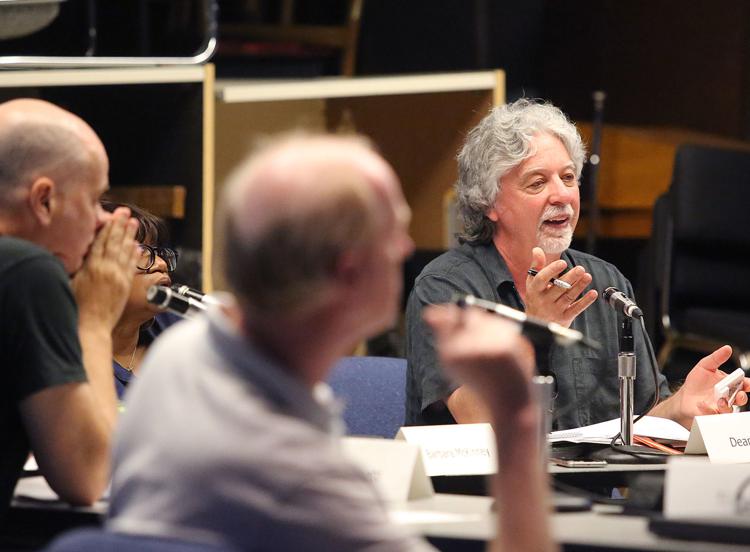 "Stay out of people's faces, be respectful about it. You can tape us, you can tape whatever you want," he said.
"This meeting has been extremely heartbreaking for me as a parent, for me as a community member, to see that white supremacists are going to be allowed to continue to intimidate our youth and our children," Shadayra Kilfoy-Flores said after the meeting reconvened.
After debating and making some changes to a few explanatory paragraphs, the ad hoc committee adjourned before voting on the proposed recommendation that would replace the current four-officer ERO program with one where 20 or so officers would have regular contact with school officials and respond to incidents when requested, but not be embedded in buildings.
"I think we've hit a wall," Loumos said at the end of the discussion.
Members did offer some thoughts, though, on the liaison concept.
Payal Khandhar said she thought 20 officers would be too many and called for stronger definitions of what their responsibilities would be.
"I'm not in favor of increasing the police interaction by increasing the number of police officers," said ad hoc committee member Anna Moffit, a former School Board member.
The ad hoc committee decided to meet again in a couple of weeks to further go over the proposed recommendation.
Loumos said two previous meetings had been contentious among the speakers, but added, "I didn't think it was going to get to that."