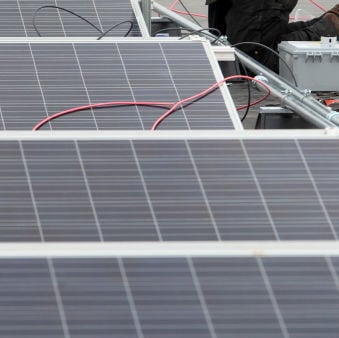 In an effort to move away from fossil fuels, the Madison School District is joining the city of Madison in purchasing energy from a planned solar project.
Madison Gas and Electric is to construct a 7-megawatt solar array near the Dane County landfill. Energy produced from the project, which is expected to be finished in late 2020, will be divided between the city and district.
The city recently agreed to purchase 5 megawatts of energy from the solar array, and on Monday, the Madison School Board approved purchasing the remaining 2 megawatts when the project is completed.
You have free articles remaining.
According to a memo on the agreement, the district estimates the plan won't add any costs to its energy bill. Instead, $250,000 the district pays MGE will be transferred to a separate bill for the solar-generated power.
The agreement for the solar energy, which is covered by MGE's Renewable Energy Rider program that allows the utility to dedicate renewable energy for specific customers, is expected to account for 16% of the energy the district draws from MGE, the memo said.
In April, the School Board adopted a carbon-free resolution, similar to what has been done by several surrounding municipalities and governments. It included goals of renewable energy sources supplying 50% of the district's energy needs by 2030, 75% by 2035, and 100% by 2040.
"The solar farm purchase gets us one step closer to achieving our renewable energy goals for the future, set in partnership with our students, staff and board," Jane Belmore, interim superintendent, said in a statement Wednesday.
Be the first to know
Get local news delivered to your inbox!