Noah Anderson speaks passionately about the Mali Empire that spanned West Africa from the 13th century to the 17th century.
His appreciation of African history hasn't always been there, especially during a period of Anderson's young life when he said he was consumed by self-hate, driven by a dislike of the color of his skin.
But Anderson's historical appetite flourished through classes at West High School and his involvement with the school's Black Student Union.
"I know I came from greatness," Anderson, 18, said. "Nobody can tell me I don't come from greatness and what my people contributed to civilization of the entire world."
As a senior at West, Anderson now leads its Black Student Union, which is pushing the Madison School District to better educate students on African American history and the painful connection to historic use of the N-word — the use of which left his father, Marlon Anderson, temporarily without a job at the school and sparked a call to revise a policy that led to the firing.
After Marlon Anderson was fired from his security guard position earlier this month for saying the N-word when he told a disruptive student calling him the slur not to use the word — and subsequently rehired five days later — district officials said a zero-tolerance approach to the use of racial slurs by employees will be reviewed.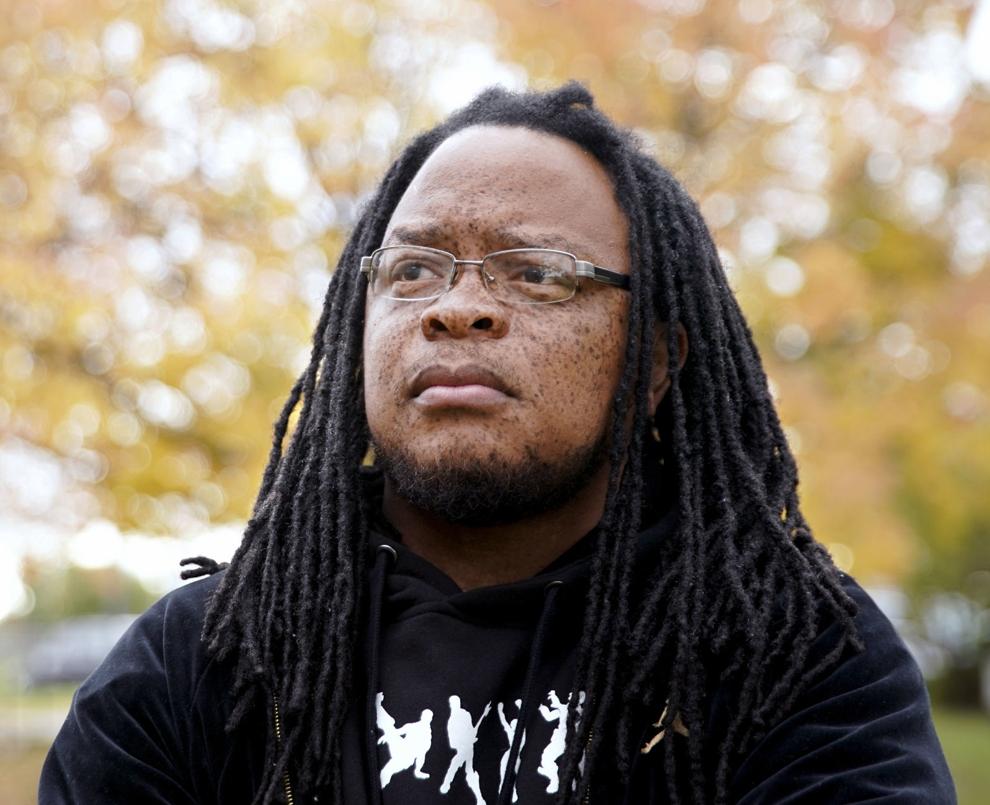 West's Black Student Union, headed up by Noah Anderson as president, is looking to play a big role in revising the policy with the input of black students from across the district.
"Zero-tolerance policies as a whole have always been a way to just shut down conversations," said Destiny Lloyd, a West senior who sits on the BSU's executive committee. "If you say, 'Just don't do this,' and you do this and get terminated, you're diluting it. You're not putting any attention on the why."
Learning to love himself
While he was growing up on Madison's South Side, Noah Anderson said, his parents taught him to love himself and his blackness. But he said throughout his childhood he felt a lot of self-hate, crying at times for no reason.
"It was all because the color of my skin," Anderson said. "I would look at myself and think I was ugly."
Anderson attended the predominantly white Franklin and Randall elementary schools, where, he said, he didn't have black educators he could relate to, making it "very difficult" to engage in class.
"I didn't really feel like I fit in," he said.
By the time he was in ninth grade at West High School, Anderson said, he was still struggling with school, joking around in class and not doing his work.
But the school's multicultural services coordinator, Sean Gray, encouraged him as a freshman to join the Black Student Union.
"He really helped me out, helped me improve my grades, helped me just in so many ways," Anderson said of Gray.
A combination of being involved in the Black Student Union and learning about his heritage through elective African American history and African studies courses put Anderson on a better path personally and academically, he said.
"I just fell in love with who I am," said Anderson, who is the middle child of three sons. "I just fell in love with my people and my history."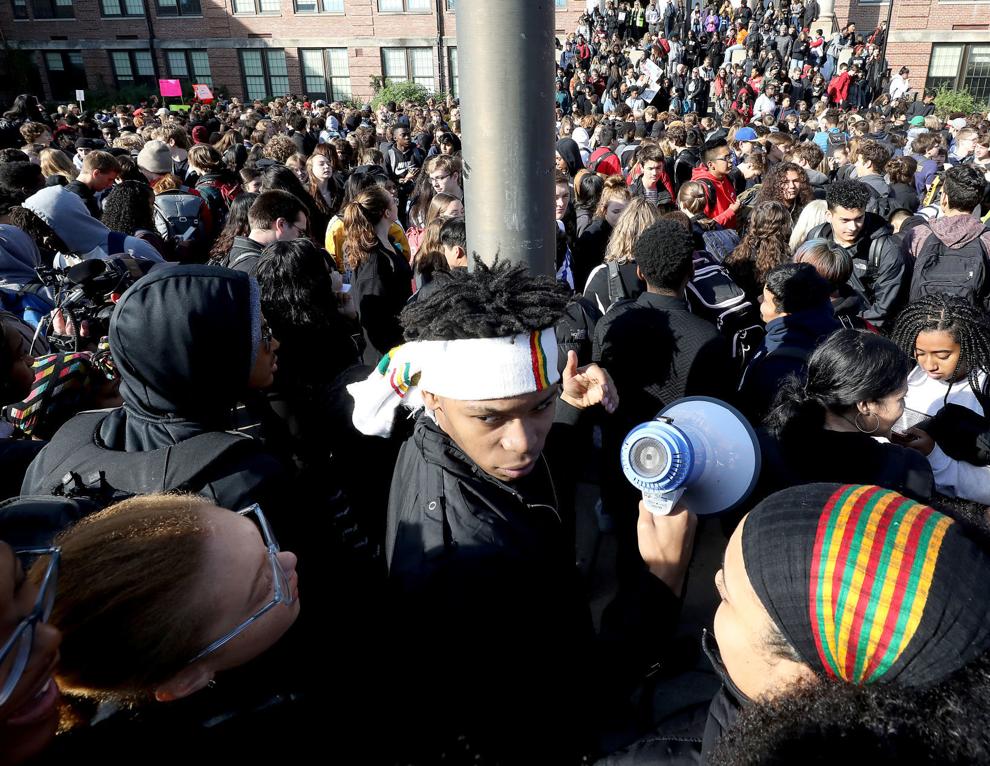 He is set on attending a historically black college after graduation, with preferences for Howard University in Washington, D.C., or Clark Atlanta University.
Wherever he goes to college, Anderson said, business and music programs are a must, as he wants to pursue a career in the recording industry.
His mother recognized his "entrepreneurial gene" at a young age, he said. He painted rocks and sold them for $5, and the paper airplanes he folded could fetch up to $10 from other children in the neighborhood.
Music has also been a passion for Anderson, who said both his brothers and father rap while his mother performs spoken word poetry.
He now regularly spends hours a day writing lyrics or working on beats. Anderson describes himself as a "conscious rapper" — in the likes of popular artist J. Cole — aiming to create music that is empowering and uplifting.
Continued discussion
Last week, West's Black Student Union held conversations with students and staff about how the district administration's zero-tolerance approach to racial slurs could be amended to better account for context.
In the case of Marlon Anderson, many people argued context was essential. The security guard was telling a disruptive student, who is also black, to stop calling Anderson the N-word, and he repeated the word as he did so.
District officials have said the zero-tolerance policy, which was implemented last year as an interpretation of existing anti-harassment policies but was never formally adopted by the school board, was meant to protect students from harm. But officials have acknowledged the complexity of the Oct. 9 interaction.
On Thursday, a few dozen students and a couple of staff members at West came to the lunch hour meeting to weigh in. There were questions on how the policy came to be and how board members usually seek input from students, along with discussions on the complexities around the use of the N-word, how it is used and with whom.
Lloyd, the BSU committee member who also helped facilitate the meeting, said there's "also a lot of controversy on whether we should use the word within the black community."
"By no means are we going to settle the great debate about the N-word from this incident," said Castro, who is black and Puerto Rican.
Lloyd, 17, said the next step is to gather black student unions from all of Madison's high schools for citywide discussion on how the district should approach the use of slurs and help students be better informed about the historical trauma attached to the N-word.
Although he was a prominent participant in the march, Noah Anderson said it was a group effort, including help from West's school resource officer to line up a police escort along a nearly two-mile route the students took to get to the district's headquarters.
"This is the first time students have mobilized en masse to support a staff member who was uniquely qualified to give an education about this word," Castro said at the BSU meeting. "I think that says a lot."
Tony Zappia, a social studies teacher at West who attended BSU's Thursday meeting, told the room it was "moving" to see so many students come together in the walkout from a school he says has problems with separation between the black, brown and white students.
"We know that and we're working on it, but you guys brought it together," Zappia said. "It was beautiful."
Sharing his message
Marlon Anderson kicked off the session, speaking to more than 100 students from local schools and schools across the country.
The word, he said, was assigned to black people as a way to degrade them and make them feel less than human. Past generations of African Americans weren't able to tell people not to call them the slur, Anderson said.
"The reason I took a stand is because we live in a society where (words) mean something," the 48-year-old Anderson said. "You can look somebody in the face and say I don't identify as that."
He urged the students not to "be defined by a word and don't allow yourself to be."
As a Type 1 diabetic — who said he wants to see a day he can eat a Twinkie without a spike in his blood sugar — Anderson also had a request of the students.
"The cure to diabetes is in this room," he said. "It's locked in one of y'all heads, and if you run around with the mindset that you are the N-word, it'll never be unleashed."