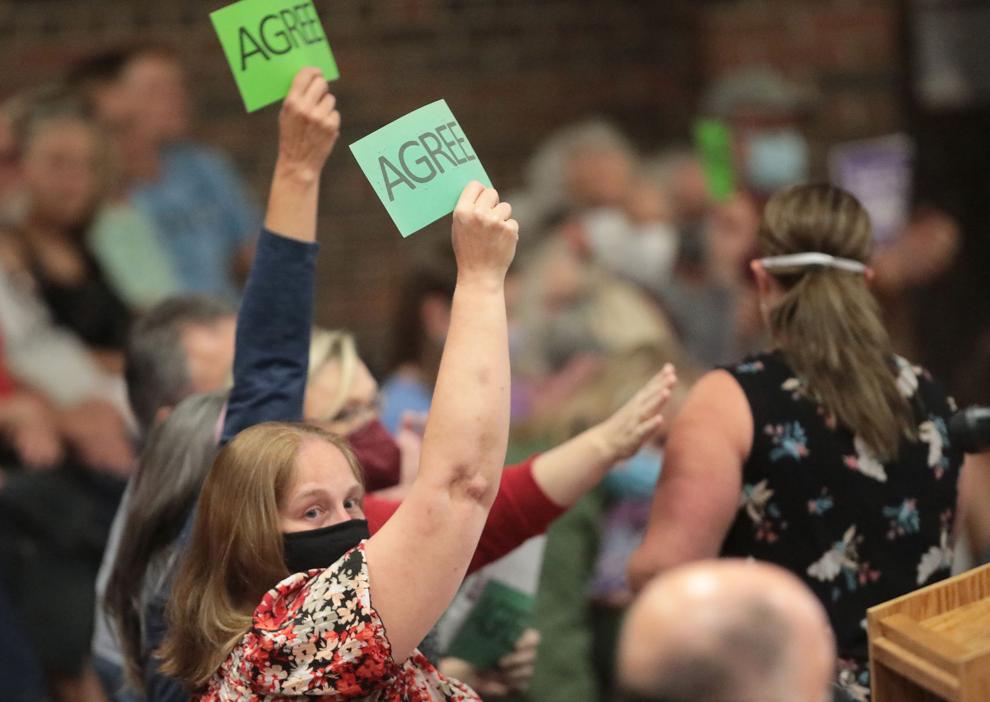 The Fort Atkinson School Board approved a mask mandate for all students on a 4 to 1 vote Thursday night after the death of a 13-year-old middle school student whose mother said died after contracting COVID-19.
Parents in the district addressed school officials for nearly an hour, speaking out in favor and against a mask mandate. Some parents cried as they demanded a mask mandate be implemented in the district, saying their children now fear dying from the virus after losing a classmate.
During another hour of discussion, the school board weighed whether to mandate masks for all students or only for lower grade levels, where students are unable to be vaccinated. Ultimately, school officials opted for mandatory masks in a bid to stave off further absences for students who must be quarantined.
"We're at a point where any absence is an absence too much," said Superintendent Rob Abbott.
School board member Amy Reynolds cast the only vote against a mask mandate. The mask mandate will be in effect until the board's next meeting on Oct. 26.
The Fort Atkinson School District, east of Madison in Jefferson County, is currently offering full-time in-person learning, with COVID-19 mitigations in place, but masking — a hot-button issue that has been politicized in schools across the country — was optional. The school board considered a mask mandate last month but did not vote on the item, according to the Daily Jefferson County Union.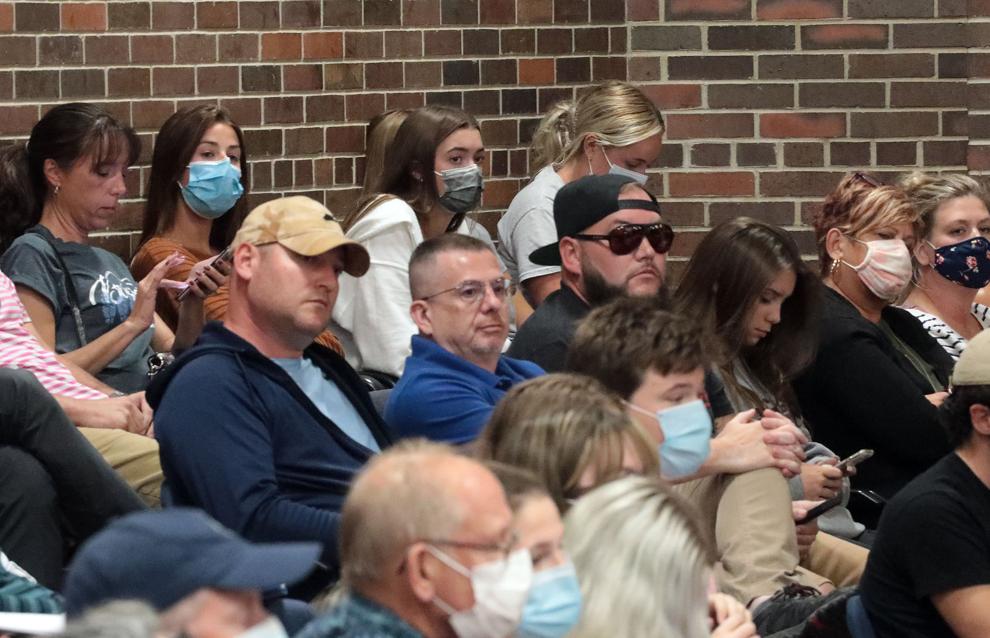 "I feel sad that school districts are being forced to make medical decisions, decisions that should be made by epidemiologists at the county, state and federal level," Fort Atkinson School Board President Mark Chaney said Thursday.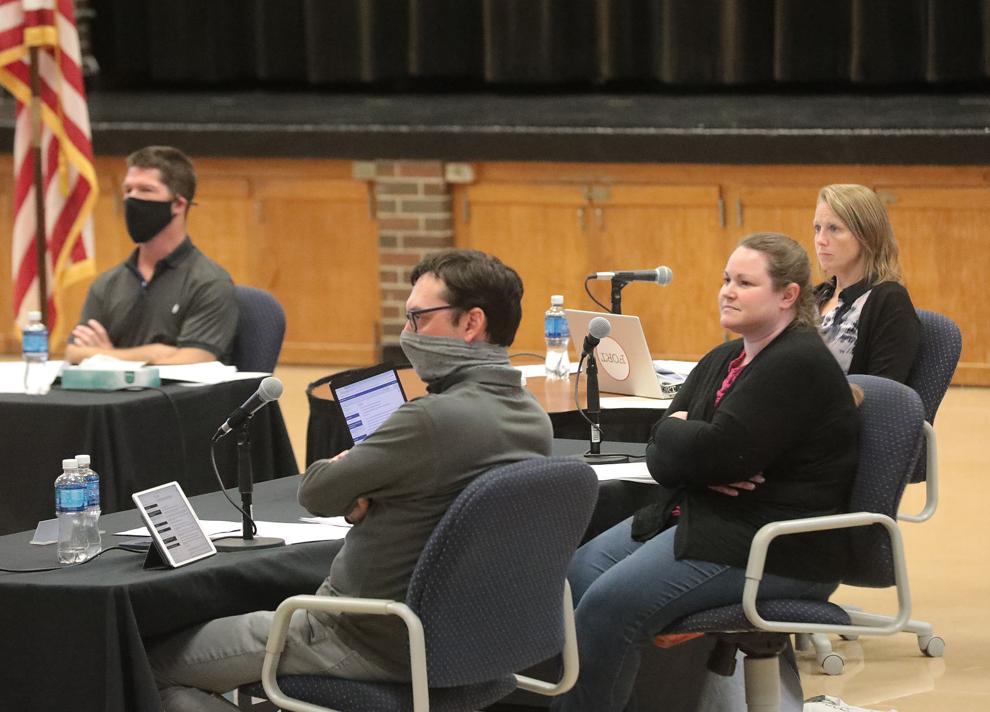 The death of the 13-year-old Fort Atkinson student is currently under investigation by the Jefferson County Medical Examiner's Office, which said it could take months before a cause of death is known.
A GoFundMe fundraiser organized by the student's mother said he was positive for COVID-19 when he died on Tuesday.
"Our precious 13 year old Danny was taken from us suddenly and unexpectedly," his mother, Tammy Rees, wrote on the fundraising site, which is seeking to support Rees and her family. The main provider of her household without medical insurance or sick leave, she was also diagnosed with COVID-19 and will be unable to return to work until she recovers. A funeral home in Fort Atkinson is offering the Rees family its services free of charge.
"He had been congested for two days with what seemed like a cold," Rees wrote on the fundraiser site. "While resting at home, he stopped breathing. We are besides ourself with loss. During resuscitation efforts, it was discovered that Danny had COVID. Although the doctors think this was just a contributing factor and not the complete cause, our family has now tested positive."
References to COVID-19 were removed from the fundraiser site by midafternoon Thursday. The family did not respond to a request for comment through the fundraising website.
Families of students who knew Danny Rees donated to the fundraiser and offered fond remembrances as well as condolences. The fundraiser had reached half of its goal of $30,000 within 15 hours.
If confirmed by state health officials, the death would be the fourth COVID-related death of a child in Wisconsin since the pandemic began.
"This is what everyone feared, that a student would die from COVID," said Eric Compas, a Fort Atkinson resident. "The choice (not to require masks) is putting other kids in the school district at risk and other members of the community."
Superintendent Abbott did not respond to a request for comment Thursday. Communications director Marissa Weidenfeller provided a statement on behalf of the district.
"We want to acknowledge that our hearts are heavy for the loss of one of our students. We extend heartfelt condolence to the family, friends, staff, and members of our community. As a district, our focus remains on continuing to support students, staff, and families now and in the days ahead," she said. "At this time we do not know how Danny died, and there is a chance we may not ever know. We ask that people refrain from making assumptions or guesses as these can be hard for family and friends who are already feeling saddened by the news of his death."
The Wisconsin Supreme Court in April struck down a statewide emergency order by Gov. Tony Evers that included a statewide mask mandate, handing the Democratic governor a significant setback in his ability to contain the disease. The ruling barred the governor from issuing a new mask mandate, which he did when the Republican-led Legislature tried to block the requirement.
Local governments, such as cities and counties, are still free to impose their own virus restrictions, including mask mandates.
At the end of August, the court declined to take up a conservative legal group's challenge to Dane County's mask mandate in a 4-3 ruling. The court refused to exercise its own jurisdiction over the recent public health order, instead leaving it up to the state's lower courts to consider any future legal challenges first.
Mask requirements in schools across Wisconsin have been largely left up to individual school districts and boards. In Dane County, districts that had planned to start the year with a masking optional stance pivoted to requiring face coverings in school buildings once the county handed down an emergency masking order in all indoor public spaces. Dane County's mask mandate is scheduled to expire on Oct. 8.
---
State Journal reporter Lucas Robinson contributed to this report.