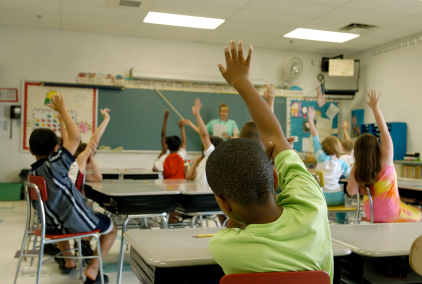 As Republican lawmakers push for expansion of Milwaukee's 20-year-old voucher program, state test results for the first time show voucher students performing "similar or worse" than other poor Milwaukee students, according to the Department of Public Instruction.
State Superintendent Tony Evers said the results should raise questions about Republican proposals to expand vouchers, which provide a public subsidy for students to attend private schools, beyond Milwaukee and to stop administering Wisconsin's standardized test to voucher students, which the state required last fall for the first time.
"We owe it to the kids in Milwaukee to educate them well," DPI spokesman John Johnson said. "When I say well, that doesn't mean as good as Milwaukee Public Schools right now."
The test results show the percentage of students participating in the Milwaukee Parental Choice Program who scored proficient or advanced was 34.4 percent for math and 55.2 percent for reading.
Among Milwaukee Public Schools students, it was 47.8 percent in math and 59 percent in reading. Among Milwaukee Public Schools students coming from families making 185 percent of the federal poverty level — a slightly better comparison because voucher students come from families making no more than 175 percent — it was 43.9 percent in math and 55.3 percent in reading.
Statewide, the figures were 77.2 percent in math and 83 percent in reading. Among all low-income students in the state, it was 63.2 percent in math and 71.7 percent in reading.
Democrats said the results are evidence that the voucher program is not working. Rep. Sondy Pope-Roberts, D-Middleton, the top Democrat on the Assembly Education Committee, said voucher students, parents and taxpayers are being "bamboozled."
"The fact that we've spent well over $1 billion on a failed experiment leads me to believe we have no business spending $22 million to expand it with these kinds of results," Pope-Roberts said. "It's irresponsible use of taxpayer dollars and a disservice to Milwaukee students."
Rep. Robin Vos, R-Rochester, who is developing a proposal to expand the voucher program to other cities, took a more optimistic view of the results.
"Obviously opponents see the glass half-empty," Vos said. "I see the glass half-full. Children in the school choice program do the same as the children in public school but at half the cost."
Gov. Scott Walker, who has proposed lifting enrollment and income caps on the Milwaukee program, stood firm in his support for expansion.
"Empowering parents by providing them with additional options will ultimately improve education for all children by encouraging competition," spokesman Cullen Werwie said. "Under Gov. Walker's proposal, if parents feel that their children will get a better education at an MPS school than at a choice school, they have the freedom to enroll their children in the public school system."
John Witte, a UW-Madison political science professor working with the University of Arkansas on a five-year study of the Milwaukee voucher program, cautioned that one year of state test results "isn't going to be the death knell of vouchers."
"In order to study achievement growth and gain, you have to study individual students over time," Witte said.
The University of Arkansas study, which tracks about 2,700 comparable students over time, has shown no statistically significant difference between the test scores of voucher students and Milwaukee Public Schools students, Arkansas professor Patrick Wolf said. It has also shown positive results such as improved performance of Milwaukee's public schools through competition and savings to the state of $50 million per year, Wolf said.
The Arkansas study plans to release new data Wednesday about the effect on graduation rates and college admissions.