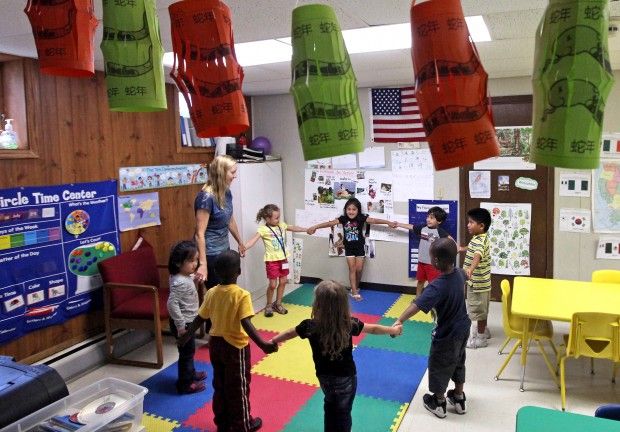 Nearly three-fourths of Wisconsin students attending private schools using new taxpayer-funded vouchers were already attending them, according to enrollment figures released Tuesday by the Department of Public Instruction.
The statewide voucher program, in its first year, is at capacity, with about 500 students receiving vouchers statewide, according to the department. Of those, 79 percent did not attend a Wisconsin public school last year.
The program's enrollment limit will rise to 1,000 next year. The statewide program exists in districts outside of Milwaukee and Racine, which have had programs for years.
Seventy-three percent of students now attending private schools using a voucher were already enrolled in a private school last year, according to the department. Twenty-one percent of students were from public schools. About 3 percent did not attend any school and 2 percent were home schooled.
Sen. Luther Olsen, R-Ripon, chairman of the Senate Education Committee, said he would probably support adding a preference given to applicants from public schools given those numbers.
"Probably, because if a child was being paid for by his parents to begin with, what would make the state think it needs to pay for that child?" said Olsen.
"It looks like (the program is) paying for kids who are already there than paying for kids who are getting out of schools that are not successful. The only way to change this is to have a preference," he said.
Tom Evenson, spokesman for Gov. Scott Walker, said a preference for public school students would be "something the governor will evaluate if or when it gets to his desk."
Olsen also said he would not support further expansion of the program unless there is "some accountability and some need."
"What concerns me is there's about 100,000 boys and girls that go to private schools right now, if we were to pay for all of them, that would be $700 to $800 million and we don't have that kind of money," he said. "Once you open the door, you got to be prepared to write the checks.
Walker told the State Journal in July that decisions on the program's future expansion should be based on whether students using vouchers are performing better or worse than they were at their previous schools.
Wisconsin Education Association Council president Betsy Kippers said Tuesday WEAC will push for accountability measures for schools with students receiving vouchers.
"There needs to be decent legislation that holds them accountable," she said about the law's silence on performance-related standards. "That is one of our biggest concerns."
Olsen and Rep. Steve Kestell, R-Elkhart Lake, chairman of the Assembly Education Committee, in August introduced a bill that would implement a rating system for voucher schools based on school performance.
In a statement, Kippers also said the statewide voucher expansion primarily provides financial relief to families who already send their children to private schools – a sentiment Rep. Sondy Pope, D-Cross Plains, echoed Tuesday following DPI's release.
"It pretty much confirms the suspicions I had about the expansion of the voucher program to begin with," Pope said. "I think this administration has created an entitlement program for people whose children are already attending private schools."
Evenson responded by saying the governor "believes every child in Wisconsin, regardless of their ZIP Code, deserves access to a great education."
To be eligible under state law, a student's family income must be at or below 185 percent of the current school year's federal poverty level. DPI spokesman Patrick Gasper said the law also allows applicants from a family with married parents to add $7,000 to their family income and remain eligible.
As an example, he said, a family of four with married parents and two children could earn up to $50,752. A family of four with an unmarried parent and three children is limited to $43,752 to remain eligible.
In Madison, 10 students are receiving vouchers to attend Lighthouse Christian School — the city's only private school in the state's voucher program.
Of those, five were attending the school last year, according to principal Tia Sierra. Lighthouse Christian's enrollment this year is 42 students, she said.
Each participating school receives $6,442 from the state per full-time student or the school's operating and debt service cost per student — whichever is less.
Jim Bender, president of voucher advocacy group School Choice Wisconsin, praised the opportunity given to the students using the vouchers and said the group is looking into whether improvements could be made to the application and selection process.
"The good news is that 500 students were given the opportunity to participate in the program," Bender said in a statement. "The bad news is that nearly 2,000 students, including hundreds of public school transfers, were turned away."
The group noted an online-only application process for parents and students and the lack of individual school involvement in administering the lottery selections.
According to Gasper, schools determine which applicants are eligible and provide those names to DPI for the lottery process unless a family applies online directly.