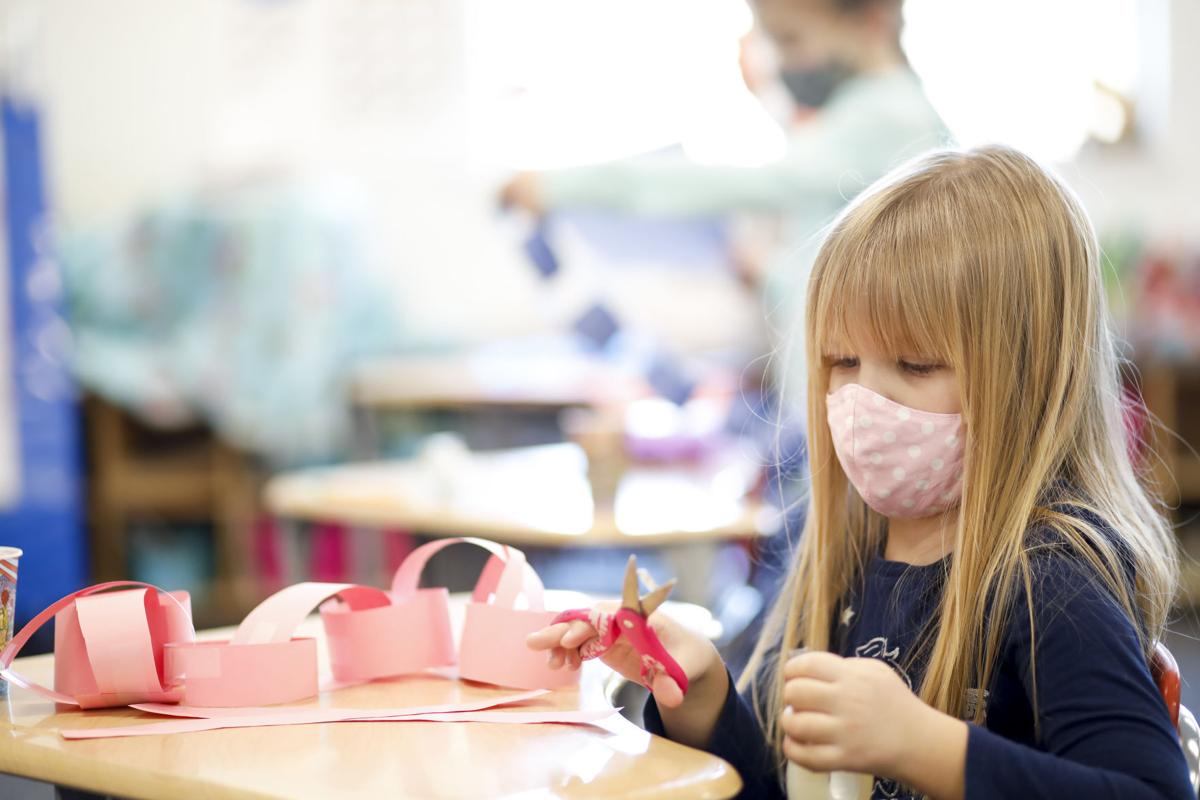 State officials on Thursday encouraged anyone 12 and older who will be in school buildings to get vaccinated ahead of the school year, but stopped short of issuing any new guidance on mitigation measures like masks or physical distancing.
That leaves decisions to local school boards or district administrators. Local officials are in a position to hear complaints no matter what decision they make, as evidenced by the mixed feedback from parents at a recent Waunakee Community School Board meeting.
Julie Willems Van Dijk, deputy secretary of the Wisconsin Department of Health Services (DHS), said during an afternoon press conference that wearing masks is not a "black and white" issue of vaccination status, but depends on factors like disease spread in a given area. She acknowledged that in elementary school settings, where most students are not vaccine-eligible, it might be easier for everyone to wear a mask regardless of vaccination status.
"In terms of how schools will enforce this, as we've talked about throughout the pandemic, schools are led by local school boards and local superintendents and we encourage them to think about the most protective way to ensure the safety of their students," Van Dijk said. "But those decisions are decisions that will be made at a local level."
Throughout the pandemic, DHS has pointed to guidance from the U.S. Centers for Disease Control and Prevention to supplement its own.
The CDC and the American Academy of Pediatrics have issued conflicting guidance, however, leaving officials in a position without an obvious choice in front of them. The CDC said earlier this month that those who are vaccinated do not need to wear a mask. The AAP said this week that everyone in schools should wear a mask.
Van Dijk said both pieces of guidance had similar mitigation recommendations on things beyond masks like looking at how prevalent disease is in a community, staying home when sick, testing and contact tracing.
"The important thing to remember is it is never going to hurt anybody to wear a mask," she said. "If we are seeing disease rates increasing ... it is as simple as changing the recommendations in a school to say, 'From here until we see different circumstances we're going to protect all of our kids by wearing masks.'"
Children under the age of 12 are not eligible for the vaccine. According to the Department of Health Services website, 27.4% of children ages 12-15 have completed their vaccination schedule and 37.8% of those ages 16-17 have done the same.
In Dane County, those numbers increase to 60.2% and 72%, respectively.
Public Health Madison & Dane County had a mask mandate that applied to schools through June 2 this year. It anticipates announcing school-related guidance next week, according to an email from PHMDC communications manager Sarah Mattes.
In the DHS news release encouraging vaccination, officials noted that for students ages 12-17, who are only eligible for the Pfizer vaccine at this time, the two-shot regimen needs to start soon to be fully effective by early September. Pfizer requires two doses spaced 21 days apart with a two-week period after the second shot before a person is fully vaccinated.
Most schools are expected to return to full-time, in-person instruction this fall for almost all students, though some are offering some form of optional virtual instruction. The Madison Metropolitan School District, for example, is creating an online academy for up to 250 students in grades 6-12, with other students expected to return five days a week for in-person instruction.
With those returns in mind, DHS officials and Gov. Tony Evers stressed the importance of widespread vaccination.
"Getting vaccinated now means we can help make sure our students are back in the classroom and won't have to miss out on in-person classes or extracurricular activities," Evers said in the release. "The COVID-19 vaccines are the best protection we have against the virus and make it possible for our kids to get back to learning safely and without disruption."
The release noted that those who are fully vaccinated will not need to quarantine if they come in close contact with someone who tests positive for COVID-19, as they otherwise would under CDC and DHS guidance.
"That means that parents and guardians do not need to worry about their fully vaccinated children having to miss out on in-person school, after school activities such as sports, and other extracurricular activities after being exposed to COVID-19," the release states. "In addition, many places across the state, and some schools, will not be requiring people who are fully vaccinated to wear masks indoors."
Share your opinion on this topic by sending a letter to the editor to tctvoice@madison.com. Include your full name, hometown and phone number. Your name and town will be published. The phone number is for verification purposes only. Please keep your letter to 250 words or less.