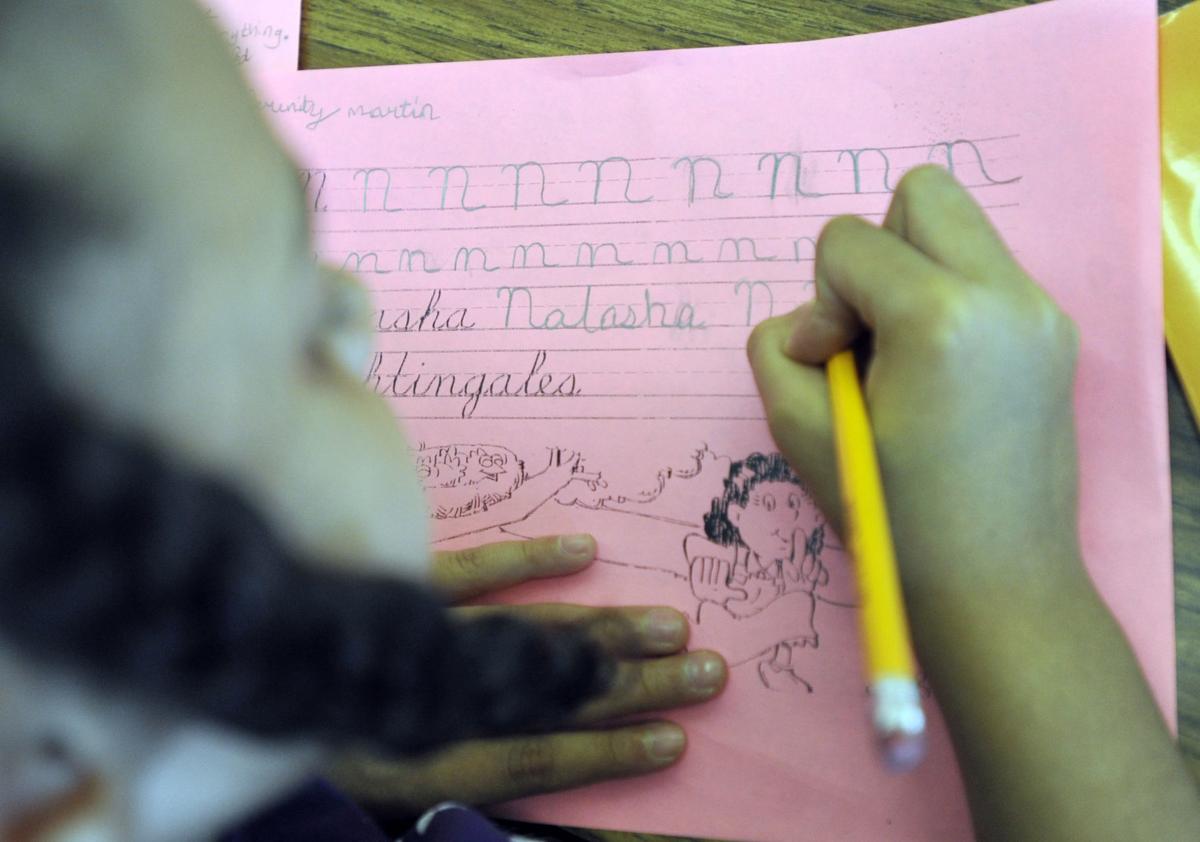 Wisconsin schoolchildren would need to learn the loops and swoops of cursive — and be able to legibly write in that style by the fifth grade — under a proposal in the state Legislature.
Republican lawmakers who head up both of the Legislature's education committees are sponsoring a bill, which has some bipartisan support, that would mandate children in traditional public schools, independent charters and private schools participating in the state's voucher programs be taught cursive writing in the elementary grades.
"This is a skill that has in many cases left our schools," said Rep. Jeremy Thiesfeldt, R-Fond du Lac. "It's not a positive thing, because our schools are supposed to be focusing on reading, writing and arithmetic."
The reasons for the proposal go "beyond nostalgia" for the writing style, he said.
Thiesfeldt, chairman of the Assembly's Education Committee, said research suggests taking notes by hand, as opposed to typing, can lead to better comprehension and understanding of material, and cursive has long been billed as a faster method of note-taking compared to print handwriting.
The use of cursive also requires a higher level of hand-eye coordination, which can be particularly helpful for younger children, he said.
"It's not just a nostalgic sort of skill that we want to maintain it just because people used to do it," said Thiesfeldt, adding he's had staffers in his office that have had difficulties reading his notes written in cursive.
In recent years, a push to return to cursive instruction has taken hold across the country.
Dan Rossmiller, director of government relations for the Wisconsin Association of School Boards, said his organization has not taken a position on the bill, which has yet to be scheduled for a hearing.
In general, Rossmiller said, the association opposes educational mandates written into state law, especially unfunded ones.
"Is that something employers are demanding their prospective employees learn? I don't know," he said about cursive instruction. "I would think they probably would be more interested in whether they can keyboard or not."
It's unclear how many Wisconsin schools include cursive in their curriculum since the state Department of Public Instruction does not collect information on where it is taught.
In Madison schools, students learn it in the second and third grades; it is taught in third through fifth grade in Sun Prairie; and Monona Grove School District students receive the majority of their cursive education in fourth grade, with some instruction in third and fifth grades.
But the Middleton-Cross Plains School District dropped cursive writing instruction six years ago after a handwriting committee made up of elementary school staff recommended curriculum changes, said district spokesman Perry Hibner.
Hibner said the committee's recommendations included giving fifth-grade teachers the option to teach children how to read cursive, which the committee believed could be accomplished within a half-hour to an hour of instruction.
As for determining whether a Wisconsin child can write legibly in cursive by the fifth grade, it would likely be up to the subjectivity of teachers, said Thiesfeldt, a former teacher who used to grade students on their handwriting abilities.
With state Sen. Luther Olsen, R-Ripon, the chair of the Senate Education Committee, also sponsoring the proposed mandate, Thiesfeldt said he views the bill's chances of passing as "pretty strong."
Be the first to know
Get local news delivered to your inbox!