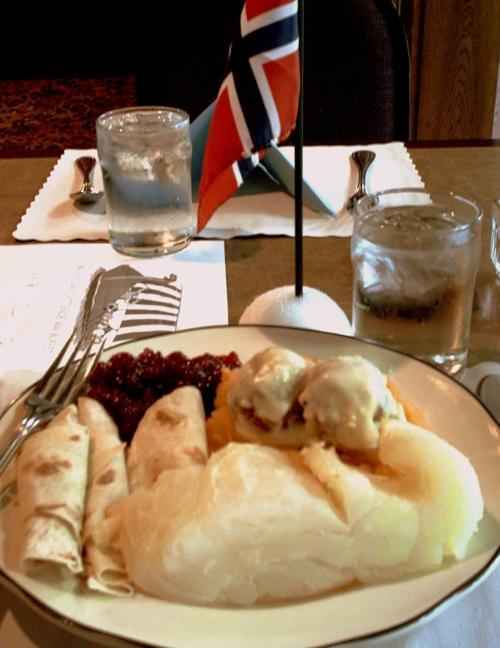 My eyes snapped open in fear about 3 a.m. Wednesday as I contemplated a talk I am scheduled to give at noon Saturday at the Madison Torske Klubben.
The group, which meets at the Madison Club, was formed in 1978, according to its website, "based on the desire to bring together men of Norwegian ancestry to share good fellowship and traditional Norwegian food and drink."
It's not that I'm afraid of public speaking. If anything, I try to go wherever I am asked to speak.
That's because — and I know this may come as a great shock to many of you — newspaper writers are not held in universally high regard by the general public.
There's an often-told story of a young man, who, when he went away to college, was told by his mother that she didn't care what he did with his life, as long as he didn't play the trumpet in a strip joint.
After a couple of years, he wrote home that he intended to become a newspaperman.
So I try, when possible, to be a good ambassador for newspapers.
What scares me about the talk Saturday is that note on the Madison Torske Klubben website about the desire to "share good fellowship and traditional Norwegian food and drink."
I can handle the fellowship. I note, also from the website, that several of the charter members of the club either are or were acquaintances of mine, including local attorney Milo Flaten and the late attorney Bob Aagaard. I also knew Byron Ostby, one of seven founders of the club. Ostby, a lawyer and lobbyist who died in 2003, was knighted by the king of Norway for his work helping Norwegians with legal matters.
I remember David Peterson, a retired UW-Extension professor of music and theater, speaking with enthusiasm about the club when we were driving toward Stoughton to visit artist Skip Johnson — a club member himself — prior to Skip's death in 2009.
I am certain it is a jovial group. But it's the phrase "traditional Norwegian food and drink" that caused my eyes to pop open in terror before dawn Wednesday.
Although my grandfather immigrated from Norway, I have spent a lifetime avoiding eating lutefisk — dried cod soaked in lye — perhaps the single most infamous Norwegian dish.
Just the thought of lutefisk makes me sick.
Friends ask: "If you've never tried it, how do you know it isn't good?"
My perfectly sensible answer: "If it were good, I would already have tried it."
Sometimes I will quote a travel writer named Clay Shirky, who after eating lutefisk found himself at a loss to describe it: "One could bandy about time-honored phrases like 'unimaginably horrific' or 'lasting psychological damage,' but these seem hollow when compared to the task at hand."
Later Wednesday, I spoke with a friend who has some knowledge of the Madison Torske Klubben, and he assured me it was doubtful the club would serve lutefisk.
"It will be cod, though," he said. "It's the white food club."
Torske Klubben, translated, means Cod Club. A 1978 letter from the club's organizing committee to prospective members said this: "As you undoubtedly know, boiled fresh codfish with melted butter and boiled potatoes is a delicacy almost beyond description."
Beyond description? That's what Clay Shirky said.
We'll see. My experience with cod is that it is best served fried in heavy batter and then slathered with tartar sauce.
But I'm a guest, and I will eat whatever is served.
Well, except lutefisk. If it shows up, I may have to take my trumpet and go look for a strip joint.
Contact Doug Moe at 608-252-6446 or dmoe@madison.com. His column appears Monday, Wednesday, Friday and Sunday.