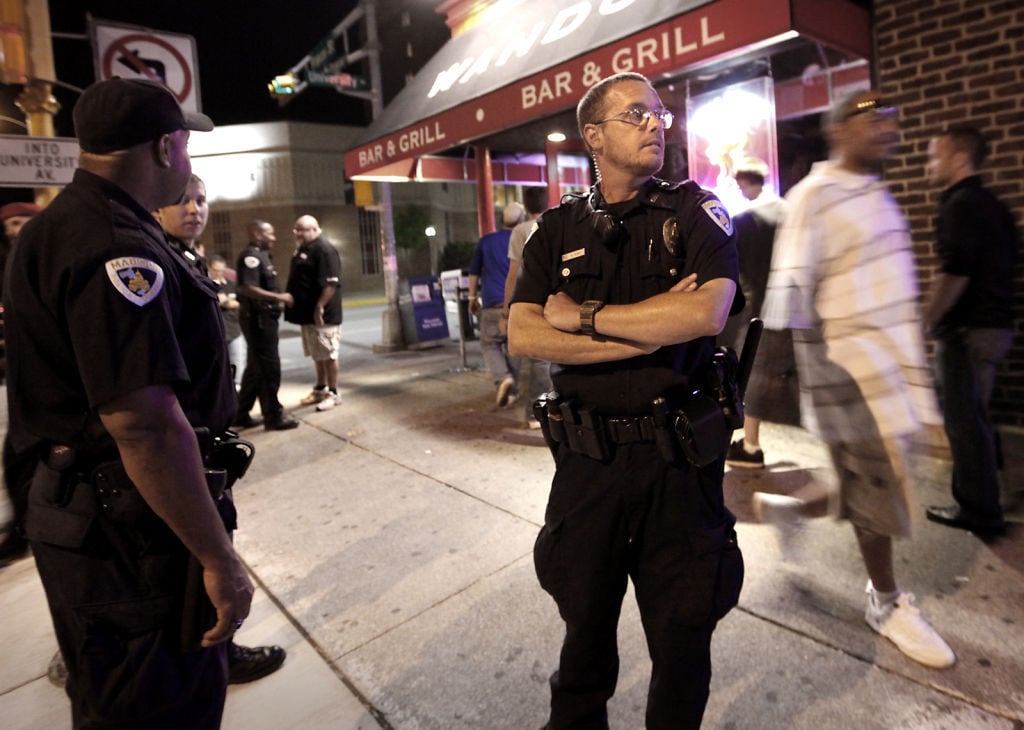 Before prosecutors cleared Madison Police Officer Matt Kenny in the March 6 shooting death of Tony Robinson, investigators allowed Kenny to wait three days prior to interviewing him, then gave him a transcript of his statements so he could clarify if needed — all standard procedure after police shootings.
Kenny was surrounded by fellow officers the night of the incident, when a state investigator first made contact with him, and then only to drop off her contact information.
In a criminal investigation, anyone can postpone or even refuse to answer questions under the constitutional right against self-incrimination. But law enforcement experts say investigators routinely press potential suspects to answer questions as soon as possible — unless it's a fellow officer.
Police officers are treated differently because their jobs require them to insert themselves into volatile situations, which they have been trained to resolve. Unlike suspects in other cases, they are also viewed as less likely to flee, defenders of the practice said.
But as awareness rises nationally about police shootings, particularly of black men, some question whether the dual standards are effective and fair.
At stake are both the credibility of police in the eyes of increasingly skeptical minority communities and the ability of investigators to obtain accurate, untainted information, said Samuel Walker, professor emeritus at the University of Nebraska-Omaha, who has written extensively on police accountability.
"One of the main arguments against the waiting period before an officer is interviewed is it allows the officer to talk to other officers to create a story that will justify his actions," said Walker, who recently provided testimony on the topic to a presidential task force on police reforms that was created last year as tensions heightened between residents and police across the nation.
Jim Palmer, who is Kenny's attorney and executive director of the Wisconsin Professional Police Association union, said the objective is to allow the officer to "get some rest and participate in the investigation on a voluntary basis."
While some may view that as an opportunity for the officer to "get his story straight," in Kenny's case the evidence gathered after the shooting substantiated his account of what happened, Palmer said.
Investigations of police officers are different because detectives know officers have been trained to handle confrontations, said Anne Schwartz, spokeswoman for the state Department of Justice, which led the investigation of Kenny under a 2014 state law that requires independent probes of police shootings.
"We know exactly who was walking into that situation," Schwartz said.
Schwartz said state investigators interviewed Kenny three days after the shooting because that was when he made himself available. She said the department follows the policies of the agency whose officer it is investigating.
And while the department's Division of Criminal Investigation (DCI) has no written policy on allowing potential suspects to review their statements, "There would be no reason for a DCI agent to deny any person being interviewed the opportunity to review their transcript of a prior interview," Schwartz said.
Standard procedure
The Madison Police Department's standard operating procedure for such cases states that "detailed interviews should be delayed to allow the involved officer time to overcome the initial stress of the incident."
Capt. Jay Lengfeld said that often means 24 to 48 hours. Lengfeld said the rule is based on the policies at several other departments and research indicating people's memories are better when they are rested and not under stress.
Officers are allowed to read and provide clarification to their transcribed statements because they may have spoken while under stress and the department wants to provide an extra opportunity for accuracy, said Lt. Joey Skenandore, who is in charge of the city department unit that investigates police shootings.
The statement serves as the officer's official report on the incident, and officers typically double-check their reports, Skenandore said.
On March 6, Kenny was the first officer to arrive at a Williamson Street apartment home where witnesses had reported that Robinson, a 19-year-old Sun Prairie High School graduate, was highly agitated and had assaulted two people after taking drugs.
Kenny told investigators he thought he heard someone being assaulted inside, so he entered the house. Kenny said Robinson struck him on the head and continued to attack him, so he shot him because he feared he would lose consciousness, allowing Robinson to take his handgun and shoot him or others.
The shooting sparked a series of demonstrations linking Robinson's death to a string of incidents nationally in which other white police officers killed black men.
Dane County District Attorney Ismael Ozanne said he found that Kenny lawfully used deadly force. Madison police haven't yet announced the findings of their internal investigation.
Procedures are different for internal disciplinary investigations. Courts have ruled that if a government employer forces an employee to answer questions about possible wrongdoing, the answers can be used to justify disciplinary action but can't be used in a criminal investigation.
Madison police standard operating procedure requires at least 48 hours notice before an officer must answer questions in an internal investigation.
'Emerging standard'
Walker said that in either type of probe, delays open the door for any officer who has used force improperly to collude with other officers on a version of the story that justifies the action.
Under a 2001 federal consent decree resulting from persistent officer misconduct, the Los Angeles Police Department began requiring an immediate interview unless an officer is clearly distraught and unable to answer questions.
"That's the emerging standard," Walker said.
After the shooting on March 6, Kenny gave a brief "public safety statement" to a supervisor with basic information other officers needed, including whether there were other suspects or injured people. Then a Madison police officer drove Kenny to St. Mary's Hospital.
Police reports listed seven officers at the hospital with Kenny, including three designated to provide support to Kenny as part of department efforts to ease the trauma of critical incidents. Also present were statewide union director Palmer, a union attorney, a union field representative, and a city Employee Assistance Program representative, according to the police reports. A department investigator gathered Kenny's clothing and a blood sample for testing.
A state Department of Justice investigator arrived, spoke briefly with Kenny and left her contact information, police said.
On March 9, Kenny answered detailed questions during a session with state and city investigators. The next day he walked through the scene with investigators, and on March 12 he met with detectives to review his statement and offer clarifications.
The ACLU of Wisconsin is calling on the state Legislature to consider changing state law by adding standards that investigations must meet, including requiring interviews take place as soon as possible.
"We believe delaying the interview of the officer involved — especially if he or she is not isolated as any other witness would be — is open to abuse and should be prohibited," said the state organization's executive director, Chris Ahmuty.
Alexis Artwohl, a retired clinical psychologist in Arizona who has written about police shootings, said people's memories improve with time, so it makes sense to delay interviews with police shooters.
However, studies cited in recent U.S. Department of Justice and FBI publications indicate that more research is needed and that existing studies indicate police should decide on delays on a case-by-case basis.