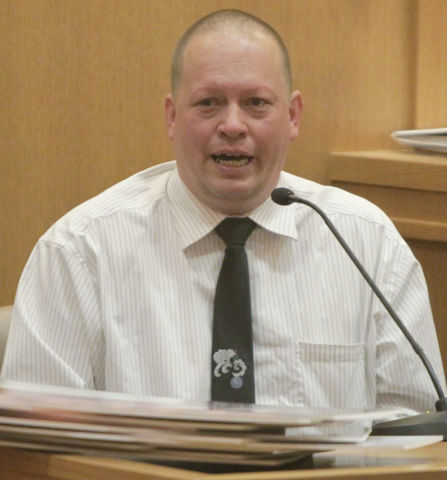 Chad Chritton, who was accused of abusing, starving and confining his daughter to a basement over a six-year period, was found guilty of three felonies by a jury Friday night that deliberated more than 21 hours over two days.
Chritton, 42, hung his head as the verdicts were read by Dane County Circuit Judge Julie Genovese. The verdicts ended the second trial Chritton has had on the case, the first ending with several deadlocked charges in March.
Chritton was found guilty of second-degree reckless endangerment, a lesser form of the original first-degree charge he faced; child abuse; and causing mental harm to a child. He was acquitted of false imprisonment.
Genovese ordered a pre-sentence investigation by the state Department of Corrections and will sentence Chritton in about two months. She also revoked his bond and ordered that he be jailed until his sentencing hearing.
On the convictions, District Attorney Ismael Ozanne said Chritton faces up to 34½ years of combined prison and extended supervision. He was also convicted in March of felony child neglect at the end of his first trial.
The jury of six men and six women began deliberating the case Thursday afternoon after hearing closing arguments in Chritton's three-week trial. Their verdicts were read about 10 p.m. Friday.
Ozanne said the verdicts represent "one more step closer to justice for the victim."
Chritton's lawyer, Jessa Nicholson, said it was a complex case, and not clear cut, and that she's not surprised that the jury deliberated for so long or that it came back with a split decision on the four charges.
Nicholson said that nearly two years after his arrest, Chritton "was prepared for any result" but said she believes he's disappointed by the verdicts.
In February 2012 a passer-by found the girl, who was 15 years old at the time, wandering barefoot and wearing just pajamas after she ran away from home, saying that her stepmother, Melinda Drabek-Chritton, had hit her and threatened to throw her down the basement stairs.
The girl weighed just 68 pounds, less than she had weighed at her last medical appointment in 2008, when a doctor told her she had anorexia.
Drabek-Chritton, 44, is serving a five-year prison sentence after pleading no contest in April to first-degree reckless endangerment and causing mental harm to a child.
Her son, Joshua Drabek, 20, who is the girl's stepbrother, is scheduled to stand trial in February on child abuse and sexual assault charges.
In closing arguments Thursday, Assistant District Attorney Matthew Moeser told jurors that the girl was starved, and that anorexia did not explain her drop from the normal growth chart. He said the girl scrounged for food scraps on the kitchen floor and in the trash and an alarm on the basement door forced her to relieve herself in the basement, including on her own bed.
Moeser said Chritton made the girl believe that she was "damaged goods, making her blame herself for what he was doing to her." He said that Chritton sought to "dehumanize and degrade" the girl.
"This was so far from reasonable parenting, and to call what was done to (the girl) a mistake is an insult to the English language," Moeser said, referring to Chritton's testimony in his own defense on Wednesday. "This is so far from a mistake."
Chritton's lawyer, Jessa Nicholson, said Chritton simply wasn't smart enough to engineer a conspiracy in which friends and neighbors would say that they saw no sign of the problems in the home that the girl described after she ran away.
"You saw him testify for five hours," Nicholson said. "I'm not picking on him, I'm just saying. You think he's a tricky, clever, wily guy? Did he appear to have an understanding of mental health?"
She said that Chritton tried to help his daughter, but that he was out of his depth, and even tried to make his daughter a ward of the state because he couldn't care for her.
Nicholson argued that the girl could have lost weight for any number of reasons besides intentional starvation.
"Kids fall off the growth chart all the time for a variety of reasons," she said.
And she said that the girl was never locked in the basement, that there's no evidence that the locking doorknob was ever reversed to keep her downstairs.
"She wasn't locked in the palace," Nicholson said.