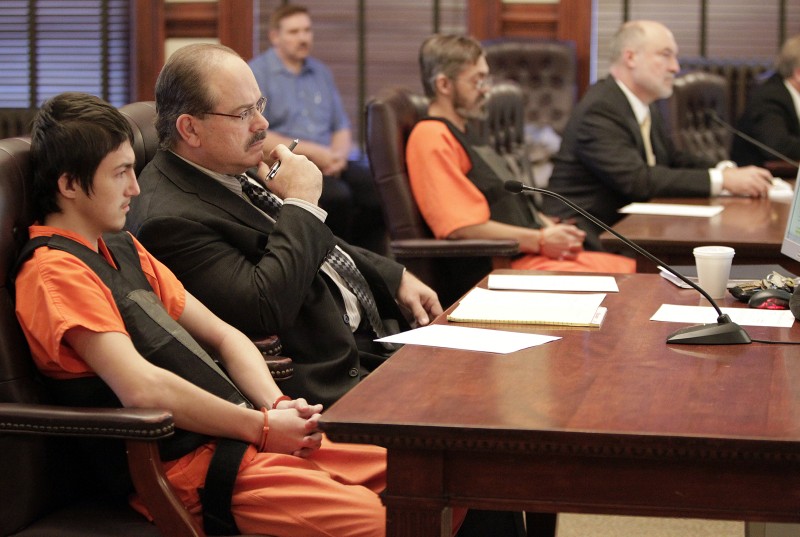 DARLINGTON — Separate trials were ordered for two brothers who pleaded not guilty Wednesday at the Lafayette County Courthouse to charges that they set an Argyle home on fire and killed three children.
Armin Wand III, 32, will stand trial starting on Feb. 25 after he pleaded not guilty to all eight counts against him, including four first-degree intentional homicide charges for the deaths of his three young children and the fetus in his wife, Sharon Wand, who survived the fire.
Wand also has been charged with arson and three counts of first-degree attempted intentional homicide.
No trial date was set for Jeremy Wand, 18, who pleaded not guilty to all seven counts against him, including the same four first-degree intentional homicide and arson charges that his brother faces.
The trial for Armin Wand was scheduled after Green County Circuit Judge Thomas Vale accepted a request by his attorney, Guy Taylor, for separate trials.
The site for the trial is still in question because attorneys for both of the brothers asked the court last month to grant their request to move the trial to, or bring a jury in from, another county because of the publicity surrounding the case.
Vale, who replaced Lafayette County Judge William Johnston last month at the request of the defense attorneys, said he'd decide on the request for change of venue after he reads a response by the state Department of Justice lawyers who are prosecuting the case. Vale gave them seven days to file that response.
A trial date for Jeremy Wand isn't expected to be scheduled soon. His attorney, Frank Medina, asked for additional time, and Vale set a status hearing for Feb. 20.
The Wand brothers have been accused by authorities of setting fire to Armin Wand's rented home on Sept. 7 with the intent of killing his wife and four children so he could collect on their life insurance policies.
The fire killed Allen Wand, 7; Jeffery Wand, 5; and Joseph Wand, 3, and the fetus that Sharon Wand was carrying.
Two-year-old Jessica Wand was the lone sibling who survived the fire, and Armin Wand faces an added count of attempted murder because police say he tried to put her back in the burning house after her mother saved her.
Sharon Wand suffered severe burns and is still recovering at UW Hospital.