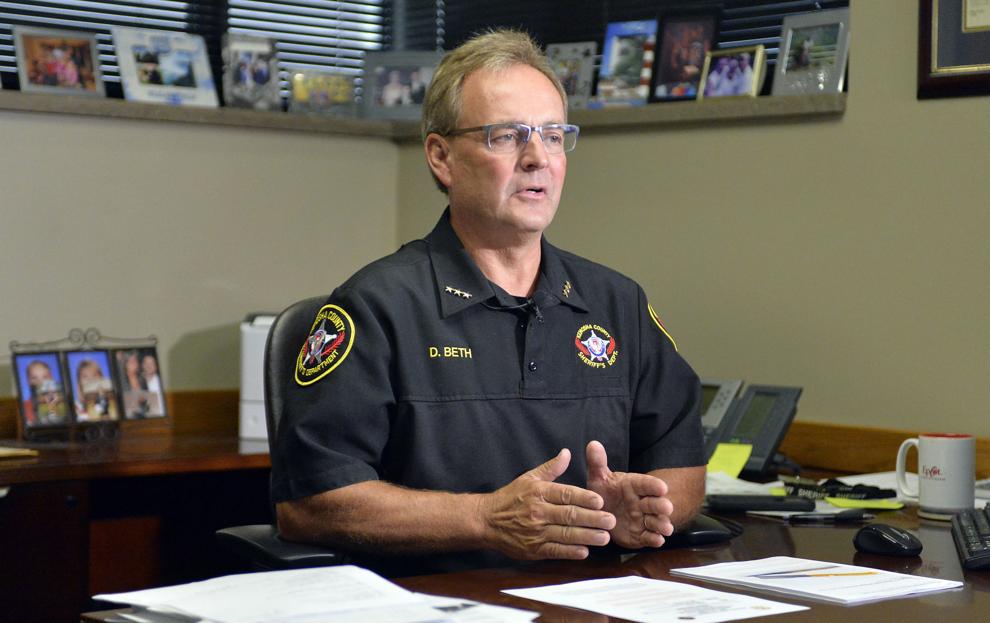 KENOSHA — Kenosha County Sheriff David Beth says that he has not seen the video of Jacob Blake being shot, recorded by a bystander on a cell phone, in the back by Kenosha Police Officer Rusten Sheskey on Sunday.
The video has been viewed millions of times online and on television, although Beth noted that he has had very little time over the past week to watch videos as he has been dealing with riots and protests throughout Kenosha since Sunday.
Beth said that Friday afternoon during a press conference inside the Kenosha County Courthouse.
A reporter asked Beth, "Do you see a problem with what that officer (Sheskey) did?" to which the sheriff replied "I did not see that video."
The reporter followed up by asking "Do you see a problem with that, that you haven't seen that video?" Beth did not reply to that question.
However, at the scene on Sunday's shooting, people in the street pressured Beth to watch the recording of the shooting, a cell phone video taken by a bystander shows. In the video, Beth is handed a smartphone from a bystander and appears to watch the recording before handing it back to the bystander.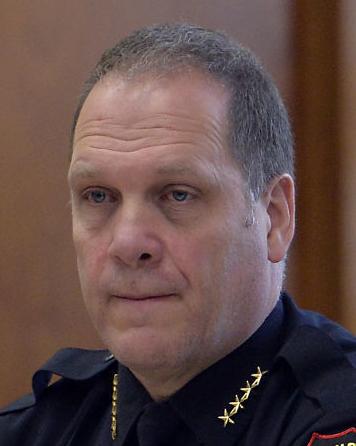 Both Beth and Kenosha Police Chief Daniel Miskinis have distanced themselves from the investigation of the shooting, which is being handled by the Wisconsin Department of Justice. Review by an outside agency is required under Wisconsin law anytime a law enforcement officer shoots someone.
Neither has talked much directly about the investigation, which they say they are not privy to much information about, although Miskinis did say that he believes all three officers who were on the scene Sunday have spoken with investigators.
All three officers — Sheskey, who fired seven shots; Vincent Arenas, who tried to subdue Blake with a Taser, which failed; and Brittany Meronek — are on paid administrative leave for the time being, as is customary after an officer-involved shooting.
Mayor won't call for removals
Antaramian gave both law enforcement officials a vote of confidence Friday, saying "I think that when you look at what has occurred over the last week and all of the activities going on, everyone is doing the best they can."
Miskinis came under fire specifically for a comment he made Wednesday about how the two men who died Tuesday during protests would not be dead had they followed the imposed curfew. On Friday, he said that his comments were "misconstrued" and that the deaths of Anthony Huber and Joseph Rosenbaum "rests solely on the person who did that, not on the victims of this crime."
Beth also said he was "very sorry ... for all the loss of life and all the injuries" that occurred Tuesday. "I feel really bad that this happened here in Kenosha."
Kyle Rittenhouse — a 17-year-old from Antioch, Illinois, who had identified himself as part of a "local militia" Tuesday — faces two first-degree intentional homicide charges for Tuesday's killings, as well as two felony charges of first-degree recklessly endangering safety and a misdemeanor charge of possession of a dangerous weapon by a person under 18.