Samantha Carter felt "utter disbelief" at what she saw on Sunday afternoon in the basement of the Humanities Building on North Park Street: The padlock on the locker in which she had stored her violin for the past four years as a music student at UW-Madison was missing.
She had shed "literal blood, sweat and tears" over the instrument since her family bought it for $8,000 in 2013. Starting in seventh grade, she chose to be homeschooled in Delavan and commute to Milwaukee for private lessons. During a particularly grueling three-year stretch, she practiced for eight to 10 hours a day, at great expense to other areas of her life.
"I fell behind academically, and the only way I could get into college was through music," she said. "I made so many sacrifices: giving up on my other interests, on academics, on having a social life. These aren't healthy things, but it's what happened."
So, when Carter went to check on her violin on the last day of Thanksgiving break, it didn't immediately sink in that her beloved instrument — the object of her passion and pain — had been stolen.
"It didn't feel real," she said. "I never imagined anything like this happening."
It became apparent Monday that Carter wasn't the only victim. Six instruments, including a flute, piccolo and cello, plus accessories — valued at a total of about $28,000 — were missing from the lockers, according to UW-Madison Police spokesman Marc Lovicott.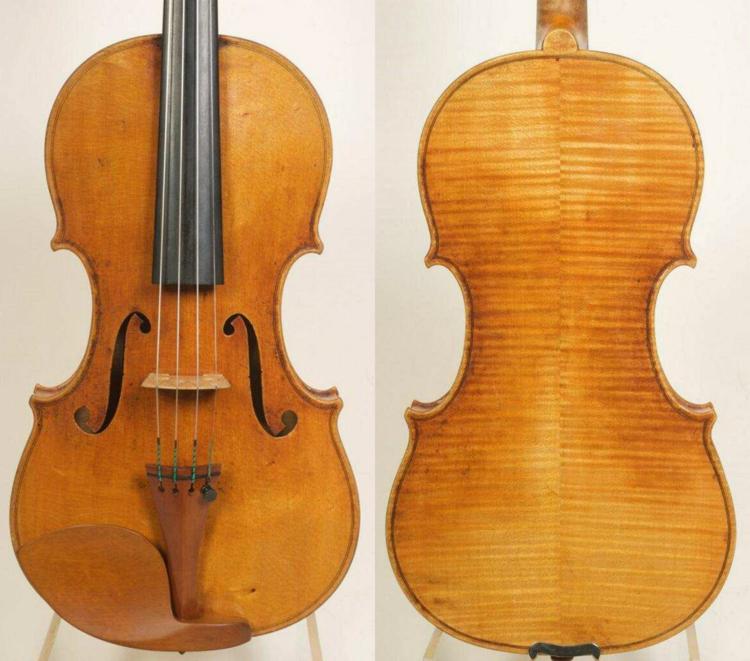 There was no evidence of forced entry to the building, but police believe the lockers were forced open. It's possible that the building was unlocked at certain times over the break, Lovicott said.
University police have made the case a high priority but had no leads as of Thursday. Establishing a precise time frame has been a challenge. Police are certain the thefts happened sometime between the evening of Nov. 27 and the afternoon of Dec. 1, but reviewing security footage from cameras in the Humanities building hasn't turned up anything suspicious.
"We're asking the public to be our eyes and ears," he said. "Do they know anybody who has recently come into possession of, or is trying to sell, $28,000 worth of instruments?"
Though theft is the most common crime on campus, it's usually a crime of opportunity, Lovicott said. This incident stands out because the property was stored in a presumably secure area, and it had high monetary and emotional value for the students involved.
Not to mention the act itself being brazen.
"Somebody had a lot of guts to walk out of the building with a cello," Lovicott said.
Carter, 22, is in her fourth and final year of a music performance degree at UW-Madison. Set to graduate in the spring, she is facing her spring recital, which is required to graduate, and auditions for admission to graduate school without her trusted violin.
On Wednesday, the university provided Carter with a cost-free replacement instrument that has been somewhat neglected. She's wary of the old Italian violin's possibly warped bridge, open seams and misplaced sound post, but she doesn't know how it will play because she's yet to put bow to string.
"I've heard from my peers, or at least somebody who played it last year, that it's not kept in the best of shape," she said.
Carter's family bought her lost violin in 2013, when it became clear she was advancing as a player, and it had since appreciated in value to $10,000. Though they could "barely afford" the instrument, it was the perfect fit for Carter.
"There was this fundamental satisfaction of playing it, the familiarity of sensation," she said.
She remains hopeful that her violin will be returned. She's been getting the word out via social media and calling pawn shops and music stores as far afield as Chicago, Cincinnati, Milwaukee and Minneapolis, assuming the thief wouldn't try to sell it locally.
However, she learned on Thursday that the insurance payout would "be less than it ought to be." She estimated that her losses, including a case, three bows and several sets of strings, total more than $13,000, but insurance will cover about $8,000. She's considering having a fundraiser to make up the difference.
The episode has been emotionally traumatizing for Carter, who is carrying 20 credits this semester. Her voice was flat as she described "walking around like a zombie" despite having plenty to do with finals approaching.
"I had a pretty intense breakdown on Monday," she said. "I don't really know what to do with myself. I should be practicing, but I don't have an instrument."
Sign up for our Crime & Courts newsletter
Get the latest in local public safety news with this weekly email.