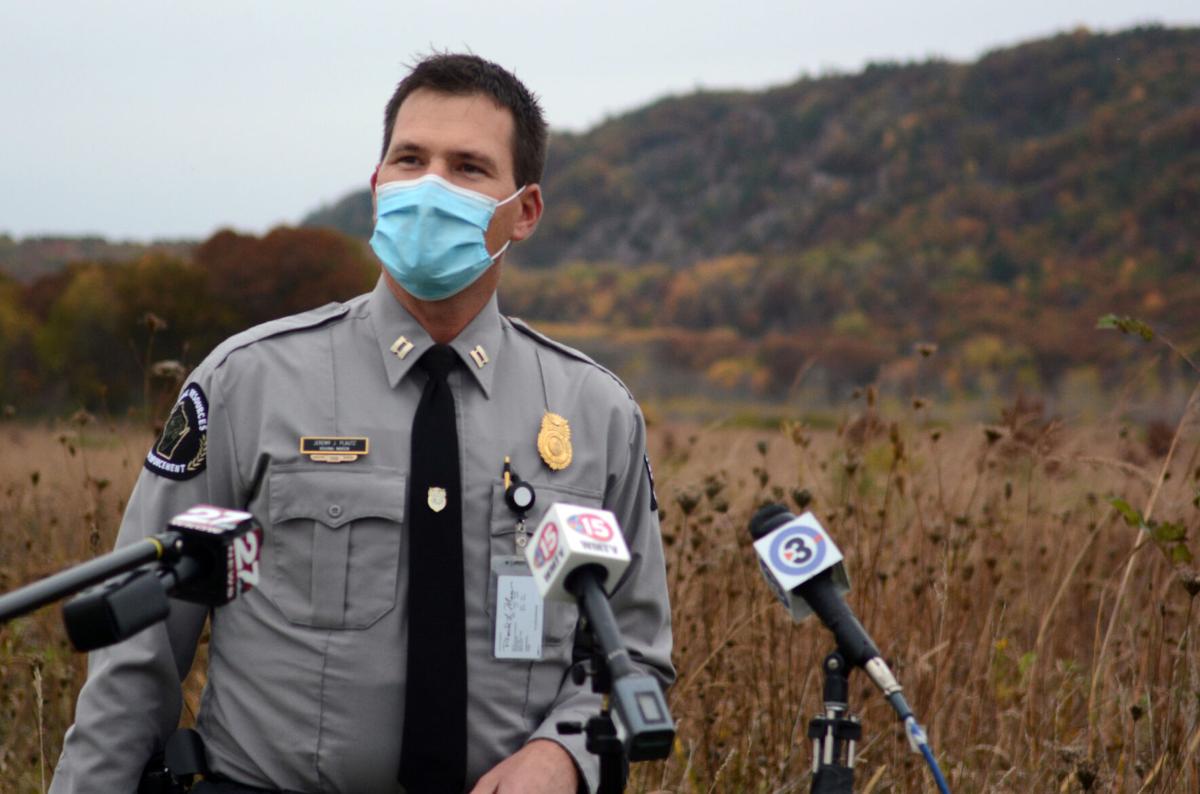 Sauk County Sheriff Chip Meister said Thursday that a suspect in a homicide at Devil's Lake State Park is still at large and authorities are looking for the public to help track him down.
"If you were out at Devil's Lake yesterday, the south shore area, between 11 and 12:15 yesterday, call the Sauk County tip line," Meister said. "There were a lot of people out there taking pictures of the fall colors. We would be interested in viewing those photos as well."
Meister said around 6:30 p.m. Wednesday that the team was still searching for the murder suspect. The man is between 5-foot-10-inches and 6 feet tall. At the time of the homicide, witnesses said he was wearing a "dark colored head covering and a dark colored face covering." Meister said the suspect was last seen walking toward the south shore parking lot.
The Sauk County Sheriff's Office released information on the homicide at Devil's Lake State Park after Wisconsin Department of Natural Resources officials refused Wednesday to offer any information about the suspect or the death other than that a search was underway. DNR officials said Thursday that Meister was taking charge of the investigation.
Meister, who DNR officials said has taken over as in charge of the investigation, said emergency responders were called to the south side of the park just after 11:30 a.m. Wednesday. First responders found a 24-year-old man dead on the Grottos Trail "obviously from homicidal violence."
Initial investigation found the man may have died from being stabbed, but Meister said a medical examination was underway Thursday to determine the cause of death.
Officials proceeded to lock down the south shore, blocking off all roadways and turning visitors and members of the press away. Nearby businesses were shut down into mid-afternoon.
The DNR and sheriff's office began a joint investigation. The Wisconsin State Crime Lab mobile crime scene unit responded to the south beach. The scene of the crime was processed and several witnesses were interviewed.
Meister said he didn't have an estimate of how many visitors were at the park Wednesday, but that there were "a lot" given the tourism season.
The search continues for the suspect. Meister said officials are unsure whether there is a threat to the public because it is still unclear whether the stabbing victim was targeted or if it was a random attack.
Anyone at the south side of the park, either in the parking area or Grottos Trail or along the railroad tracks between 11 a.m. and 12:15 p.m. Wednesday who believed they saw something related to the homicide should call Sauk County Crime Stoppers at 1-888-TIP-SAUK or 888-847-7285.
Follow Bridget on Twitter @cookebridget or contact her at 608-745-3513.
Sign up for our Crime & Courts newsletter
Get the latest in local public safety news with this weekly email.