A 94-year-old retired La Crosse priest will appear in court June 3 after accusations of sexual assault.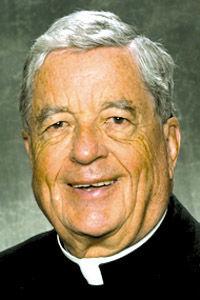 Msgr. Bernard McGarty of La Crosse was arrested on charges of fourth-degree sexual assault and released on a signature bond, according to the police report.
According to the incident report:
On May 15, the victim told La Crosse Public Library security about an incident that took place on May 11. She said it happened at one of the benches behind the library about 5 p.m.
On May 16, library security reported the incident to La Crosse police.
The victim told police the man said his name was Bill and offered her money for sex. He also took her hand and put it on his genitals, and tried to kiss her.
Library staff was able to identify McGarty from security footage because they recognized him from the news.
Video surveillance showed McGarty sitting with the victim on the bench. McGarty handed her something, later discovered to be $20, and then pulled her hand onto his lap.
Police located McGarty at his residence for questioning.
McGarty said he had a brief conversation with the victim but nothing else happened.
McGarty said he gave her $20 because she was homeless and denied any physical contact with her.
Police told him a surveillance video revealed there was physical contact and asked McGarty why he put the victim's hand on his genitals.
McGarty continued denying doing so.
Police arrested McGarty on charges of fourth-degree sexual assault and issued McGarty a signature bond.
Jack Felsheim, director of communications and public relations from the Diocese of La Crosse, issued a statement:
"On May 16, 2019, the Diocese of La Crosse learned of a recent situation at the La Crosse Public Library involving Msgr. Bernard McGarty, 94, a retired priest of the Diocese of La Crosse. According to diocesan policy Msgr. McGarty, from this moment forward, is on a leave of absence from public ministry while this current situation is being investigated. Due to this being an ongoing investigation, the Diocese of La Crosse has no further comment at this time."
---