RACINE — A local man, who had been facing an attempted murder charge for allegedly shooting his ex's new boyfriend in the groin area, accepted a last-minute plea deal last week in Racine County Circuit Court.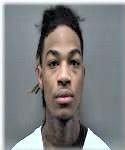 Morris Martin, 22, was hours from going before the jury when he agreed on April 6 to plead guilty to first-degree reckless injury to an unborn child with use of a deadly weapon and bail jumping. As part of the negotiated settlement, the attempted first-degree intentional homicide charge was dismissed, as were numerous other charges to include intentionally pointing a firearm at a person and multiple counts of bail jumping.
The fact that charges were dismissed does not necessarily mean a light sentence. The Racine County District Attorney's Office is recommending a sentence of 12 years in prison and 8 years of extended supervised release.
A sentencing hearing is set for 10:45 a.m. on June 7, with the dismissed charges being read into the record.
Case history
According to a criminal complaint:
The Racine Police Department was dispatched to the 2700 block of Anthony Lane at 5:26 p.m. on Jan. 2, 2020, on the report that a man had been shot. He was transported to Ascension All Saints Hospital for treatment.
During the course of the investigation into the shooting, detectives learned that Martin and his ex-girlfriend had a child together. The complaint noted that someone told Martin that she saw the new man being "heavy-handed" with his child, which the new boyfriend denied.
Martin reportedly told his ex that he was coming over, so the child's mother called a friend because she said she was afraid of what Martin would do. She said Martin is known to try to start fights and that "he is often armed with a firearm because he doesn't fight fair."
A short time later, Martin called the woman back and told her to come outside. She handed the phone to her boyfriend, who Martin also told to come outside.
According to the complaint, Martin did not come alone. He came with four people — including his mother, April Martin, then 52 years old.
According to the statements of multiple witnesses, April Martin said "you hit my grandson" and proceeded to attack the victim.
The victim backed away and reportedly said, "I'm not that kind of person. I don't hit females." He also reportedly said to Martin: "Come get your mom."
Reportedly, Martin moved his mother aside and shot the victim in the groin, an account reportedly verified by witnesses.
The victim tried to run away. Martin reportedly shot at him two more times before attempting to shoot a witness who came to the meeting with Martin's ex and her new boyfriend.
Although Martin has pleaded guilty to reckless endangerment with a deadly weapon for shooting in the direction of a pregnant woman, the report does not indicate who the pregnant woman was, if she was involved in the dispute or if the unborn child was actually harmed.
Martin was on house arrest at the time of the incident, having been arrested and charged (on March 14, 2019) on allegations of possessing a firearm as a felon and obstructing law enforcement by fleeing. The complaint noted that Martin's actions violated all of the conditions of release.
Martin also failed to appear for court in December 2019.
April Martin pleaded guilty to disorderly conduct.