Heather Lemon awoke early Friday to a knife attack. Now she's telling her story, hoping that others will learn from her experience and help in the search for her ex-boyfriend, who remains at large and is suspected of attempted murder.
"I just want people that are in this situation (of domestic abuse) to know that it's not OK," the 28-year-old Portage native said in an interview Wednesday. "Get out and get the help that you need. There's resources out there. There's family. There's all kinds of help that can be given, and I just don't want to see anybody else have to go through what I've been through, or worse."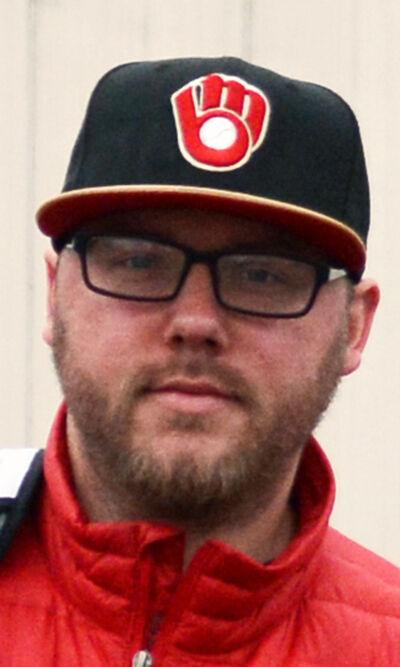 Canyon A. Thixton, 37, fled the Portage area after he allegedly violently attacked a woman around 4:25 a.m. Friday in a home on the 500 block of West Cook Street, according to the Portage Police Department. There is a felony warrant for Thixton's arrest for first-degree attempted homicide.
A single mother of three young children — a 7-year-old son and two daughters, ages 3 and 4 — Lemon said she and Thixton had been in a relationship for a little over a year.
The attack
They had been on good terms before Thixton went to a bar Thursday night, Lemon said. By the time he returned home around 2:45 a.m., she said he couldn't walk straight. Thinking nothing of it, she fell back to sleep until she heard him struggling to turn on the light.
After she asked what he was doing, the light switched on and he walked toward her. She said he got on top of her, stabbing her at least five times with a knife, resulting in cuts to her lip, face, left temple, chin and left shoulder.
Her youngest daughter walked into the room in the middle of the attack, Lemon said.
"I had blood everywhere, and she just — I just remember her looking at me," Lemon said, pausing as she choked up from the memory. "She looked so concerned and so scared."
Fearing for the safety of her daughter, Lemon said she urged her to go back to bed. Instead, the girl left to wake her siblings.
"At this point, all three of them were awake and they heard everything. He told me he was going to kill me and that he was going to kill my kids and then he was going to kill himself," she said. "And I knew at that point that I had to get out of there. I just knew that if I went out, my kids were going out too, so I fought like hell. There was nothing else I could really do."
She said he punched her head and tried to choke her, but she managed to get free. He stumbled, dropping the knife.
"I grabbed it real quick and I ran after him. I didn't know what else to do. I just knew at that point that I was protecting me and my kids," she said.
According to her, Thixton shut himself in the bathroom, while she stood just outside with the knife and her children until they were able to leave the house. She credits her son with helping them escape by getting his sisters, their dog and some belongings into the car.
Lemon said Thixton had been abusive previously but that she had believed his apologies and promises that it wouldn't happen again, thinking they could move past it if she didn't "push so hard next time." She doesn't understand why he acted as he did on Friday.
"That was the person that I loved," she said.
According to Wisconsin court records, Thixton was convicted in 2010 of felony strangulation and suffocation and false imprisonment in Dane County. Two other felony charges — first-degree recklessly endangering safety and intimidation of a victim with threatened force — were dismissed but "read in," meaning they were considered during sentencing. He was sentenced to two and a half years in a state prison mental health unit and three and a half years of extended supervision on the condition that he receive domestic violence treatment.
Portage Police Chief Keith Klafke said Wednesday that a couple of people Thixton has contacted since Friday have supplied information to authorities, but they still don't know where he is. Investigators believe he may have left the state, Klafke said.
He encouraged anyone with information to contact Detective Peter Warning by emailing peter.warning@portagewi.gov or calling the department at 608-742-2174, "so we can do our best to ... bring closure to this for our victim." Thixton is considered armed and dangerous, according to police.
'Do not feel safe'
Such a traumatic event altered the way Lemon sees the world, an impact she expects to last the rest of her life. Before, she said she was generally understanding, trusting and looking for "the good in everybody."
"This is going to be something that I live with for the rest of my life," she said. "I don't think I'll ever be normal again. I don't think that I'll ever go back to being who I was."
Her brother, Mitchell Lynch of Poynette, has noticed a difference in Lemon.
"She's not who she was. She's definitely changed," Lynch said.
He said he didn't know about the abuse and feels he "could have helped in some way" if she'd told him.
Sleep and feeling safe elude Lemon, even though she and her children are not staying at the house where the attack occurred. Her kids are scared, she said, especially the youngest, who avoided being near Lemon for the first couple of days after the incident. Now, "she's not as affectionate as she once was," Lemon said of the 3-year-old.
Lemon plans to seek therapy for them and herself, an added cost that she doesn't know how she'll cover, especially now that she's the sole earner in her household.
Her employer and co-workers have been understanding and supportive, she said, but the time she's taking off work means losing income. She doesn't know how much she'll owe in medical expenses — she had to get 20 stitches in total.
She works as a team manager of a group home through Lifekeepers Inc. in Portage, where she has helped people with mental or physical disabilities for almost two years. She said she always wanted to help and care for people.
The suspect
While Lemon has remained employed throughout the pandemic, Thixton was laid off during parts of the spring. He contacted the Daily Register in April for a story on unemployment, in which he was not ultimately included.
At the time, Thixton said the intermittent layoffs and his inability to get unemployment payments were affecting him "pretty badly," as he was living largely off of his girlfriend's income.
"She's been keeping us above water, but I mean I'm struggling with bills, I've had to miss some payments on some bills and I haven't been able to contribute towards rent and utilities, all that," Thixton said April 28. "So, yeah, it's definitely been pretty taxing for the last three to four weeks."
He said he wasn't eligible for a federal stimulus payment either, because of unpaid birthing expenses. The Beaver Dam woman with whom he has a child has full custody, he said at the time.
Fundraiser
Despite her current financial difficulties, Lemon said she originally hadn't planned on starting a fundraiser for herself — not until she saw strangers with no connection to her make two GoFundMe accounts on her behalf without attempting to contact her.
She said she reported them and started her own, which has raised $245 as of 5 p.m. Wednesday. She plans to use the proceeds to pay her bills resulting from the attack.
So far, friends and family have been supportive, asking how they can help.
"I've had so much love shown to me and my family," Lemon said.
She added that she would like to use any extra funds to raise awareness for people dealing with any type of abuse. She hasn't connected with any advocacy groups yet, but said she would like it if they contacted her.
"I feel like this is my third near-death experience and God isn't ready for me to come home yet. He's got a plan for me here, and I'm going to run with it," Lemon said.
Follow Susan Endres on Twitter @EndresSusan or call her at 745-3506.
Sign up for our Crime & Courts newsletter
Get the latest in local public safety news with this weekly email.