MOUNT PLEASANT — A Racine man was arrested Monday after he reportedly spent the night inside a closed Walgreens store.
Third-shift Mount Pleasant Police Department officers arrested Anthony Reuss, 28, after he allegedly spent Sunday evening inside Walgreens, 6125 Durand Ave., police reported Monday.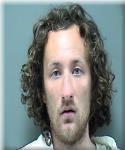 Reuss told police that he went into the store while it was still open to use the restroom, and when he came out of the bathroom, the store was closed.
Police were alerted to Reuss' presence at about 4:18 a.m. Monday, when he reportedly was walking around the store and set off several burglary alarms. He was reportedly found inside the bathroom.
Charges of possession of cocaine and methamphetamine, as well as a disorderly conduct charge were referred to the Racine County District Attorney's Office.
The man is currently in custody at the Racine County Jail.