RACINE COUNTY — A series of crashes late Wednesday morning on Interstate 94 caused two deaths and multiple incinerated vehicles, shutting down the Interstate in both directions well into the night. 
The incident began along I-94 north of Highway 20 at 50th Road in Yorkville at approximately 11 a.m. Wednesday. A semitrailer was driving south on I-94 near 50th Road when the driver made a lane change, hit a construction barrier, overcorrected and hit the Interstate median wall, shoving it into the northbound lanes, Racine County Sheriff Christopher Schmaling said during a press conference Wednesday afternoon at the Sheriff's substation in Yorkville.
Three vehicles in the I-94 northbound lanes then crashed into one another and the median moved by the semi, Schmaling said.
After that, a second semitrailer traveling northbound veered off the road into the ditch line near Kraut Road and burst into flames. 
Both truck drivers were killed, and two other people were seriously injured, Schmaling said. 
Schmaling said the second semitrailer driver avoiding the other vehicles and barrier likely saved lives, and called the driver a "hero."
He said that due to "gridlock" after the crash, first responders had difficulty getting to patients. 
Shortly after the crash, traffic had slowed to a crawl on roads approaching the Interstate, with many of them blocked off. The frontage roads were also shut down in both directions.
Schmaling said, "There's is no secret I-94 is under extreme construction," and that construction has caused several problems on the Interstate.
"We've been experiencing a lot of crashes," Schmaling said and advised motorists to slow down and be aware of other drivers. "It only takes one person to make one small error, and it has devastating effects, as we've seen today."
Schmaling called the crash the worst he had ever been a part of in his career.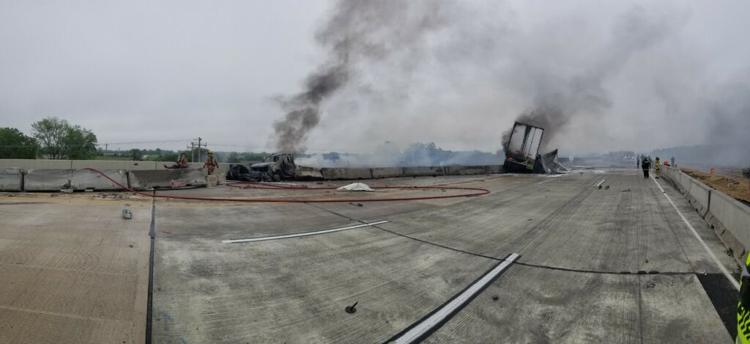 The Racine County Sheriff's Office, Wisconsin State Patrol and Mount Pleasant, Racine, Caledonia and Sturtevant police departments, Racine County Public Works crews and the Union Grove-Yorkville and Raymond fire and rescue departments were on the scene.
Numerous police departments from southeast Wisconsin were called to assist with traffic control as Interstate traffic was diverted. Among the departments assisting were units from Glendale, Shorewood, New Berlin, Muskego, Cudahy, West Allis, Franklin, Oak Creek and New Berlin.
Northbound traffic was detoured off of Highway 20, to Highway 31, to Highway 32, to Ryan Road. 
Southbound traffic was detoured off Ryan Road, to Highway 45, to Highway 20. 
Southbound traffic on the Interstate did not open to traffic until about 8:40 p.m. Northbound traffic was expected to possibly remain closed into the early morning hours of Thursday, the Sheriff's Office reported late Wednesday night.
Dumpsters were brought to the scene Wednesday night to aid with the cleanup of debris and burned, exploded tires which stretched over roughly 1,000 feet. 
Gridlock on the Interstate
Jamie Schmaling, whose husband is the sheriff's cousin, said she was just getting on northbound I-94 at Highway 20 with her husband when the crash happened.
As she merged onto the Interstate, traffic began backing up and she saw "thick black smoke billowing everywhere."
Jamie Schmaling said as they drove closer she could see a semitrailer dangling by its tires from the side of the Interstate. Then the tires exploded, and the truck fell.
She and her husband were not able to exit I-94 until 1:30 p.m.
The crash came a day-and-a-half after the death of Racine Police Officer John Hetland, 49, who was fatally shot Monday night while attempting to stop an armed robbery in progress at a Racine bar.  
"Our thoughts and prayers go out to all those affected in this deadly crash today," the sheriff said. "Our entire county has suffered a lot of tragedy and loss of life in the last 48 hours. Although challenging, I am very proud of all of our first responders who continue to put their lives on the line each day for our safety."
Journal Times reporters Alyssa Mauk, Jonathon Sadowski, Ricardo Torres and Andrew Rosenthal contributed to this report.
"We've been experiencing a lot of crashes. It only takes one person to make one small error, and it has devastating effects, as we've seen today."

Racine County Sheriff Christopher Schmaling
Sign up for our Crime & Courts newsletter
Get the latest in local public safety news with this weekly email.