Dane County Sheriff Dave Mahoney, whose tenure since 2006 has been marked by attempted improvements to jail facilities and some gruesome crimes, is retiring in May, the Sheriff's Office announced late Monday.
"My 41-years in law enforcement, the past 14 as Dane County Sheriff, have been a true labor of love for my community and the citizens we serve," Mahoney said in a statement. "I strive every day to make someone's life better and to earn the trust of the communities we serve."
Since Mahoney will step down before the end of his four-year term next year, Gov. Tony Evers will need to appoint his replacement, the Sheriff's Office said. The next election for sheriff will be Nov. 8, 2022, with a primary Aug. 9 of that year.
Mahoney, elected as a Democrat in 2006, ran unopposed in 2018 after defeating Democrat N. Peter Endres in a primary in 2014 and Republican Shawn Haney in 2010.
His retirement comes as the Madison Police Department is also getting a new leader. Shon Barnes, director of training and professional development for a police oversight group in Chicago and a former deputy chief in a small North Carolina city, will start in the coming weeks as the new Madison police chief.
The majority of Mahoney's law enforcement career — 40 years — has been spent with the Dane County Sheriff's Office.
For several years, he has called for improvements to jail facilities, including the the 1950s-era City-County Building jail he has called unsafe for inmates.
Mahoney, along with the Dane County Board, have faced criticism from local activist groups in recent years for a $148 million plan to consolidate the county's three jail facilities into one building.
Plans for the new jail include building a seven-story tower on the parking lot behind the Downtown Public Safety Building jail and closing two outdated jail facilities, the aging Ferris Huber Center and the City-County Building jail.
The project has faced backlash because community groups argue that money would be better spent investing in community services.
But Mahoney has long contended that the current jail facilities are outdated and inhumane. Mahoney has said the inadequate facilities have also made responding to the pandemic a challenge because there isn't enough space to socially distance inmates. The new jail will have medical areas to isolate inmates and end the use of solitary confinement.
Other initiatives being pursued by the county include creating a mental health crisis center as an alternative to jail, creating a Community Justice Center and supporting the city of Madison in the creation of a mental health first responder pilot.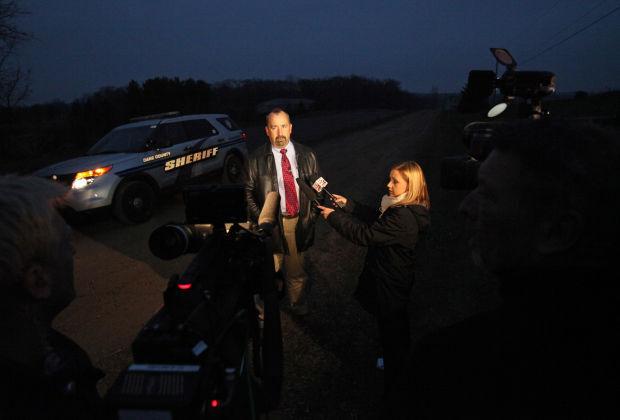 Notable crimes
During his time as sheriff, Mahoney oversaw the investigations of crimes including the 2012 homicide of Matthew Graville, a 27-year-old autistic man from Mazomanie who was tortured, killed, frozen and then buried in an unmarked grave by his half-brother.
In 2014, Jeffrey Vogelsberg, the half-brother, was sentenced to 15 years, the maximum sentence because he pleaded no contest to second-degree reckless homicide instead of facing the more serious first-degree intentional homicide charge. Vogelsberg left Graville unconscious before driving off for an out-of-state trip, leaving him to die.
More recently, Mahoney oversaw the investigation of the January 2020 slaying of Nicholas Day, 26, in Blue Mounds. Day was shot in the back with a rifle, slashed several times with a knife and found dead along a highway.
Riley Berg, 22, was charged with the homicide, but was found incompetent to stand trial after he stopped taking medications that had been prescribed to him when he was treated at Mendota Mental Health Institute.
Law enforcement found no connection between Berg and Day, but surveillance video placed Berg's car in the area where Day's body was found and Day's blood was found in Berg's car.
Pandemic challenges
During the pandemic, Mahoney has worked collaboratively with other criminal justice partners, including police departments and the court system, to decrease the jail population. The number of inmates held in the jail was cut nearly in half to give inmates more space.
Dane County Board Chair Analiese Eicher said in October that the level of collaboration and innovation in the criminal justice system at the start of the pandemic was "never seen before."
An outbreak in the jail in November resulted in 120 COVID-19 cases among inmates through the end of December. Mahoney said jail staff prevented the outbreak from spreading to more inmates and provided medical care to those infected.
Throughout his tenure, Mahoney has served on many boards and committees on the local, statewide and national level. He is currently the president of the National Sheriff's Association.
He also serves on the Dane County Criminal Justice Council, which pursues reforms in all areas of the county's criminal justice system, including the courts, the District Attorney's Office, the jail and law enforcement. The council has led efforts to decrease the use of cash bail, better keep track of policing data, divert people from the criminal justice system and many other initiatives.
Mahoney plans to continue being involved in community-based efforts for criminal justice reform and law enforcement reform.
The Sheriff's Office did not specify why Mahoney is retiring, but said he is looking forward to spending more time with his family. He was not available for an interview Monday but planned to address the media Tuesday.
"There have been days of extreme heartbreak and days filled with great rewards," Mahoney said. "I just hope I've made a difference."
"There have been days of extreme heartbreak and days filled with great rewards. just hope I've made a difference." 

Dave Mahoney, Dane County sheriff