New technology from a Baraboo-based startup could alert people of an active shooter in their building and the location of the gunshots, immediately after the first shot is fired.
Similar to a fire alarm, the security system uses sensors to detect the sound of a gunshot, then sends an alert throughout a building.
The company behind the technology, Trinity Gunshot Alarm System, is working to sell the technology to Madison-area schools, churches, synagogues, businesses and other buildings, then hopefully expand to other areas of Wisconsin.
At a public demonstration Wednesday of how the technology would work, a loud pop of a .38 revolver firing blank rounds sounded off in an office building on Madison's Far East Side.
In less than a second, a red dot popped up on a map on a TV screen, showing the location of the gunshot.
"Gunshot detected. West hallway. Near art room," came a voice over the speaker system in the office about a second later, demonstrating a potential alert that could sound in a school.
Occupants of the building could also sign up to get active shooter alerts via text message. And the alert, along with the map, would be sent to law enforcement and other emergency responders as well — all almost immediately after the shot.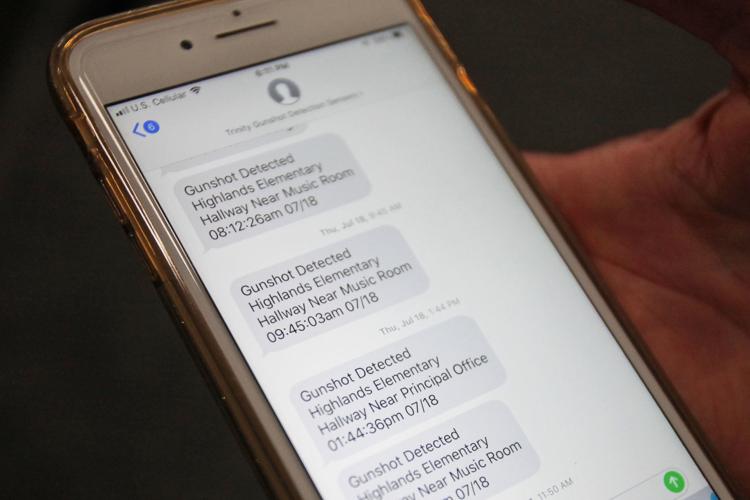 Stacy Jax, owner of Trinity, said so many things today are instant — even buying groceries prompts a notification on her phone within seconds.
"Don't our kids deserve that same instantaneous notification when their life is being threatened?" Jax said.
A former teacher and mother, Jax came up with the idea for the technology shortly after the 2012 Sandy Hook Elementary School shooting, in which a gunman entered the school and shot and killed 26 people, including 20 children between the ages of 6 and 7.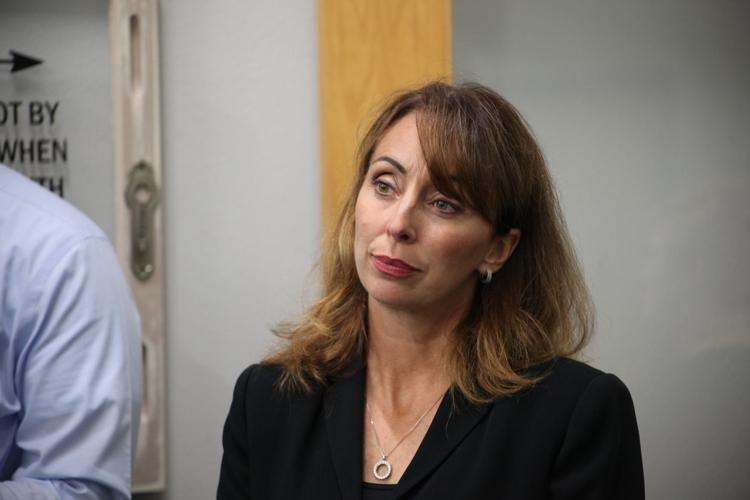 Thinking of her daughter, who was in first grade at the time, Jax said it bothered her to hear that the gunman fired several shots just to get into the school, and no one was hurt at that point.
"That whole building should have been on alert from the first shot fired," Jax said.
The alert system's sensors — placed throughout a building — use an algorithm to continuously scan for the sound of shots fired in a building, Jax said. The algorithm has been trained with more than 100,000 sounds similar to gunshots, so that it can accurately detect when a pop came from a gun. Each sensor covers about 150 feet.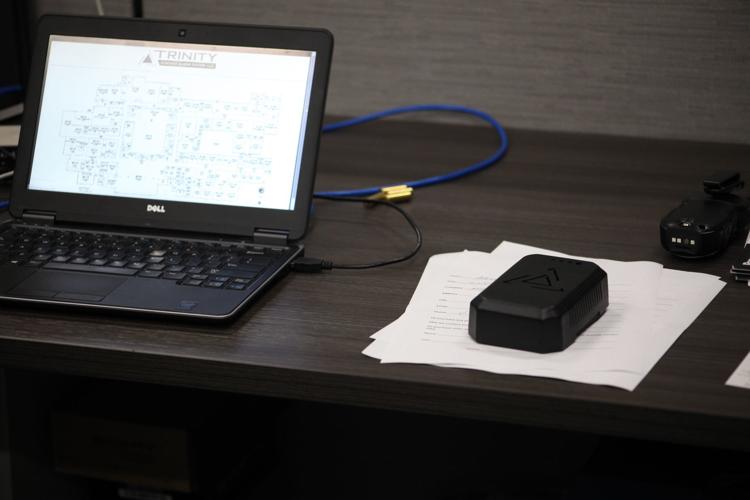 Jax said the private school she used to teach at in Baraboo has let her test the security system there to ensure that it works. She said the system was "custom created" with schools in mind.
"I think really having it anywhere is important," Jax said. "But the schools — children deserve this type of protection."
Trinity is collaborating with Fearing's, a Madison- and Milwaukee-based technology company, to sell the security system to organizations in the Madison area. Wednesday's demonstration was at Fearing's Madison office, 722 Walsh Road.
Fearing's will install and implement the security systems. Tom Johnson, business development executive at Fearing's, said the plan is to start in the Madison area, and expand from there.
"We'd start here in the Madison loop, and then we would try to work out," Johnson said.
Johnson said one school in the Madison area has the security system installed and another is testing it, but he did not want to specify which schools .
Jax said her company is selling three sensors for about $1,000 to organizations with small buildings, such as churches, as a part of an early-adopter promotion deal. After the sensors are installed, there is a recurring fee for the system, Jax said.
She said this kind of gunshot detection technology has been available for a long time, being used mostly by the military, but it has been "luxury priced."
Jax said the Trinity system is about half the price of military equipment, so places like schools, churches and bars where mass shootings have occurred can access it. She believes this kind of security system may have taken root sooner if had been less expensive.
If a company really wants the technology, Jax said she's willing to work with them to find a price that they can afford.
"I'm a mom and a teacher," Jax said. "I want this out there."