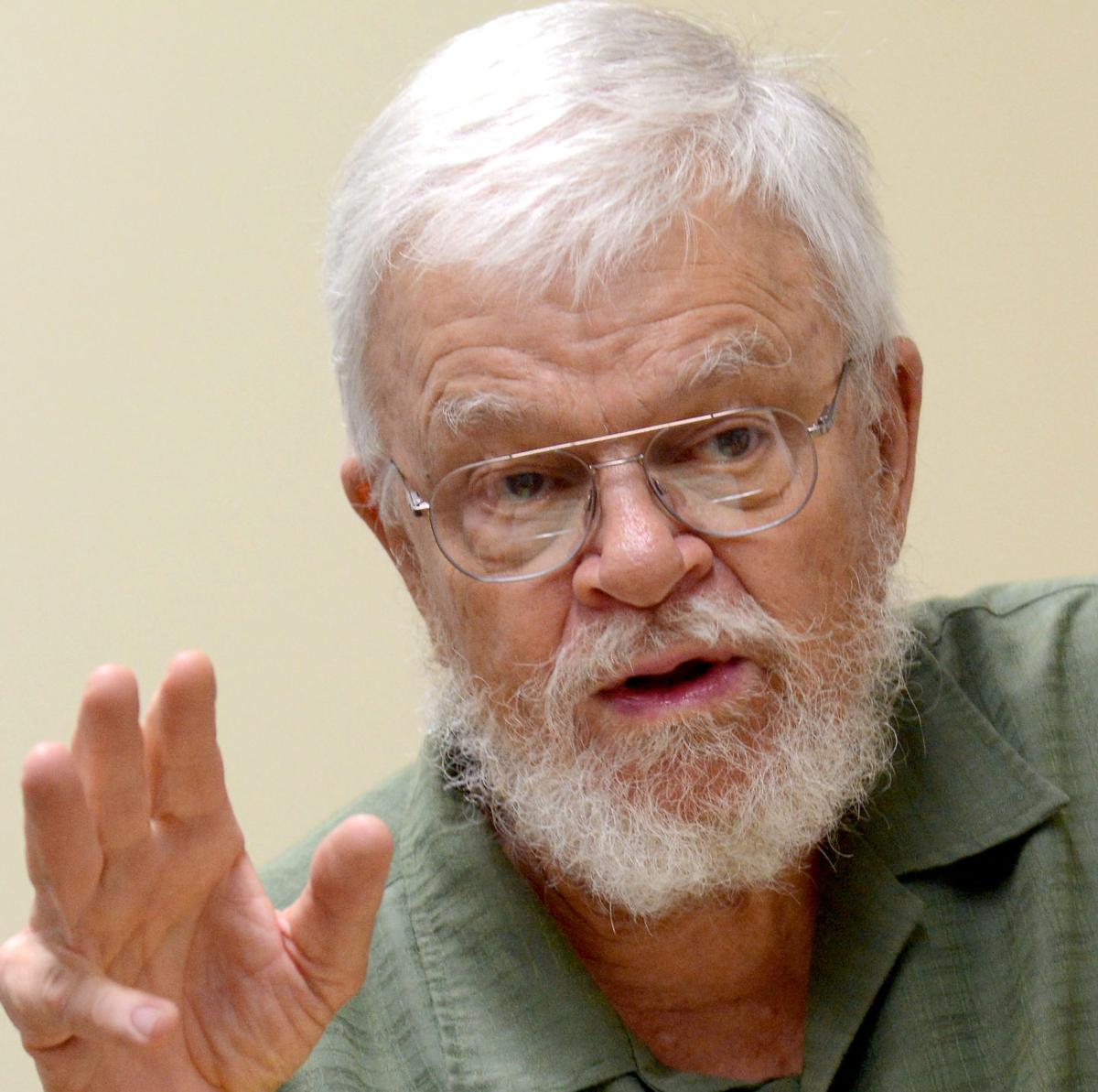 The lead plaintiff in a Wisconsin gerrymandering case that has gained national attention says advisory referendums on nonpartisan redistricting in Sauk County and elsewhere this November are important and necessary.
"That's going to build pressure, I hope," said Bill Whitford, the University of Wisconsin law professor emeritus involved in the U.S. Supreme Court case known as Gill v. Whitford.
He was a guest speaker Wednesday night at the Baraboo Civic Center during the monthly meeting of a local progressive group, Our Revolution–Sauk County.
If his case is victorious, Whitford said, Wisconsin lawmakers would have to redraw districts that Republicans developed in secret in 2011. However, he said that may not be a perfect solution because the same politicians elected under the contested maps would be responsible for redrawing them.
"All we can accomplish in our fondest dreams is setting some limits on the degree of partisanship," Whitford said. "That playing field is not going to get leveled, but the tilt of the slope will get down. That's all we can possibly accomplish."
Whitford said a better solution, in his view, is the creation of a state law — or passage of a constitutional amendment — that would take redistricting authority from the hands of politicians and give it to a panel of technocrats.
Nonpartisan redistricting models, such as the one used in Iowa, place strict requirements on what may and may not be considered when redrawing political maps.
"It's worked," Whitford said. "The track record is good."
In May, the Sauk County Board voted 21-10 to authorize a Nov. 6 referendum that will ask voters the following question: "Should the Wisconsin Legislature create a nonpartisan procedure for the preparation of legislative and congressional redistricting plans?"
Several who opposed the referendum argued the county board should not authorize referendums on matters outside its control.
Whitford said because Wisconsin doesn't have a mechanism for citizens to force legislation or a constitutional amendment by way of petition, local advisory referendums are an important way for voters to pressure lawmakers.
His lawsuit alleges the Republican-drawn maps either pack Democratic voters into safe districts or sprinkle them throughout heavily Republican districts to dilute the impact of their votes. That has ensured a lasting Republican majority, Whitford claims.
You have free articles remaining.
In the 2012 election, after the new maps went into effect, Democratic candidates received 52 percent of votes for the Assembly, but won only 39 percent of the seats.
A federal court ruled in Whitford's favor last year, calling the maps an unconstitutional gerrymander and ordering them redrawn. However, the case was appealed to the U.S. Supreme Court, which sent it back to the lower court in June on the basis that the plaintiffs lacked standing.
Republican leaders have said the redistricting process they undertook in 2011 fulfilled their constitutional duties and followed applicable laws.
"Democrats have been using the maps as an excuse for their failure to connect with Wisconsin voters," Assembly Speaker Robin Vos, R-Rochester, and Senate Majority Leader Scott Fitzgerald, R-Juneau, said in a joint statement after the Supreme Court's ruling was announced.
Since then, Whitford has added more parties to the lawsuit. There are now 40 plaintiffs, including Sauk County resident Judy Brey of Reedsburg, a local progressive organizer.
Also presenting Wednesday night was George Penn of Wisconsin United to Amend, a group that advocates amending the U.S. Constitution to limit the influence of big money in politics.
He made the case that a series of controversial Supreme Court decisions have allowed a political environment in which the voices of ordinary citizens from all ideologies are drowned out by those of powerful special interests.
Penn was challenged by one attendee, Denny Smith, who said amending the constitution is an unrealistic goal, and that effective political messaging can beat out big money in campaigns.
"We have so many people this year with a particular message that can overcome moneyed politicians," Smith said, pointing to the election of Republican President Donald Trump, who was outspent by his Democratic opponent, former Secretary of State Hillary Clinton.
Penn called that an anomaly. "There's always going to be exceptions to rules," he said. "The rule is: Money rules."
The county board has approved two ballot questions for the upcoming election related to Penn's campaign.
One will ask whether the U.S. Constitution should be amended to say that only humans have constitutional rights, not artificial entities such as corporations and unions.
The other will ask whether voters support an additional amendment stating that money is not speech, and therefore regulating political contributions and spending is not the same as limiting speech.
Follow Tim Damos on Twitter @timdamos or contact him at 608-745-3513.