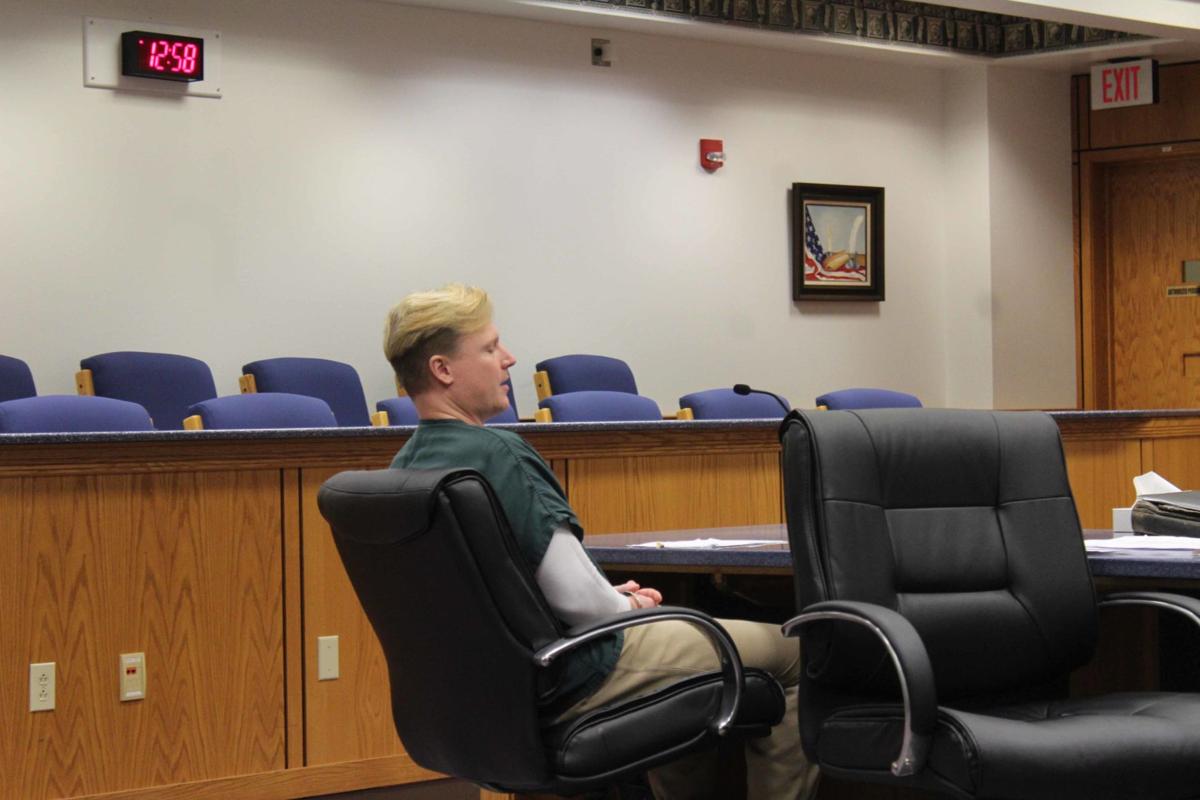 JUNEAU — A former correctional officer at Fox Lake Correctional Institution who is HIV-positive was sentenced to 35 years in prison on Friday for sexually assaulting several inmates in Fox Lake.
Alex Wouts, 34 of Poy Sippi, was sentenced to 35 years of initial incarceration and 25 years of an extended sentence. Wouts was found guilty on May 17 of five counts of second-degree sexual assault by correctional staff. A jury returned the verdict after a three-day trial.
Over a period of several years, Wouts used his position of authority to coerce several inmates into unwilling sex acts. Wouts threatened discipline or offered privileges to the victims to overcome the victim's will. Three victims testified against Wouts about the abuse they suffered at his hands. It is unknown how many more inmates fell victim to Wouts' assaults over the years, according to the Dodge County District Attorney's Office.
Fox Lake Correctional warden Randall Hepp said it was one of the most disturbing situations he has seen in his 34-plus years in the correctional field.
"When an individual is sentenced to prison, it is understood that his choices will be reduced, his privileges will be restricted and his choices will be limited," Hepp said. "However, when an individual is sentenced to prison, they are committed to our custody and entrusted in our care and they deserve and are entitled to our protection. Wouts disregarded principles."
One of the three victims who testified in the case had little use for any attempt at penance by Wouts.
"When you rape someone, it doesn't matter that you act like you are remorseful in the courtroom" the victim said. "It doesn't matter that you were only caught once. When you rape someone, you do not get to pretend that you made a mistake. … You knew that I was not consenting."
Dodge County Assistant District Attorney James Sempf said it was one of the worse cases he had seen in his years of public service.
Sempf said that Wouts has known about his HIV status since July 2010.
"The corrosive nature of the disparity in the power dynamic is a factor in what makes this offense so serious," Sempf said. "The defendant can fairly be classified as a serial rapist."
You have free articles remaining.
Sempf asked the court to incarcerate Wouts for 120 years.
Wouts' mother, Robin Miller of Oshkosh, took the stand and said that her son was a hardworking person, and she did not believe he would do the crimes he had been convicted of in May.
"Please don't put this young, innocent man in prison," Miller said.
Wouts' attorney Michael Steinle said that Wouts does not show signs of remorse because he did not did not do what he had been accused of.
Steinle said a 9- or 10-year sentence of initial incarceration would be enough, and he would have to automatically report as a sex offender for the rest of his life so he would remain in the system.
Wouts spoke for 12 minutes proclaiming his innocence, questioning why the victims did not come forward with their accusations sooner.
"Overall, if someone would do something like that to me, I'd say something now," Wouts said. "Not in two to three weeks."
Wouts said he didn't believe he'd get the correctional officer of the year award, but he did maintain the sergeant position for nine years.
"I wouldn't just decide to sexually assault inmates," Wouts said.
Dodge County Circuit Court Judge Joseph Sciascia said he accepted the jury's decision in the case.
"Even if Wouts is not a correctional officer again, it is possible that he might work in some position where a person would be vulnerable," Sciascia said.
As conditions of Wouts extended sentence, he must pay court costs, submit a DNA sample, register as a sex offender, and receive any counseling and treatment as recommended. He also may not have any contact with the victims in the case nor their families or Wisconsin Correctional Institution except where he is ordered to be confined.
Follow Terri Pederson on Twitter @tlp53916 or contact her at 920-356-6760.