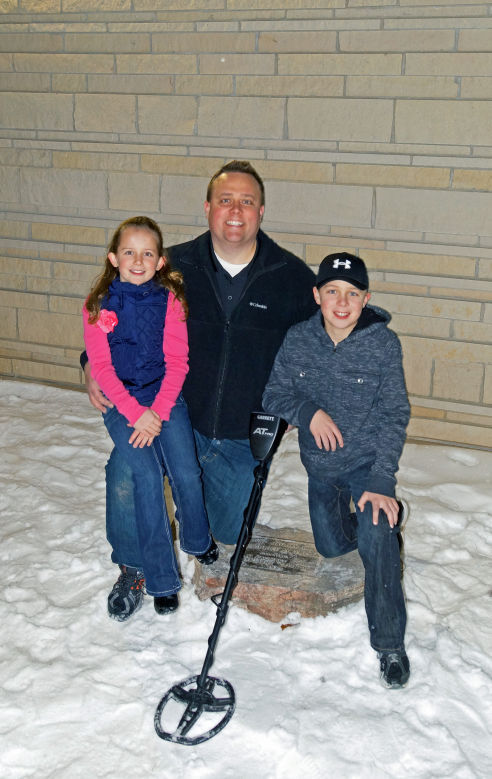 This was Jan. 22 in Madison, and a snowstorm was looming, maybe two days out. It added a sense of urgency. Eight inches of snow wasn't going to help John and Judy Heim find John's lost wedding ring.
John, who is blind, thought he might have lost it while playing with his guide dog that evening, in the snow next to the driveway, while Judy was out grocery shopping. At one point — while cleaning up after his dog — John took his glove off. Might it have happened then?
When Judy got home from the store, John told her he'd just noticed his ring — they will be married 25 years in July — was missing. He was understandably upset. Judy took a flashlight, and searched the snow around the footprints John and the dog had made. She found nothing.
It was also possible, they agreed, that John might have lost the ring earlier, on the bus, or at work. At that point, the city began to seem pretty big, and the ring pretty small.
The next morning, Judy went online, thinking she might try to rent a metal detector. During her search, she found a website — www.theringfinders.com — and after an initial contact, and some emails back and forth, that evening the cavalry arrived at John and Judy's house.
The cavalry, in this case, was a 37-year-old Madison man, his 11-year-old son, and 7-year-old (about to turn 8) daughter.
"They love the hunt," Dan Roekle, who works in information technology for the University of Wisconsin Foundation, said recently of his son, Carter, 11, and daughter, Kylie, now 8.
Roekle, a native of the Madison area, is part of a network of independent metal detecting specialists who call themselves The Ring Finders.
If you visit the website and live in this area, you will eventually be connected with Roekle. But this story really starts on a beach in Florida, several years ago.
The Roekle family was on vacation in Sarasota, and one evening, leaving the beach near sunset, they spotted several retirement-age men patrolling the sand with what they assumed were metal detectors.
"We talked to one guy," Dan recalled. It was a fun hobby, the old man said. He found a lot of pop tops, but also coins, the occasional piece of jewelry.
Back in Madison, Roekle bought, for about $200, a basic metal detector. He and the kids took it to parks and playgrounds. They made no great discoveries, outside of some loose change, but it didn't matter. "They thought it was the coolest thing," Roekle said.
At some point — this was 2012 — Roekle was on the website Craigslist and saw a notice from a Chicago man who had lost a ring in a wooded area near Cross Plains. The details were a little vague, but had something to do with a change of clothes after participating in the Ironman triathlon. After Roekle got in touch, the man emailed a satellite view of the area where he thought he lost the ring. Roekle and the kids drove out. Forty-five minutes into the search, they found the ring.
The Chicago man sent a reward check and a note: "Thanks for reminding us there are good people in the world."
"We were hooked," Roekle said. "The kids loved it."
Not long after the Cross Plains discovery, Roekle became part of The Ring Finders, which was started two decades ago by a Canadian man named Chris Turner. Roekle charges $25 for a search in the Madison area; $50 outside the area. The fee is for expenses, though successful searches generally result in the grateful owner paying a reward. Roekle said he is not in it for the money, and most of what he has made has gone back into better equipment.
Roekle shares success stories on The Ring Finders website, and last summer provided several. One was in Webb Lake, a town up north in Burnett County. A man swimming and playing in the lake with his family realized at some point his wedding ring was not on his finger. The ring had been handcrafted by a friend for the wedding 27 years earlier. The man contacted Roekle. Dan and his son, Carter, drove up to Webb Lake, with a metal detector that can be used underwater.
In the first few hours, in waist-deep water, they found shotgun shells, fish hooks bottle caps, and a gold ring that was not the one they were after. In the end it was Carter, swimming with goggles, who spotted and retrieved the ring from the bottom. The couple was thrilled.
They found another — after obtaining the necessary state park permits — for a couple who had been celebrating their fourth wedding anniversary at Devil's Lake with festivities that included a water volleyball game. While delivering a spike, the husband's wedding ring came off. They searched for five hours to no avail. Then they contacted Roekle. Once Dan, Carter and Kylie arrived, it took them all of five minutes to find the ring. Someone had likely stepped on it. It was three inches into the sandy bottom.
Last month in Madison, it didn't take the Roekles much longer to find John Heim's ring in the snow outside his house. It was right where John thought it might be, where he had been playing with the dog. It had been pressed into the frozen ground. John and Judy, of course, were delighted and grateful. Roekle said it's the look on people's faces when he hands the ring back that makes it all worthwhile.
"I have three hunts lined up already for the spring," he said.
Contact Doug Moe at 608-252-6446 or dmoe@madison.com. His column appears Monday, Wednesday, Friday and Sunday.