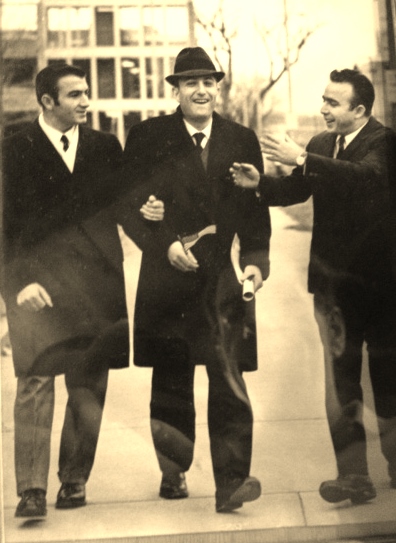 The other day, Virginio Gargano was exercising at Princeton Club when he overheard some people discussing James Gandolfini, the "Sopranos" actor who died last month of a heart attack.
"Too much chicken parmesan," someone said.
"I kept my mouth shut," Gargano was recalling this week, though he, of all people, could have held forth on how much Italian food is too much. Gargano has been eating pasta four times a week forever, and, at 72, he's doing fine.
Perhaps more to the point, Gargano has been making pasta, virtually daily, for a half-century. He's better known as Gino. The restaurant that carries his name, Gino's, is an institution at 540 State St.
When it opened, 50 years ago today — July 5, 1963 — Gino arrived at 5:30 a.m. to start preparing the pasta. His spaghetti and tomato sauce cost 90 cents back then. It's more now, but Gargano still gets in before 8 a.m. to start the pasta. There was a fresh tub of penne and one of fettuccine on the counter at the rear of the kitchen one morning earlier this week.
The pasta is so good, and Gino's legacy so special, that Mayor Paul Soglin declared today "Gino's Restaurant Day" in Madison. It will be a day of remembering for the man himself. His brother, Biagio Gargano, was already here and in the restaurant business when Gino arrived in 1962. Biagio died last December at age 76. A younger brother, Giuseppe "Peppino" Gargano, closed his celebrated Madison restaurant, Peppino's, in 2009 and retired. Gino, and Gino's, endure.
The brothers were born to food and hard work. The family was in the lemon business in their native Sicily. Gino began working on a lemon farm at 13. There were aunts and uncles in the United States, Chicago, who spoke well of Madison. Biagio landed first, in 1960. By the time Gino joined him, in 1962, Biagio had a pizzeria, Guiseppe's, near the corner of Randall and University Avenues.
Biagio soon moved the pizzeria to State Street and changed the name to Gargano's. Gino opened his place, Gino's, a couple of blocks away on State, across the street from the current Gino's, in July 1963.
The move to 540 State St. came in 1967. The first waitress hired in the new location was a UW-Madison freshman who grew up in Green Bay.
"The best job I ever had," Nancy Nusbaum, that first waitress, said this week from her home in De Pere.
It should be noted that Nusbaum's subsequent employment included serving as mayor of De Pere and executive of Brown County. She remembers Gino's with great affection.
"It was a unique place to work," Nusbaum said, "and it was Gino who made it unique. He was very protective and supportive of his staff."
Over-served patrons did not get the benefit of the doubt at Gino's. The owner had his employees' backs, to the point of having a plaque on the wall that read, as Nusbaum recalled, "He who drinks with grace, is always welcome in this place."
"Oh, I love the food," Nusbaum said. "I was in last Saturday!" On a visit to Madison, she picked up three stuffed pizzas.
Gino believes he served Madison's first stuffed pizza, debuting it at his restaurant in the 1970s. It was 1974 when his brother, Peppino, opened the first Peppino's restaurant, above Gino's, in space Gino had previously used as living quarters.
Peppino's subsequently moved to University Avenue in Middleton, and, in its final incarnation, to South Hamilton Street across from the Capitol. As for the upstairs space at Gino's, more recently it housed a bar called La Provenzale, named for Provence, in France, where Gino's wife, Estrella, was raised.
Do you get the idea family has played an important role in all this? Estrella — Stella — continues to work alongside her husband at the restaurant. Gino's niece, Angela Gargano — Peppino's daughter — estimates at least 20 members of the extended family have worked at Gino's over the years. Angela recalled working the busy Maxwell Street Days annual event on State Street, standing in the doorway and shouting "fresh hot pizza" to the passing throng.
Back home in Sicily, the family business moved from lemons to olives. Gino still gets back there once in a while to visit his brother, Francesco. There is a certain amount of wonder in his voice when he considers he's been in business on State Street now for 50 years. It's not something you expect. If he'd known, Gino said with a grin, he would have kept a better record, framed photos of his earliest employees, that kind of thing.
As it is, the past comes alive in memory, bits and pieces he is happy to share as they surface. He recalls trying to put peas in his meat sauces, like they do back in Sicily, but found American diners didn't want them. One of his trade secrets? Adding a little Alfredo sauce to his Bolognese. Over the years his lasagna has probably received the most acclaim, but his personal favorite pasta is the simple, classic spaghetti.
After 50 years, there is much that is classic about Gino's — note the red and white tablecloths — and that holds, too, for the proprietor himself. His niece Angela summed it up nicely this week. "You're still pretty dapper, Uncle Gino."
Contact Doug Moe at 608-252-6446 or dmoe@madison.com. His column appears Monday, Wednesday, Friday and Sunday.
Be the first to know
Get local news delivered to your inbox!