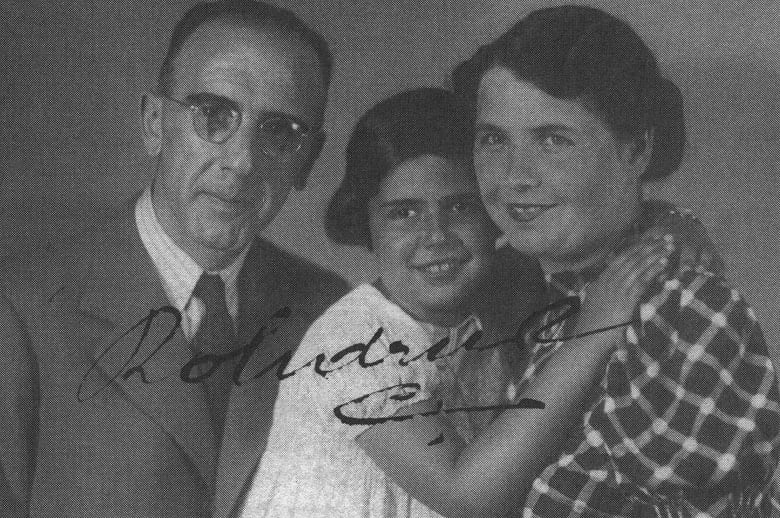 In late April, the CBS program "60 Minutes" aired an extraordinary report titled "Saving the Children," about Sir Nicholas Winton, a 104-year-old (now 105 — his birthday was May 19) Englishman who in 1939 helped 669 children, mostly Jews, escape Nazi persecution in Czechoslovakia through a program called Kindertransports.
Renata Laxova was one of those kids.
Laxova, 82, is an emeritus professor of genetics at UW-Madison. She's been in Madison since 1975. Last week, she sat at a shaded table in the backyard of her North Side home and recalled the year when she was 8 years old, and the whole world changed.
Laxova was born in the Czechoslovakian city of Brno, the only child of a successful accountant and his wife. Her maiden name was Polgar. They were Jewish, "but not very observant," she said.
Of her early childhood, Laxova recalled, "I was very happy. Secure. Safe."
The serenity was interrupted by Hitler's ascendance in Germany. By 1938 — she would have been 7 — his voice, arrogant and sinister, crackled from radios across Europe. Austria was annexed that March. In September, Nazi troops entered the Sudetenland, a German-speaking region of northern Czechoslovakia. Many Jews fled to other parts of the country. In Brno, young Renata noticed changes among the adults — more whispers, less laughter.
Then, in November 1938, came the notorious "night of broken glass" — Kristallnacht — in which organized attacks were launched on Jews in Germany and Austria. Laxova's father had been going to the synagogue in Brno on Friday evenings, and one night in late December he brought home a couple who had recently arrived from Vienna.
At the dinner table, they told their story. The Gestapo had broken into their home, grabbed the man from a bathtub, his wife from their bed, and ordered them outside. The woman went to the bedrooms of their two young children, and led them by the hand down the stairs. They didn't make the bottom. The Gestapo shot and killed the children. The man and woman somehow escaped, to Brno, and the dining room table of Laxova's family.
"I only saw them that one night," Laxova said, quietly, last week. "They were gone the next morning. But if I saw them now, 75 years later, I would recognize them."
By spring 1939, the Nazis were in Brno. Jews were increasingly subjected to restrictions and humiliations. Laxova recalled seeing her Hebrew instructor, a good, kind man, cleaning a street gutter with a toothbrush.
That spring, Laxova's mother, who spoke English, attended a lecture — in either Prague or Brno; Laxova is uncertain — by George Lansbury, a prominent British politician who is probably best known in the United States for being the father of the actress Angela Lansbury.
In his speech, Lansbury expressed his belief that the worst of Hitler and the Nazis was yet to come. The danger, to Jews especially, was immense and imminent.
Back home, Laxova's mother sat down and wrote a letter to George Lansbury in care of the House of Commons, London. "We are a Jewish family," she began, with a 7-year-old daughter who could immigrate to England, if there was a family there who could care for her. She included a photo of Renata.
Her mother was ridiculed by her friends. She might as well have stuck a note in a bottle and thrown it into the English Channel. Her mother's response? "I've lost more in my life than the cost of a stamp."
Incredibly, five days later, a letter came back, not from Lansbury but from his assistant, Grace Beaton. "I have the honor of writing in the name of Mr. George Lansbury. ..." They promised they would do their best to find Renata a home in England.
Unknown to Laxova and her parents, the first train transporting children out of Czechoslovakia to England left about that time, March 1939. The Kindertransports began earlier in Germany and Austria, but it was Winton, then a 29-year-old London stockbroker, who heard disturbing stories about the situation in Czechoslovakia and traveled to that country to help, setting up a base in a hotel in Prague. He made lists of children and potential benefactors. He presided over the transport of 669 children — eight trains — from Czechoslovakia. Laxova, then 8, was on the last one on July 31, 1939.
Not long after Laxova's family heard from Lansbury's secretary, a letter arrived from a family in Manchester, the Danielses, who said they had a young son who would like having a big sister to read to him.
Laxova's parents put her on the transport train in Prague. She lived with the Danielses for seven good years. Her parents survived the war, and she rejoined them in Czechoslovakia in 1946. She earned a doctorate degree from the University of Brno, married a veterinarian named Tibor Lax, and had two children. She got her UW-Madison appointment in 1975.
In 2001, Laxova wrote a memoir, "Letter to Alexander," the title referencing her grandson. In 2009, she met Winton for the first time, in England. It was the 70th anniversary of the Kindertransport summer. Laxova kissed him on the cheek, and gave him a gift, a plaque with the names of herself and her parents that also contained a rendering, done by a Madison artist, of the train that took her and so many other children from harm's way all those years ago.
Contact Doug Moe at 608-252-6446 or dmoe@madison.com. His column appears Monday, Wednesday, Friday and Sunday.