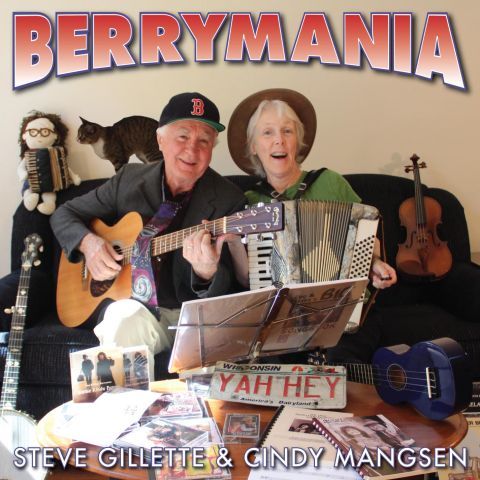 You might think Lou and Peter Berryman, folk singers and civic treasures in Madison, have experienced it all in what is now a half-century of making music, and you'd be almost right.
Peter and Lou ended their marriage a long time ago, but not their friendship or collaboration. Since forming a high school band in Appleton in 1964, they have written, recorded and performed hundreds of songs most notable for their irreverent wit.
Their songs inspired a stage musical, and there's another in development in New York City; one of their songs, "Oh, Wonderful Madison," is one of Madison's five official city songs. They've published popular songbooks; the most recent, in 2008, gathered 197 songs including my personal favorite (in a photo finish over "Are You Drinking with Me, Jesus?"), a song simply titled, "Madison, Wisconsin."
In that song, the Berrymans — Peter handles the lyrics, and Lou the music — relate how no matter where they travel for their shows, people equate them with Madison and ask about the city and its cultural and human landmarks.
"And at the end of each performance we blow the audience a kiss," the song goes. "And when following the show, they come up to say hello, it always turns to this: So how's old Madison, Wisconsin? Is that Paul Soglin still the mayor? And is Rennebohm's expanding, the Club de Wash still there?" (Columnist's note: Alas, only one of the three.) "I used to sit out on the Terrace and watch my grade point disappear. For the life of me I don't know how I wound up here."
A great song. In fact, I think we should reopen the official city song contest held under Mayor Dave Cieslewicz and name "Madison, Wisconsin" our official city song, all by itself, at least in the nostalgia division. Given the lyrics, I don't think our current mayor would mind.
Yet for all their acclaim over all the years, this month brings something new for Lou and Peter, something particularly meaningful.
Another celebrated folk duo, their good friends Steve Gillette and Cindy Mangsen, have recorded "Berrymania," a tribute CD that features Gillette and Mangsen and several other talented musicians performing 14 of the Berrymans' songs (it's currently available for pre-order through Steve's and Cindy's website, www.compassrosemusic.com).
Madison area fans who were lucky enough to be at the Brink Lounge in late September 2012 when Peter and Lou and Steve and Cindy shared the bill know the admiration the musicians have for one another and the fun they have expressing it.
As best it can be reconstructed, the musicians' first meeting came not long after Steve and Cindy married in 1989 (they live in Vermont). Unsurprisingly, it was at a music festival. "We became fast friends," Lou said.
You have free articles remaining.
While that was 1990, Peter Berryman likes to tell a story that dates back to 1965, in Appleton, when he wore out the vinyl of an album called "Early Morning Rain" by the folk duo Ian and Sylvia. Peter — and Lou, too — were particularly taken with what Peter called "a small treasure of a Western ballad" named "Darcy Farrow."
Peter, the aspiring songwriter, saw that it was written by Steve Gillette and Tom Campbell. The liner notes included the song's rather astonishing history. In a folklore class at school, Gillette and Campbell were assigned to unearth an undiscovered Western song. Unable to do so, they wrote "Darcy Farrow." The unsuspecting professor loved the song — in which a young girl falls from her pony and dies — and Ian Tyson of Ian and Sylvia loved the story of its origin.
Years later, not long after Peter and Lou met Steve and Cindy, the subject of "Darcy Farrow" came up. Gillette allowed that the only thing wrong with the song's intriguing back story was that it wasn't true. Ian Tyson was not one to let the facts get in the way of an amusing tale. "Darcy Farrow," inspired by a (non-fatal) kick Gillette's sister Darcy received from a horse, did not come out of a folklore class assignment. "But Ian told the story for years," Gillette said.
It was sometime around their shared Madison gig in 2012 that Steve and Cindy mentioned they were thinking about doing a CD of only Peter and Lou songs.
"We didn't believe them," Lou said recently. "We thought they were kidding."
They weren't. "The songs are so good I don't think people realize how good they are," Gillette said the other day from Vermont. "They make it so seamless."
Maybe only a member of another talented duo could really understand the artistry involved in both the writing of the lyrics and the setting of them to music.
Gillette noted, "Lou is always guided by Peter's sense of poetic wordplay."
Steve and Cindy started with about 30 of the Berryman songs they liked best, and eventually chose 14, including "A Chat with Your Mom" and "Now Everything Does."
When Peter and Lou heard the finished result not long ago, they were thrilled with the fresh interpretations.
"It's kind of indescribable," Peter said, the feeling of their songs, performed by friends and colleagues they greatly admire, going out to a new audience.
It got Peter thinking of the first time he saw Steve Gillette's name on the "Early Morning Rain" album, in Appleton in 1965. Now Gillette has recorded Peter's songs. It's a story as remarkable as the writing of "Darcy Farrow." Better yet, it's true.
Contact Doug Moe at 608-252-6446 or dmoe@madison.com. His column appears Monday, Wednesday, Friday and Sunday.