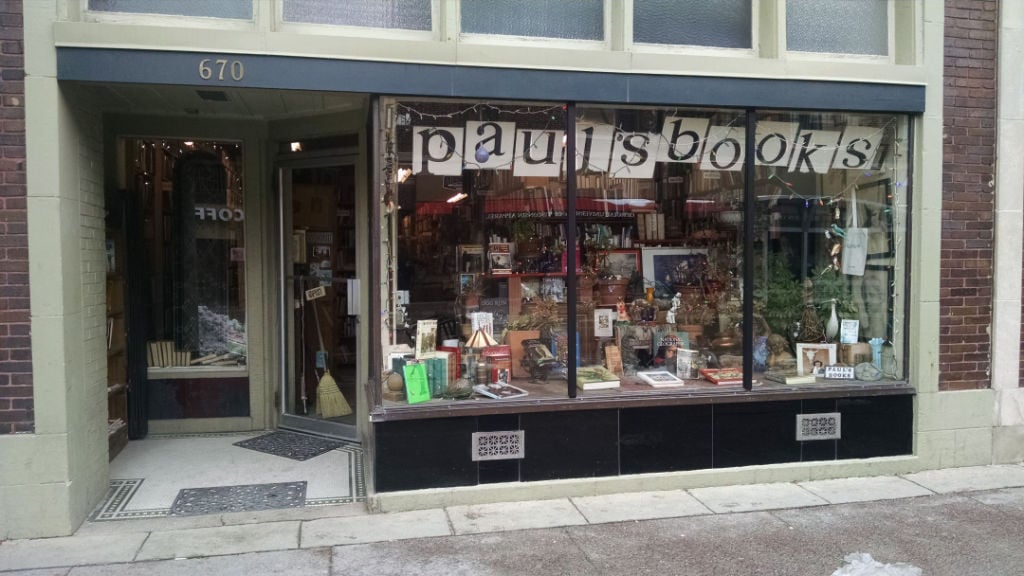 When Paul Askins died in 1975, his State Street used book store was already a celebrated fixture in the city landscape.
"A Madison institution in the space of 25 years," The Capital Times editorialized, two days after Askins' death.
Paul's Book Store, at 670 State, with its floor-to-ceiling stacks of books, shelved and not, classical music in the background, old book smell and general feel of convivial clutter, had a singular presence.
"The gathering place of intellectuals and faddists," the Cap Times continued, "of poets and writers like the late August Derleth, who stopped in to visit with Mr. Askins almost every time he came down from Sauk City."
If Askins' death, after a lung cancer diagnosis only a month earlier, saddened people across the city, it left his widow, Caryl Askins, with issues beyond grief. The mother of four didn't really know the book business.
"I didn't know what to do," Caryl said this week.
Trying to marshal the inventory and sell the business was more immediately daunting than continuing operation, so Paul's stayed open. Caryl decided she would give it a year. It wasn't always easy. One early customer knew a book's title, but not the author. Caryl couldn't help. "Paul would know," the customer said.
More often — and this was the store's genius, intended or otherwise — a question would spark a discussion, between customers, staff, anyone in earshot. More titles would be mentioned, other authors. A book might be grabbed from a shelf, a passage read aloud.
"Something wonderful seemed to happen almost every single day," Askins said. After a year, she not only continued the business, she bought the building.
Four decades on, she is still at it, though not as well known as she might be. Paul's Book Store celebrated its 60th anniversary last year. The large front window, the location near State and Lake, everyone knows Paul's. Not so Caryl Askins, who over the years has consistently turned down interview requests. She loves the store, loves the people and going to work every day, she just doesn't care to talk about it. She fears sounding like a know-it-all.
Still, this week, Askins agreed to chat. Forces beyond her control are at work. Friends and family have gathered. Today — Friday the 13th, as she noted with a smile — Caryl Askins turns 85.
"It's still Paul's store," she said at one point, which I took to mean her late husband's spirit still guides her. He was an extraordinary bookseller, beginning part time while a student at Westminster College in Missouri, and continuing — after a distinguished Navy career during World War II — at the University Co-op in Madison, the forerunner to University Book Store.
He met Caryl, a Madison native, at the Co-op, and they married in 1952. One night, two years later — they had just started a family — Paul came home, and said, "I want to do my own book store."
He opened Paul's Book Stall on a corner of State and Lake, just down from the current University Book Store location. A small barber shop was adjacent, and a dry cleaner. A few days after the store opened, John Patrick Hunter of the Cap Times came in, scouting for Civil War books.
"You really expect to make a living selling this stuff?" Hunter said. He left $15 lighter.
In the next decade, the store moved a few times — it was once next to the legendary 602 Club on University Avenue — before settling into the 670 State Street space in the early 1960s. A neighbor made the block-letter "paul's books" sign that still hangs in the front window. Inside, the early regulars included UW history professor Harvey Goldberg. Later, after Paul died and Caryl was running the store, the cartoonist and children's author Shel Silverstein was a regular visitor.
Caryl said Paul taught her not to chase the rare, once-in-a-lifetime volumes that become the obsession of many used-book dealers and customers. One of his sayings was: "The best book you have is the one you just sold." Caryl, for her part, is choosy in what she buys, and she buys all the books at Paul's. "You only have so much space," she said.
She is passionate about her adult children and her dogs. Starting on Caryl's 70th birthday, the family for several years took regular trips to the Westminster dog show in New York. Caryl currently has two Tibetan terriers, and speaks fondly of her late yellow Lab, Lucy, who accompanied her to the store every day, the New York Times clenched in her teeth.
Caryl's own devotion to Paul's is unbounded. Not long ago, she fell and broke her arm. Released from the hospital at midnight, Caryl was in the store the next day. She needs to be there for her customers, who are her friends, as are the many UW students who have worked part time at Paul's across what is now six decades.
She even likes the one who, when asked the other day to guess Caryl's age, said, "Ninety?"
No matter the number, it will be a happy birthday. Caryl said, "I am the luckiest person in the world to have spent my life in this store."
Contact Doug Moe at 608-252-6446 or dmoe@madison.com. His column appears Monday, Wednesday, Friday and Sunday.