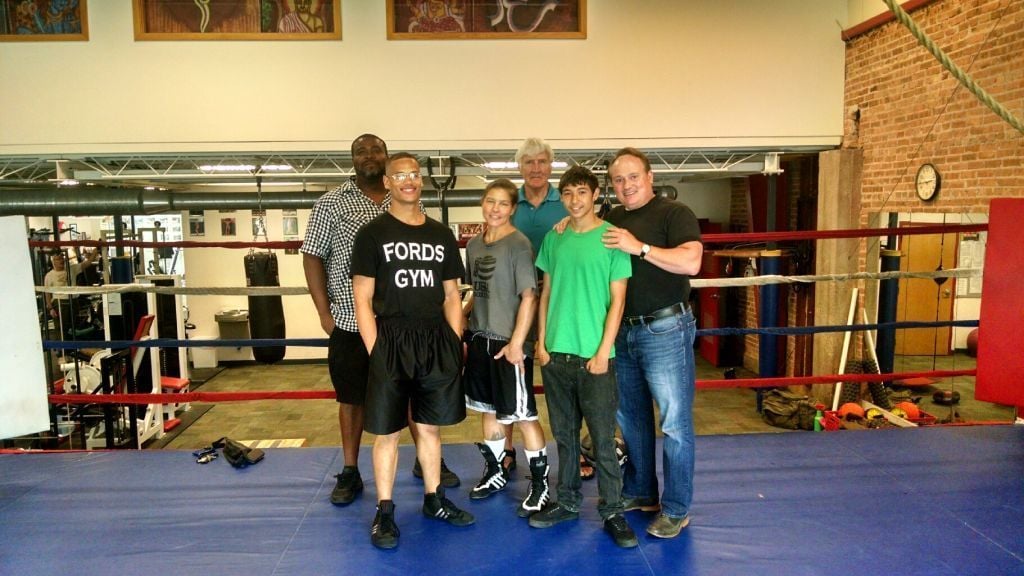 There was another world down those stairs. The basement of a gym called Muscles & Fitness, on East Washington Avenue, had a small, floor-mounted boxing ring, and some would-be fighters with duffel bags and dreams. It was anything but fancy. Later, a writer would call it the kind of gym "held together by trainer's tape and sweat."
But it was the real deal, and the guy handling the boxing instruction, that day in 1997, was the real deal, too.
There wasn't much that Bob Lynch, at 64, hadn't done in boxing. He grew up with the sport in Duluth-Superior, fought as an amateur and professional, coached a military team, and even traveled the world for the United States Information Agency, teaching boxing and fitness in developing countries.
Lynch came to Wisconsin in 1958 and helped with the last years of the storied University of Wisconsin boxing program. Over the next decades, training and promoting, he became the face of boxing in Madison.
One thing Lynch had never done, however, was train a female boxer. Maybe that's why when Lynch first saw Andrea Nelson coming down the steps at Muscles & Fitness in 1997, he thought she was a guy.
"Then I heard her speak," Lynch said recently, "and I thought, 'Uh-oh.' "
Nelson was 30. She had tied-back hair, tattoos, and a troubled juvenile history she beat in part by getting physical, running, lifting weights and studying karate. She showed up at the boxing gym in Madison, she said, because she'd become a bit bored with martial arts.
In the grimy glory of the gym, Lynch and Nelson sized each other up. The celebrated boxing film, "Million Dollar Baby," was still seven years from its release, but there was a lot of the Clint Eastwood and Hillary Swank characters in Lynch and Nelson. In real life, just like the movie, the trainer, after his initial reluctance, agreed to take on the female student.
If Nelson's boxing career never quite reached the heights (or terrible end) of Swank's "Million" character, she was successful enough as a professional to be regarded as perhaps the best female boxer the state has produced.
Once she retired from the ring in 2003, Nelson — who has a degree in kinesiology from UW-Madison — began instructing at what had been Muscles & Fitness, but was by then Ford's Gym.
A few years later, Ford's moved from East Washington Avenue to its current location on Winnebago Street. Nelson taught alongside her mentor, Lynch — boxing fundamentals on Monday nights, techniques for competitive boxing on Thursdays.
Although Ford's has seen improvements — a local real estate agent, Rick McKy, purchased a new boxing ring — it retains its character, and in 2008, a Men's Fitness article called it one of the great old school gyms anywhere.
There is one ongoing transition, however, that is worthy of note. Lynch, now 81, is stepping away from regular instruction, and Nelson, 48, who has been a significant presence at the gym for years, is stepping in. Given their mutual respect and shared history, great change is unlikely, and it hasn't occurred.
"It's a real comfortable transition," Lynch said.
"It has happened over a period of time," Nelson said. "He has been great about giving me responsibility and talking me up."
To honor Lynch — and to help fund Ford's boxing programs, some of which now target at-risk youth — McKy is working with his attorney to establish the Robert Lynch Foundation for Boxing, which he hopes to have in operation by fall. Donations will assist promising young boxers' travel to tournaments, as well as pay for equipment and instructors' time at Ford's.
This summer, Nelson instituted a Wednesday afternoon boxing program for teens that drew a group of eight kids from the Goodman Community Center and another eight from the Dane County Neighborhood Intervention Program.
There is stamina, coordination and self-reliance in boxing. Gym regulars like Marcus Johnson, 24 — who started at Ford's at 17, and saw something of himself in the kids this summer — helped out.
"When our kids were in the gym," said George Brown, of the Neighborhood Intervention Program, "they were treated like younger brothers. Everyone was great to our kids." One of them, 16-year-old Elijah Moreno, is being touted as a potential champion.
The foundation should serve as a fine legacy for Lynch, who isn't really going anywhere. It's expected he will keep sticking his head in the door at Ford's, to share some stories if nothing else.
The other day, he told one about his time at Fort Ord, in California, in 1952, where Lynch coached the 20th Infantry boxing team. The swimming instructor on the post kept talking about someday making his way to Hollywood. He made it, too, Clint Eastwood did.
Eventually, he made a great boxing movie. Bob Lynch made a great boxing life.
Contact Doug Moe at 608-252-6446 or dmoe@madison.com. His column appears Monday, Wednesday, Friday and Sunday.
Be the first to know
Get local news delivered to your inbox!