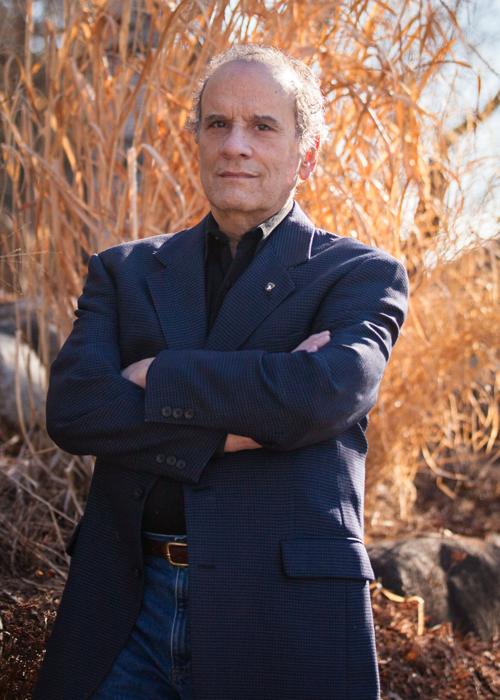 Nick Chiarkas started writing poems after listening to the guys he collared and put in the back of his New York City squad car. This was the 1960s. Elmore Leonard was still writing Westerns.
The material was great, gritty gems from guys on the way to lockup. It went right by most of Chiarkas' cop colleagues. They laughed at him. "Nick," one of them would say, "let's have a poetry reading."
Who's laughing now? Chiarkas — best known locally for his 22 years as Wisconsin state public defender, prior to his 2011 retirement — has a new novel, "Weepers," published this week, that is set in lower Manhattan and draws not only on Chiarkas' days as a New York City cop, but also his upbringing in a rough-and-tumble housing project in that city.
Chiarkas, 72, is having a ball as a newly minted novelist — the publisher is Milwaukee's Three Towers Press — and he's already begun a second manuscript. Some who know him, however, are hoping the future may also hold a memoir.
It's a life worth preserving in pages. As a kid, Chiarkas was both in a gang — notable for its benevolence, but still — and an Eagle Scout. He has a law degree from Temple, a doctorate from Columbia, and arrived in Madison as public defender in 1988. Along the way, Chiarkas was a high school classmate of Calvin Klein; corresponded with J.D. Salinger; sold jewelry to Angie Dickinson; worked security at Woodstock; acted in the Sean Connery movie "The Anderson Tapes"; helped Israel and Japan establish and refine their public defender systems; and served as deputy chief counsel to the President's Commission on Organized Crime.
But let's start with the time actor Burt Lancaster watched Chiarkas take a gun out of a thug's hand in Central Park.
It was summer 1966, very early in Chiarkas' New York City cop career. He was patrolling the park after dark. There was a rustling in the bushes. A man standing with his back to Chiarkas had a gun to the head of a kneeling man. Chiarkas wrenched the assailant's gun hand upward, putting his own weapon to the man's back. A few moments later, the bust made, a man who had witnessed it said, "That was pretty good, kid." It was Lancaster, walking a small dog.
"I loved him in 'Vera Cruz,' " Chiarkas said, grinning, when we sat down recently to chat about his life and new novel.
Brushes with the rich and famous came with being in New York. Chiarkas was born and raised in the Two Bridges neighborhood of Manhattan's Lower East Side. His dad was a longshoreman who became a cop, a big step that allowed the family to move from a tenement apartment in which they shared a toilet to a public housing project in the neighborhood. His dad eventually became prominent in the police union.
Nick's group of friends noticed other groups — gangs — had names, and christened themselves the Cherry Street Boys. They were not desperadoes. One caper that capsulizes things came when they went out to Queens and bought for $50 a 1950 Ford from someone who did not necessarily hold the title. Then the car wouldn't start. They put Nick behind the wheel, another guy on the hood with a flashlight, and everyone else got behind and pushed. The cops let them go when they heard Nick's last name.
He attended high school at what was then the School of Industrial Art. Kids made fun of the student who was obsessed with fashion design — Calvin Klein. "Now I'm wearing his jeans," Chiarkas said. He was out of high school and in the Army when he sent Salinger a letter. To Nick's surprise, Salinger sent a gracious response.
Out of the service, Chiarkas worked briefly for jeweler Luca Buccellati, where he helped Angie Dickinson exchange a gift from her husband, Burt Bacharach. He had already taken the police exam and got the call soon. "I liked it," Chiarkas said of being a cop, a job he held from 1965-72. He left it — to the chagrin of his father and other family members — because he was the single father of two by then and wanted to further his education and work more regular hours.
Chiarkas had his degrees and was working as general counsel to a government agency in Washington, D.C., when he met his current wife, Judy Olingy, whose family is from Wisconsin, a fact that led Nick to apply for the state public defender's job he landed in 1988.
The agency won accolades under his leadership. There were awards for excellence, consulting trips abroad. But even before Chiarkas' retirement in 2011, he began attempting the story of the cop, the priest, the Mafioso and the young gang member whose lives intersect in a lower Manhattan housing project.
He benefited greatly from taking a writing class from Christine DeSmet of UW-Extension. "This isn't a police report," she noted of one early scene, asking him for richer detail. Chiarkas began calling her "the mean woman from the university." But the revising and cutting paid dividends with the publication of "Weepers" this week.
It is a gripping read, and soon, no doubt, there will be fan letters.
To answer, Chiarkas need only look to his wall, where he still keeps the letter he received exactly a half-century ago from the author of "The Catcher in the Rye."
"I value your readership and I hope to keep it."
Contact Doug Moe at 608-252-6446 or dmoe@madison.com. His column appears Monday, Wednesday, Friday and Sunday.
Be the first to know
Get local news delivered to your inbox!