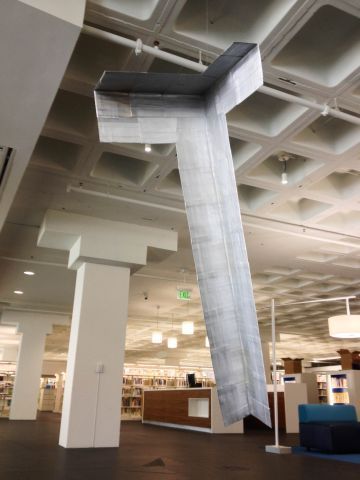 Soy milk is a poor substitute for the real thing — no matter how much chocolate or strawberry flavoring they put in it.
And how much chicken broth can the average person use?
Residents of a Southwest Side Madison neighborhood who could soon have reason to increase their consumption of both, though, would do well to think of it this way: It's all for the art.
Containers for soy milk, chicken broth and a range of other products sold in a kind of packaging called Tetra Pak are the raw materials artist Victor Castro is hoping to use to create a piece of public art for the soon-to-be expanded and renovated Meadowridge branch library and Meadowood Neighborhood Center.
"He looks for things that are normally found in a landfill that could conceivably be turned into art," said Alice Oakey, manager of the Meadowridge branch.
But just as important as elevating the stature of usually discarded materials is how those materials make their way to Castro's studio.
He alone can't consume enough to produce all the materials he needs. He could get them from recycling companies, he said, but they're in pretty bad shape by then.
Rather, "the basic element" of the library piece and his other works is the willingness of people to collect, clean out and turn over the materials he needs to create, he said.
Castro's communal approach to creation is especially important in an area of the city where an uptick in crime and changing demographics have tested the sense of community.
In fact, space for the library and center expansions became available after the Ace Hardware store in the same strip mall closed because of what its owners said was a drop in sales driven by the neighborhood's decline.
"The idea is to have real community involvement," said Krista Ralston, president of the Meadowood Neighborhood Association, and Castro's vision "fits in really nicely" with "the kind of thing we're really trying to do here in the neighborhood."
Castro said he's inspired by the concept of "upcycling" — turning discarded objects into something greater and more meaningful than what they'd become if they were simply thrown in the garbage or recycled in traditional ways.
"They are materials we don't put much attention in," he said. "I think here it has a lot of possibilities."
During a visit Thursday to the Near East Side's Bright Red Studios, which is hosting an exhibition of his artwork on Saturday, Castro showed me pieces made from used business envelopes, plastic bottles and old belts.
He also displayed a kind of test sculpture made entirely of 99 Tetra Pak boxes that had been turned inside out to expose their shiny aluminum inner surfaces.
The craftsmanship was impressive, especially given the materials he was working with, and the piece reminded me of the structural innards of a skyscraper. For his library piece, he hopes to collect some 20,000 Tetra Pak boxes.
"Tetra Pak for me is my gold," he quipped.
With the addition of a new library and neighborhood center and an interesting, collaborative public art project, the upcycling of the Meadowood neighborhood could turn out pretty golden, too.