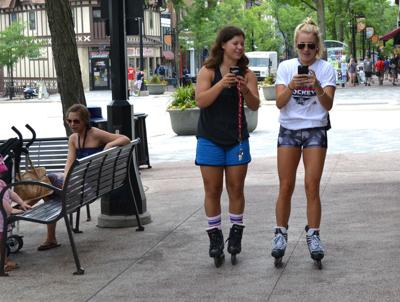 Those living near an East Side Madison park were probably wishing there was a "Pokemon Go" for "Pokemon Go" players: Catch them in Poke Balls and Pokedex them all the way to some other PokeNeighborhood.
Barring that, a few really big nets and a couple of police vans would probably have sufficed.
Neighbors were successful last week in getting the company that sets locations for catching Pokemons — known as PokeStops — to remove two such locations from a section of Hudson Park that features Native American effigy mounds and Lake Monona shoreline.
In a July 25 letter to Niantic, east District police Capt. Mary Schauf writes that since the popular "augmented reality" smartphone game was released early that month, her department had "nearly twenty calls for police service at this location alone.
"Our resources are stretched by these large crowds," she wrote, "and if the players continue to trespass in the park after hours we will be compelled to adopt a pro-enforcement stance towards them."
The Hudson PokeStops were among three in the immediate area that had been drawing scores of players and much more than the usual amount of traffic to a narrow street in one of Madison's tonier residential enclaves.
"It was like having a daily festival here," said Kate Wheeler, who lives across the street from the park. "A permanent daily festival."
(Full disclosure: I have friends and acquaintances in both the pro- and anti-Hudson Park Pokemon camps.)
In her letter, Schauf specifically points to concerns about protecting the effigy mounds, traffic hazards and illegal parking, and players being in the park after it closes at 10 p.m.
Hudson isn't like the nearby Olbrich Park, she told me, which has "off-street parking, open spaces and amenities capable of accommodating numerous varied users" and "is designed for heavier usage." Eventually, there were confrontations between neighbors and Hudson Park users, she said, including one neighbor whose tires were slashed.
Former Hudson Park Pokemon hunter Jesse Engelkins acknowledged some players behaved poorly, but said "we were equally annoyed by it and would try to police it ourselves."
He said players were subjected to nasty comments and "bullying type of behavior" from some neighbors and passersby, and that "there was never any looking for solutions. ... It was just, 'Get out of our park.'"
As you might expect, this crotchety old-media columnist doesn't know a Pokemon from a poky man, and from what little I know of "Pokemon Go," it strikes me as similar to golf: Both are good ways to ruin a nice walk. For anyone with a modicum of curiosity, there's plenty to contemplate outside our front doors without the need of cartoon characters.
That said, public parks and streets are for the use of the public, not just for the public with houses on the streets or near the parks. If certain members of the public block driveways, trespass or otherwise behave in ways that are illegal, well, that's what police are for.
East Siders have long been known for speaking their minds. I'm just not used to their speech being of the "Get off my lawn!" variety.